Celebrating 75 Years of Safer Roads

The world has changed immensely since 3M installed the first fully reflective traffic sign in 1939, but our technology leadership and commitment to traffic safety is as strong as ever. With the introduction of such groundbreaking innovations as the first durable fluorescent signs, all-weather pavement markings and optimal performance "full cube" reflective sheeting, 3M has proven its commitment time and again to making roadways safer. See how far we've come in 75 years of traffic safety innovation.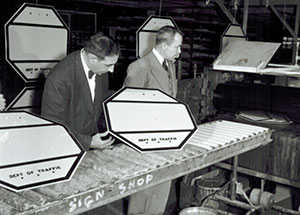 Ever since the first traffic sign covered with reflective sheeting was installed on a Minnesota street in 1939, 3M innovations have been making roadways around the world safer.
Almost anywhere you are in the world, 3M is there. Find out what's new with 3M where you live by visiting one of our global Roadway Safety sites. Click here for a full list.
Learn more about 3M solutions for parking, tolling, motor vehicle and law enforcement agencies at 3M.com/MVSS