Water & Sewer Line Locating
Find it the first time! The 3M™ Electronic Marker System (EMS) helps save water utilities time and money by enabling utility field crews to quickly pinpoint the location of buried facilities including valves, bends, clean-outs and road crossings. Using EMS markers for water and sewer pipe location during construction, installation and maintenance virtually eliminates the time consuming search for hard-to-locate facilities. 3M also offers wide product support and service for increased safety, performance and reliability.
3M markers operate even in the presence of metal conduit or pipe, metallic conductors, fences, AC power lines and electronic markers of other utilities. All EMS markers used for water and sewer pipe location are color-coded to APWA standards for visual reference and water utilities have their own frequency, helping reduce the risk of accidentally locating and excavating other buried facilities. For water and sewer pipe location, markers are color coded as follows:
Water Utility: Blue
General Purpose/Reclaimed Water: Purple
Wastewater Utility Markers: Green
Using 3M EMS markers during construction, installation and maintenance virtually eliminates the time consuming search for hard-to-locate facilities. 3M's EMS Water series can be used to locate:

Buried valves
Clean-outs
PVC pipeline

Road crossings
Pipeline paths
Service stubs
3M Locating & Marking Products
3M™ Dynatel™ Locators combine simple interfaces, large backlit high-resolution graphics, excellent balance and ergonomics with precision locating capabilities to help you quickly and accurately identify underground assets.
3M™ Dynatel™ Locators can be used to trace pipe and cable paths, locate sheath faults, provide accurate pipe, cable or Sonde depth measurements, locate buried electronic markers, read/write to 3M iD Markers and interface with GPS instruments to create accurate maps of underground facilities.
3M™ Dynatel™ Locators are available in a range of configurations from fully-featured pipe, cable, fault and electronic marker locators to basic cable avoidance systems.
It takes just minutes to learn to use EMS, and finding buried markers is just as easy. The locator transmits an RF signal to the buried marker. The marker reflects the signal back to the locator, and the location is indicated with both a visual meter reading and an audible tone.
3M™ offers several varieties of electronic marker and multipurpose locators to meet your needs, offering different types and ranges, and the markers are also available in two forms - Passive and iD. Both options are designed to provide an accurate, convenient, long-lasting method of marking underground assets. Passive markers are designated by industry to mark points of interest. iD markers perform the same function, but can also be programmed to include customer-specific information such as facility data, type of application, material type and size, placement date and other important details.
3M offers a variety of marker options:
3M™ Ball Marker
Engineered for narrow trench applications up to 5' in depth, the 4"-diameter ball marker has a unique self-leveling feature that helps ensure an accurate, horizontal position regardless of how it is placed in the ground. The ball contains a mixture of water and propylene glycol (a common additive in toothpaste, hair gels etc. and generally recognized as safe for use in foods by USFDA). The mixture is readily biodegradable in the environment and will not harm humans, wildlife or the environment in this application.
3M™ Near-Surface Marker
The near-surface marker is ideal for marking underground and street access facilities up to 2' for Passive (Non-iD marker) and 3' for iD marker in depth. Its 3.5" long cylindrical size and shape allows for easy installation in asphalt, concrete or rock without extensive digging or drilling.
3M™ Mini-Marker
Designed for marking applications at depths up to 6', marker spokes in the 8.25" diameter mini-marker help stabilize it in the correct position after placement.
The full-range marker is suited for deep applications up to 8'. Its 15"-diameter makes it ideal for use as a digging shield over sensitive underground facilities.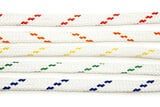 3M EMS Rope 7700 Series
3M EMS Rope 7700 Series incorporates an EMS marker installed into a polyester rope every eight feet and can be quickly installed above the pipe/cable or within conduit. It is tough enough to be installed down to four feet (1.2 m) through rugged terrain and provides durability for plowing or Horizontal Directional Drilling (HDD) applications.
3M EMS Caution Tape 7600 Series
3M EMS Caution Tape 7600 Series uses a new EMS marker technology embedded into a caution tape for installation near or above the buried facility. It can be buried down to two feet (0.61 m) and is ideal for early detection/warning due to this low depth.​
We offer a full complement of accessories, attachments, and replacement parts for the 3M™ Dynatel™ Locating and Marking
News Feature
Municipality Marks New Pipelines for Future Access
When placing 5 million linear feet of pipeline over a five year period, David Cain, an engineering design technician for Charlotte County, FL, knew there was no room for error. That's why they utilized underground markers and remote locators to pinpoint each feature and change in the pipline's route. Read story (PDF, 763k)
Case Study
How 3M Canada Helped
Enhance Its Customers' Productivity
To help ensure the integrity and longevity of buried water and sewer pipeline facilities, Stantec, a North American engineering and design company, recently made the switch from tracer wire to 3M Electronic Marker Systems (EMS). The EMS allows Stantec to pinpoint every tee, bend, directional drill and foreign crossing in the pipeline. Read story (PDF, 1.52M)