Communications Cable Locating
Help eliminate the guesswork! The 3M™ Electronic Marker System (EMS) is a cable locator that helps save telecommunications companies time and money by enabling field crews to quickly pinpoint the location of buried facilities. 3M also offers wide product support and service that can help increase safety, performance and reliability.
3M cable locator markers operate even in the presence of metal conduit or pipe, metallic conductors, fences, AC power lines and electronic markers of other utilities. All EMS markers used for communications location are color-coded to APWA standards for visual reference and have their own frequency, helping reduce the risk of accidentally locating and excavating other buried facilities. For communications utilities, all telephone locator markers are orange and CATV markers are orange/black.
Using 3M EMS markers during construction, installation and maintenance virtually eliminates the time consuming search for hard-to-locate facilities. 3M's EMS telecomcable locator series can be used to locate:

Handholes
Buried splices of all types
Repair points
Buried service drops: Service stubs
Slack loops
Depth changes
Laterals
Bends: changes of direction, arcs
Depth changes: lateral deflection
Fiber optic facilities with no metallic conductor

Conduit stubs
Encasement ends: conduit ends of horizontally directional drilled facilities
Manhole covers
Water crossings
Major road crossings
Rail crossings
Utility crossings: locations where the cable crosses over or
under other utilities.
Non-metallic facilities
Other items of value or interest
3M Locating & Marking Products
3M™ Dynatel™ Locators combine simple interfaces, large backlit high-resolution graphics, excellent balance and ergonomics with precision locating capabilities to help you quickly and accurately identify underground assets.
3M™ Dynatel™ Locators can be used to trace pipe and cable paths, locate sheath faults, provide accurate pipe, cable or Sonde depth measurements, locate buried electronic markers, read/write to 3M iD Markers and interface with GPS instruments to create accurate maps of underground facilities.
3M™ Dynatel™ Locators are available in a range of configurations from fully-featured pipe, cable, fault and electronic marker locators to basic cable avoidance systems.
It takes just minutes to learn to use the 3M Electronic Marker System (EMS), and finding buried markers is just as easy. The locator transmits an radio frequency signal to the buried marker. The marker reflects the signal back to the locator, and the location is indicated with both a visual meter reading and an audible tone.
3M offers several forms of electronic markers with different ranges to best meet your needs. Electronic markers are also available in two forms - Passive and iD. Both options are designed to provide an accurate, convenient, long-lasting method of marking underground assets. Passive markers are designated by industry to mark points of interest. iD markers perform the same function, but can also be programmed to include customer-specific information such as facility data, type of application, material type and size, placement date and other important details.
3M offers a variety of marker options:
3M™ Ball Marker
Engineered for narrow trench applications up to 5' in depth, the 4"-diameter ball marker has a unique self-leveling feature that helps ensure an accurate, horizontal position regardless of how it is placed in the ground. The ball contains a mixture of water and propylene glycol (a common additive in toothpaste, hair gels etc. and generally recognized as safe for use in foods by USFDA). The mixture is readily biodegradable in the environment and will not harm humans, wildlife or the environment in this application.
3M™ Near-Surface Marker
The near-surface marker is ideal for marking underground and street access facilities up to 2' for Passive (Non-iD marker) and 3' for iD marker in depth. Its 3.5" long cylindrical size and shape allows for easy installation in asphalt, concrete or rock without extensive digging or drilling.
3M™ Mini-Marker
Designed for marking applications at depths up to 6', marker spokes in the 8.25" diameter mini-marker help stabilize it in the correct position after placement.
3M™ Full-Range Marker
The full-range marker is suited for deep applications up to 8'. Its 15"-diameter makes it ideal for use as a digging shield over sensitive underground facilities.
3M™ Disk Marker
Extended-range disk markers are four inches in diameter and have a vertical range of five feet. They provide an easy, accurate method of locating flush-mounted facilities which become covered by backfill or other obstructions, such as snow or vegetation. Easily affixed to the underside of non-metallic lids or covers. Not intended for direct burial in the soil.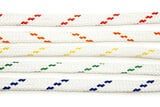 3M EMS Rope 7700 Series
3M EMS Rope 7700 Series incorporates an EMS marker installed into a polyester rope every eight feet and can be quickly installed above the pipe/cable or within conduit. It is tough enough to be installed down to four feet (1.2 m) through rugged terrain and provides durability for plowing or Horizontal Directional Drilling (HDD) applications.
3M EMS Caution Tape 7600 Series
3M EMS Caution Tape 7600 Series uses a new EMS marker technology embedded into a caution tape for installation near or above the buried facility. It can be buried down to two feet (0.61 m) and is ideal for early detection/warning due to this low depth.​
We offer a full complement of accessories, attachments, and replacement parts for the 3M™ Dynatel™ Locating and Marking Products
News Feature
Buried Treasure in Virginia
The Virginia Dept of Transportation (VDOT) is saving time, money, and headaches by using underground facilities markers and cable locators to accurately pinpoint the location of buried telephone, gas, power, CATV, water and fiber-optic utilities. To minimize the risk of errors and damage, and to help increase safety on a $70 million reconstruction project in Washington D.C, VDOT installed EMS markers for all underground utilities from the start. Read story (PDF, 1.11M)
Press Release
3M Underground Technology Takes Off at BAA
British Airports Authority (BAA) has begun using The 3M™ Electronic Marker System (EMS) to accurately pinpoint the exact location of the many underground services buried beneath Heathrow Airport. The cable locator system is enabling BAA to dramatically reduce the time, cost and errors associated with carrying out work on underground services, as well as helping the company to comply with its strict health and safety standards. Read story (PDF, 78k)