Adhesives Economics
In considering cost, consider more than just the cost per gallon or roll. The true value of a 3M adhesive or tape is determined by applied cost per unit. This includes adhesive coverage and the time and labor to apply it. Coverage is usually expressed in terms of adhesive thickness or weight.
For a true cost picture, there are a number of facts and questions to consider; questions not only about the adhesive itself, but also substrates, application methods, and more.
Q. Has a realistic acceptance test conclusively screened out a lower cost bonding solution?
A common error is excessive or meaningless test standards that might rule out satisfactory products. Use the lowest cost adhesive consistent with end use performance.
Q. Has a minimum coverage been determined that consistently meets performance requirements?
100% adhesive coverage is not always necessary. 50% may be completely satisfactory. Or even a single bead of adhesive or strip of high strength tape.
Q. Have all physical properties of the substrate been considered?
High absorption materials, for example, soak up low viscosity adhesives and need multiple coats. In that case, a higher viscosity product or spraying is needed.
Q. Does the adhesive require special ventilation or safety equipment?
Many adhesives are now low or no VOC's, or 100% solids, and require little or no special ventilation equipment. PSA tapes in application are solventless.
Q. Can the adhesive or tape be applied with low cost equipment, or even no equipment?
Equipment needs only be consistent with the desired production rate. A collapsible squeeze tube may be all that's necessary to bond plastic parts. Tape can be simply rolled on by hand. If more demanding equipment is needed for the application, 3M technical service will work with you to evaluate processes and equipment.
Q. Is the adhesive or tape easy to use to save training time?
The level of training will vary. A one-part structural adhesive will require a more skilled operator than is necessary to seal a carton with a hot melt adhesive.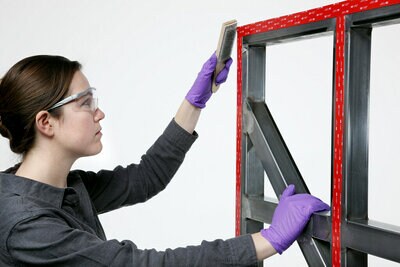 Q. Does the adhesive or tape give the engineer greater flexibility in design and materials?
Less expensive substrates and simplified designs can reduce overall cost and increase the market appeal of the end product.
An evaluation of your answers will indicate an appropriate selection of adhesives for the job and true cost. The final adhesive selection will be based on a comparison between applied cost per unit and specific required performance.
Make a winning combination with the 3M TSR Program
Barnes and Noble. Bow and arrow. Holmes and Watson. All the right combinations. Same as your tough bonding challenge and the 3M TSR.
Using the 3M Technical Service Request (TSR) Program, a 3M representative will work with you on initial testing of an adhesive design solution. One or two best options will be identified then a sample of your substrate is brought to the 3M Laboratories and tested for stress or other factors the product will encounter. The 3M test results will help you select the best design solution for your manufacturing process and customer needs.
Work with 3M at your manufacturing plant through the 3M IATD Design Solutions Program
Using the 3M IATD Design Solutions Program, we identify a design solution then works side-by-side with you, at your manufacturing plant, to ensure your personnel are trained in the new manufacturing process. Follow-up visits and ongoing support are key parts of the program.
We are eager to work with you. Please contact us by email to discuss your project or call: 800-362-3550.