Instant Adhesives Achieve Handling Strength in Seconds, Increase Manufacturing Productivity
3M™ Scotch-Weld™ Instant Adhesive product range includes GUINNESS WORLD RECORD™ holder for heaviest lift with glue!
Manufacturers in many industries need quick bonding and short cure times. These properties enable parts to be handled quickly during production, increasing productivity, increasing throughput and keeping manufacturing bottlenecks to a minimum. However, traditional methods of attachment, such as screws, bolts and rivets, may not produce these desired results and can cause problems such as stress crack propagation in substrates. Adhesives are an attractive alternative. Yet finding quick-bonding adhesives that are effective with hard-to-bond substrates has been challenging until now.
3M™ Scotch-Weld™ Instant Adhesives provide an innovative range of design solutions. These solvent-free, cyanoacrylate, one-part adhesives reach handling strength with hundreds of material combinations in 5 to 10 seconds and 80% of full strength in 1 hour at a cost of 1 or 2 cents per bond.
The 2011 GUINNESS WORLD RECORD™ Holder
3M Scotch-Weld Plastic and Rubber Instant Adhesive PR 100 set a GUINNESS WORLD RECORD™ by lifting an 8.1 metric ton (17,857 pound, 2990 PSI) forklift in the air for 1 hour on April 27, 2011. The vehicle was suspended from a crane by a steel cylinder only 7 cm in diameter, with the two parts of the cylinder secured with 3M Scotch-Weld Plastic and Rubber Instant Adhesive PR 100. This remarkable demonstration has established a new 2011 World Record for the heaviest weight lifted with glue.
Learn more about 3M™ Scotch-Weld™ Instant Adhesive Sets New Guinness World Record® award.
Instant bonding for pennies
3M Scotch-Weld PR 100 is one formulation in a full range of 3M Scotch-Weld Instant Adhesives. All reach handling strength in a matter of seconds and provide transparent, visually appealing bond lines. The product range includes instant adhesives that have low odor, are low blooming, resistant to high temperature, rubber-toughened for impact resistance and flexible to resist vibration. Select products meet the requirements of Commercial Item Description A-A-3097 (formerly MIL-A-46050C). All 3M Scotch-Weld Instant Adhesives can be dispensed quickly, in precise amounts and are economical. A single drop per square inch provides the required holding power and costs only a cent or two.
Instant bonding facilitates increased manufacturing throughput
An extensive variety of substrates can be bonded with the range of 3M Scotch-Weld Instant Adhesives, including rubber, plastics, wood, metal, leather, ceramics and acidic or contaminated surfaces. When a primer is used, 3M Instant Adhesives can also bond low surface energy (LSE) plastics and rubber, even to each other.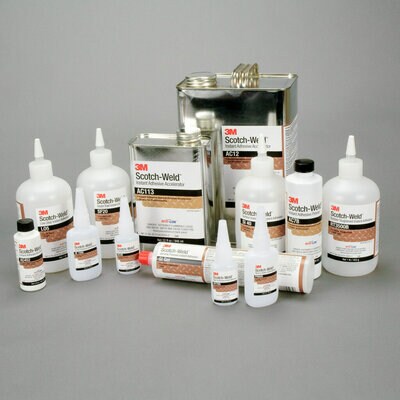 3M Scotch-Weld Instant Adhesives are ideal for small parts, applications requiring structural strength, joints, narrow bond lines and wicking applications. They can be used in manufacturing for many industries including automotive, electronic, electrical, appliance, hand tools, power tools, woodworking, sporting goods, toys and general manufacturing. Because 3M Scotch-Weld Instant Adhesives enable parts to achieve handling strength within seconds, they can facilitate manufacturing throughput, reduce bottlenecks and increase productivity.
Immediate repairs also increase productivity
3M Scotch-Weld Instant Adhesives also facilitate maintenance and repair operations, enabling quick repairs while waiting for replacement parts or permitting repair of parts that would ordinarily have to be scrapped. For example, during woodworking or manufacturing with plastics, parts can crack or splinter. Instead of being discarding, these parts can be quickly and easily repaired with 3M Scotch-Weld Instant Adhesives. The result is an immediate bond so strong a part can proceed through a manufacturing process. In some cases, a replacement part may not even be needed, all of which result in increased productivity.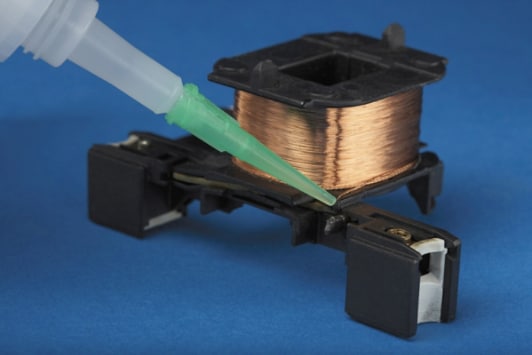 Learn more information on 3M Scotch-Weld Instant Adhesives and the GUINNESS WORLD RECORD set by 3M on April 27, 2011.
Try the 3M TSR Program
Using the 3M Technical Service Request (TSR) Program, a 3M representative will work with you on initial testing of an adhesive design solution. One or two best options will be identified then a sample of your substrate is brought to the 3M Laboratories and tested for stress or other factors the product will encounter. The 3M test results will help you select the best design solution for your manufacturing process and customer needs.
Work with 3M at your manufacturing plant through the 3M IATD Design Solutions Program: Using the 3M IATD Design Solutions Program, we identify a design solution then works side-by-side with you, at your manufacturing plant, to ensure your personnel are trained in the new manufacturing process. Follow-up visits and ongoing support are key parts of the program.
We are eager to work with you. Please contact us by email to discuss your project or call 800-362-3550
3M and Scotch-Weld are trademarks of 3M Company.
GUINNESS WORLD RECORD is a trademark of Guinness World Records.