Two Design Approaches to Reduce Water Intrusion
As products become more multi-functional, they become more sensitive to environmental challenges, such as water intrusion, which can damage products or render them useless.
For example, if a cell phone is immersed in water, it will stop functioning. The number one complaint among RV owners is water intrusion because damage is often hidden behind an RV's finished walls and not discovered until it becomes extensive.
Some conventional sealing methods have inherent variability that can result in water intrusion. For instance, various types of application equipment can apply sealant differently and each technician can apply a sealant in their own manner. Liquid sealant formulations can vary from batch to batch and sealant performance can vary in response to temperature.
However, two design solutions can be used to protect products from water intrusion: a design-out solution which reduces opportunities for water intrusion and a design-in solution that reduces variability in sealing and provides excellent sealing performance.
Design-out: Reducing opportunities for water intrusion
The first solution involves creating a design that eliminates vulnerable areas where water can collect or leak inside and cause damage. For instance, a trailer with a flat roof and straight sides that can retain standing water can be redesigned with a curved roof that wraps over the trailers' walls, enabling moisture to roll off the roof and down the side panels onto the ground. Sealants would still be used in constructing a trailer with this design but significant opportunities for water intrusion would be eliminated.
Design-in: Reducing variability in sealing
If the design-out method cannot be used, the second solution involves developing a product design then choosing a sealant that eliminates variability while providing an excellent seal.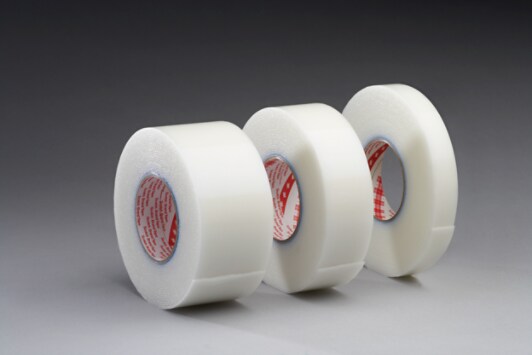 3M™ Extreme Sealing Tape 4412N is an innovative new sealing technology that offers controlled delivery. The tape consistently applies the same amount of adhesive every time, without using equipment, no matter which technician handles the job. Unlike liquid sealants, the formulation is stable. 3M™ Extreme Sealing Tape is also resistant to environmental challenges such as rain and snow as well as sun exposure and temperature extremes. The result is consistent, excellent adhesive performance and resistance to environmental challenges. The new 3M sealing technology can be used during production or incorporated directly into your design, either during the design process or working with the converter of your choice.
3M™ Extreme Sealing Tape has a wide range of uses in products as small as handheld electronic devices or as large as transportation vehicles. Examples include:
| | | | |
| --- | --- | --- | --- |
| Transportation | Industrial | Electronics | Defense |
| Trailers | Heating/cooling units | Handheld devices | Military |
| RVs | Utility boxes | Cell phones | Aircraft |
| Trucks | Tool boxes | Audio systems | GPS devices |
| Train cars | Tool sheds | Radios | |
| | Gutters and downspouts | Sporting goods | |
| | Vent stacks and windows | Marine equipment | |
| | Commercial roofs | Marine motors | |
| | Metal buildings | Depth finders | |
| | Skylights | Fish finders | |
| | Lights | | |
Request a 3M™ Extreme Sealing Tape Sample
Select a 3M Design Solution such as Water Intrusion Innovative adhesives from 3M provide numerous options for managing environmental challenges such as Water Intrusion. 3M also helps customers identify their best design solutions through the 3M IATD TSR Program and the 3M IATD Design Solutions Program.
Try the 3M TSR Program: Using the 3M Technical Service Request (TSR) Program, a 3M representative will work with you on initial testing of an adhesive design solution. One or two best options will be identified then a sample of your substrate is brought to the 3M Laboratories and tested for factors the product will encounter. The 3M test results will help you select the best design solution for your manufacturing process and customer needs.
Work with 3M at your manufacturing plant through the 3M IATD Design Solutions Program: Using the 3M IATD Design Solutions Program, we identifies a design solution then works side-by-side with you, at your manufacturing plant, to ensure your personnel are trained in the new manufacturing process. Follow-up visits and ongoing support are key parts of the program.
We are eager to work with you. Please contact us by email to discuss your project or call 1-800-362-3550.