Scotch® Stretchable Tape 8886 Clear, 36 mm x 55 m, 24 rolls per case
3M ID

70006152030
UPC#

00021200693144
3M Product Number

8886
Scotch® Stretchable Tape 8886 is designed to contain A- and B-type pallets for internal and external shipping purposes. When optimally stretched, the tape`s rubber resin adhesive won't tear labels or graphics when removed after shipping. For best results, use with the Scotch® Stretchable Tape Dispenser H38 (sold separately).

6 mil tape provides good pallet stability for intra-plant movements of goods
Adhesive "de-tackifies" when stretched: holds in place but won't damage carton graphics, shipping instructions or other pallet information when removed
650% stretch factor: 5-meter roll yields 357 meters of tape
Creates ventilated load for shipment of time- and temperature-sensitive goods
More stability – less waste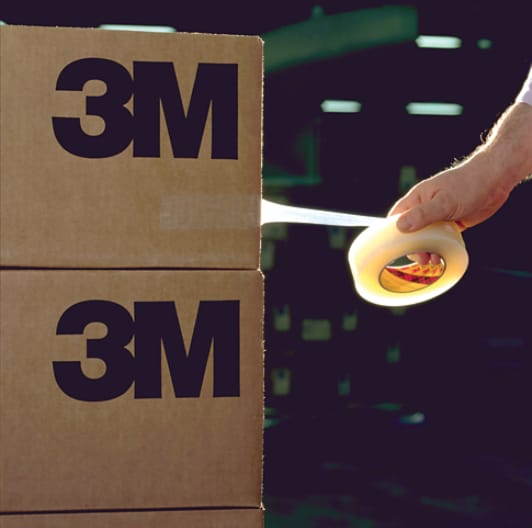 One 55-meter roll can unitize 60 or more A- or B- style pallets
Scotch® Stretchable Tape 8886 is designed to contain A- and B-type pallets for internal and external shipping purposes. When optimally stretched, the tape's rubber resin adhesive won't tear labels or graphics when removed after shipping. For best results, use with the
Scotch® Stretchable Tape Dispenser H38
(sold separately).
Tape That Gets Stronger as it's S-T-R-E-T-C-H-E-D
The pressure sensitive synthetic rubber resin adhesive on
Scotch
® Stretchable Tape 8886 actually "de-tackifies" when stretched: the tape holds in place but won't damage carton graphics, shipping instructions or other pallet information when removed. When optimally stretched to 600%, this 6 mil linear low-density polyethylene film backed tape is excellent for medium to heavy duty pallet containment, hand bundling, strapping and holding in general industrial, warehouse and distribution centers.
Recommended Applications
Palletizing for intra-plant movement
Load containment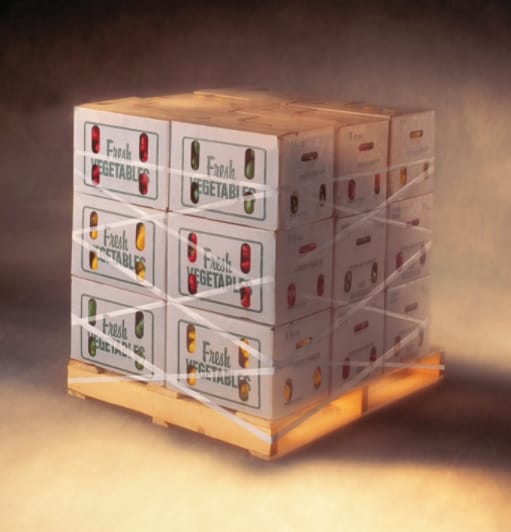 "X"-pattern can contain loads for shipment anywhere
Bringing Better Ideas to the Surface Through Science and Innovation
In the 3M Industrial Adhesives and Tapes Division, they apply the science of adhesion to deliver innovative solutions that improve the design and manufacturing processes of companies around the world. In the end, their technologies help customers like you deliver competitive products to the market faster and more efficiently.
Attributes
| | |
| --- | --- |
| Adhesion Strength‎ | ‎ 65 oz/in |
| Adhesion Strength (metric)‎ | ‎ 71 N/100mm |
| Adhesive Type‎ | ‎ Synthetic Rubber |
| Backing Material‎ | ‎ Polyethylene |
| Backing Thickness (metric)‎ | ‎ 0.18 mm |
| Brand‎ | ‎ Scotch |
| Color‎ | ‎ Clear |
| Consumer Label‎ | ‎ No |
| Core Size‎ | ‎ 3 |
| Core Size (metric)‎ | ‎ 76 mm |
| Elongation‎ | ‎ 720 Percent |
| Industries‎ | ‎ General Industrial,‎ MRO,‎ Packaging |
| Length‎ | ‎ 60.14 Linear Yard |
| Length (Metric)‎ | ‎ 55 m |
| Product Form‎ | ‎ Roll |
| Tape Thickness‎ | ‎ 7 Milli-inch (mil) |
| Tensile Strength‎ | ‎ 28 lb/in |
| Tensile Strength (metric)‎ | ‎ 490 N/100mm |
| Thickness‎ | ‎ 7 mil |
| Thickness (Metric)‎ | ‎ 0.18 mm |
| Width‎ | ‎ 1.41 Inch |
| Width (Metric)‎ | ‎ 36 mm |