Scotch® Reinforced Strapping Tape 862 Black, 24 mm x 55 m, 36 rolls per case
3M ID

70006172285
UPC#

00021200720598
3M Product Number

862
Scotch® Reinforced Strapping Tape 862 is a high-strength strapping tape designed with a unique backing that is reinforced with continuous polypropylene monofilaments. This backing provides excellent resistance to cutting, nicking, tearing or puncturing that typically cause un-reinforced tapes to sever and fail.

The clearest high-strength tape available
Strong: proprietary tape construction features polypropylene backing with monofilament "ribs" for tape strength
Secure: resists nicking, cutting, tearing or puncturing during handling and use
Clear: no filaments that reduce tape clarity and obstruct carton graphics or marketing content
Also available in black for UV resistance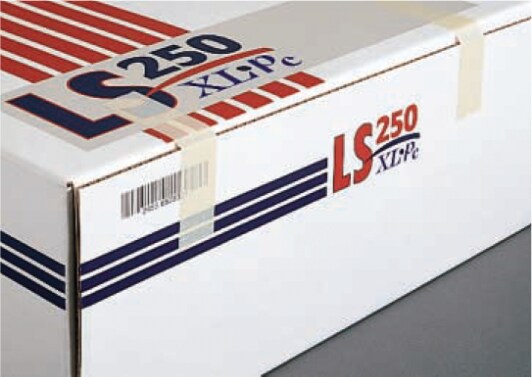 The Clearest High-Strength Tape Available
A high-strength strapping tape, Scotch® Reinforced Strapping Tape 862 features a unique polypropylene backing that provides excellent tape strength and clarity. With a total thickness of 4.6 mil, this strapping tape comes with a tensile strength of 120 lbs./inch. The polypropylene backing, with a monofilament "ribbed" construction, offers excellent resistance to abrasion, moisture, nicks, punctures, tearing and scuffing. This unique polypropylene backing is strong and clear and does not obstruct graphics, product instructions or important marketing content. The versatile, synthetic, rubber resin adhesive is formulated to provide good adhesion (50 oz./inch) to metallic and fiberboard surfaces and features good shear strength for demanding applications, such as bundling, strapping and reinforcing. This tape is also available in black for applications requiring UV resistance, such as outdoor pipe bundling. When compared to staples, reinforced gum tapes and standard tensilized polypropylene tapes, 3M's family of Reinforced Strapping Tapes offers superior clarity to enhance a package's "on-shelf" presentation at point-of-purchase and permits accurate bar code scanning during checkout.
Recommended Applications
Because of their excellent tape strength and clarity, 3M's family of Reinforced Strapping Tapes can be used in many markets and applications:
"L"-clip closure on non-standard corrugated fiberboard shipping containers
Bundling of pipe, tube or other building materials
Pallet unitizing for temporary load containment and storage
Bundling of rolled goods such as carpet, padding, laminates, vinyl sheets
Gaylord® or pallet box reinforcement
Also available in black for outside applications
Successfully Delivers Strength
With Scotch® Reinforced Strapping Tapes, 3M applied the science of adhesion to create an innovative solution that improves manufacturing processes. In the end, 3M's technologies provide the competitive products for even the most demanding applications, delivering strength and success.
Attributes
| | |
| --- | --- |
| Adhesion Strength‎ | ‎ 50 oz/in |
| Adhesion Strength (metric)‎ | ‎ 54 N/100mm |
| Adhesive Type‎ | ‎ Synthetic Rubber |
| Applications‎ | ‎ High-Strength Bundling |
| Backing Material‎ | ‎ Polypropylene |
| Brand‎ | ‎ Scotch |
| Color‎ | ‎ Black |
| Consumer Label‎ | ‎ No |
| Core Size‎ | ‎ 3 |
| Core Size (metric)‎ | ‎ 76 mm |
| Elongation‎ | ‎ 30 Percent |
| Industries‎ | ‎ General Industrial |
| Length‎ | ‎ 60.14 Linear Yard |
| Length (Metric)‎ | ‎ 55 m |
| Product Form‎ | ‎ Roll |
| Tape Thickness‎ | ‎ 4.6 Milli-inch (mil) |
| Tensile Strength‎ | ‎ 120 lb/in |
| Tensile Strength (metric)‎ | ‎ 2100 N/100mm |
| Thickness‎ | ‎ 4.6 |
| Thickness (Metric)‎ | ‎ 0.117 |
| Width‎ | ‎ 0.94 Inch |
| Width (Metric)‎ | ‎ 24 mm |