Scotch® Recycled Corrugate Box Sealing Tape 3072 Clear, 48 mm x 914 m, 6 rolls per case Bulk
3M ID

70006745973
UPC#

00051115648069
3M Product Number

3072
Scotch® Recycled Corrugate Box Sealing Tape 3072 is designed with an aggressive, synthetic rubber adhesive, forming an industrial, polypropylene packaging tape capable of bonding to many surfaces instantly, including recycled corrugate and fiberboard. Our corrugate tape meets the demands of challenging packaging applications while maintaining tight and secure seal throughout the supply chain.

Aggressive high tack adhesive bonds instantly to many surfaces, including recycled corrugate
Synthetic rubber adhesive holds box tightly and securely
Polypropylene film backing retains its strength, for a safe and secure seal throughout delivery
Fast-sealing adhesive is ideal for under-filled boxes
Consistent and effective tape performance increases productivity with minimal waste
Rolls can be easily applied by hand, manual dispenser or 3M-Matic™ Case Sealer

 
Strong, Adaptable Tape
A polypropylene packaging tape, Scotch® Recycled Corrugate Box Sealing Tape 3072 quickly and securely sticks to a wide variety of substrates, including highly recycled corrugate and fiberboard. On average, a corrugated box consists of 46% recycled content, but this percentage can fluctuate with every box delivery. Unlike conventional box sealing tape that uses a stiff adhesive and adheres to the box surface, Scotch® Recycled Corrugate Box Sealing Tape 3072 utilizes a softer, synthetic rubber, hot melt adhesive. This aggressive adhesive is able to penetrate the shorter fibers on recycled corrugate, flowing into the hills and valleys of the substrate surface and holding the box tightly and securely from production line to delivery.
Recommended Applications
Scotch® Recycled Corrugate Box Sealing Tape 3072 can be applied by hand for low volume packing with a hand-held tape dispenser or with a 3M-Matic™ Case Sealer for high productivity packing.
Ultra-high tack
Uniquely formulated,
Scotch
® Recycled Corrugate Box Sealing Tape 3072 is tackier than conventional box sealing tapes and has a conformable, biaxially-oriented polypropylene film backing that retains its strength for a secure and safe seal. In addition, this fast-sealing adhesive is ideal for under-filled boxes, creating a secure seal without breaking the shape of the box.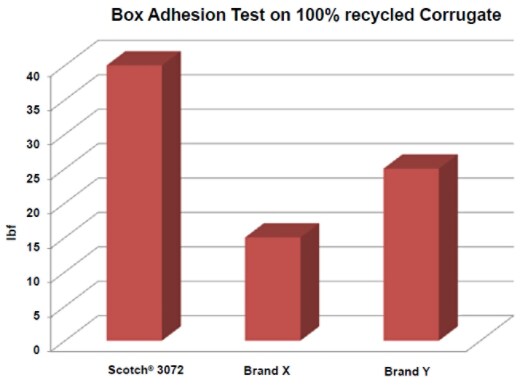 Super sticky. Super strong.
Rolls can be easily applied by hand, manual dispenser or 3M-Matic™ Case Sealer. In addition, Scotch® Recycled Corrugate Box Sealing Tape 3072 delivers consistent and effective tape performance to help increase productivity with minimal waste, improving unit costs. This product contains no solvents, heavy metals, latex, known allergens or melamine and is FDA approved for indirect food contact per CFR 21, Parts 174-176.
Secure, Strong Solution
Ultra-tacky and strong, Scotch® Recycled Corrugate Box Sealing Tape 3072 provides a secure and durable closure, making manufacturers' jobs easier. With environmental standards changing rapidly, companies are continually seeking new ways to reduce costs and improve their environmental footprint. Stay on top of these changes and keep pace with the industry with the help of a product designed to satisfy the demands of today's challenging packaging applications.
Attributes
| | |
| --- | --- |
| Adhesive Type‎ | ‎ Synthetic Rubber Hot Melt |
| Applications‎ | ‎ Automated Carton Sealing,‎ Box Closure,‎ Cold Storage and Tamper Evident |
| Backing Material‎ | ‎ Polypropylene Film |
| Brand‎ | ‎ Scotch |
| Color‎ | ‎ Clear |
| Consumer Label‎ | ‎ No |
| Core Size‎ | ‎ 3 Inch |
| Core Size (metric)‎ | ‎ 76 mm |
| Elongation‎ | ‎ 160 Percent |
| Industries‎ | ‎ Paper,‎ Food and Beverage,‎ Medical,‎ General Industrial,‎ MRO,‎ Electronics,‎ Print |
| Length‎ | ‎ 999.56 Linear Yard |
| Length (Metric)‎ | ‎ 100 m |
| Product Form‎ | ‎ Roll |
| Tensile Strength‎ | ‎ 22 lb/in |
| Tensile Strength (metric)‎ | ‎ 385 N/100mm |
| Thickness‎ | ‎ 2.3 mil |
| Thickness (Metric)‎ | ‎ 914 m |
| Width‎ | ‎ 1.88 Inch |
| Width (Metric)‎ | ‎ 48 mm |