Scotch® Printed Message MIXED MERCHANDISE Box Sealing Tape 3775 White, 48 mm x 100 m, 36 Individually Wrapped Rolls Per Case, Conveniently Packaged
3M ID

70006747193
UPC#

00051115687730
3M Product Number

3775
We designed Scotch® Printed Message Box Sealing Tape 3775 to eliminate the need for handwriting or separate labels when a package includes mixed merchandise. Printed with MIXED MERCHANDISE ENCLOSED, this tape is designed to notify the receiver of the contents and keep the package secure throughout the shipping process.

Printed with message MIXED MERCHANDISE ENCLOSED
High adhesion and holding power resists popping for a secure seal
Conforms around edges and on rough surfaces
Provides both handling notification and secure sealing
Resists nicks, abrasions, moisture and scuffing for long-lasting performance

 
High Adhesion with Strong Holding Power
The polypropylene film backing of our Scotch® Printed Message Box Sealing Tape 3775 conforms around edges and resists abrasion, moisture, and scuffing to hold strong in packaging applications. The hot melt synthetic rubber resin adhesive sticks instantly to a wide variety of substrates, including rough surfaces, and keeps packages secure during shipment. It is recommended for use on lightweight envelopes, boxes and mailers or as a message notification for all package types.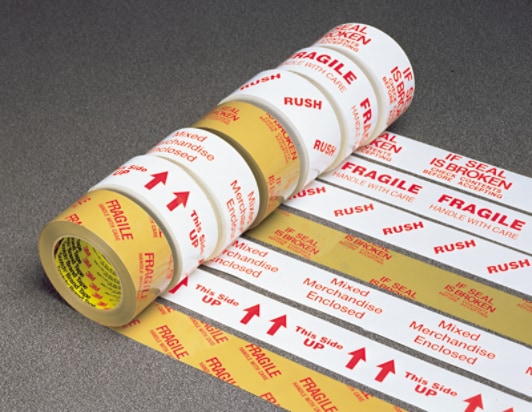 Make your message stick
Recommended Applications
Box sealing
Splicing
Recoupage
Printed Message Tapes
Also known as security seal tape and tamper evident tape, printed message tape is ideal for sealing packages and securing loads with high value contents. Printed messages communicate the need for careful package inspection prior to acceptance and reduce theft during the shipping process. Commercial users include manufacturers and distributors of electronics, food and beverages, medical, MRO and general industrial. Tape can be applied with a portable hand-held dispenser or stationary definite-length dispenser.
Bringing Better Ideas to the Surface through Science and Innovation
In our
3M Industrial Adhesives and Tapes Division
, we apply the science of adhesion to deliver innovative solutions that improve the design and manufacturing processes of companies around the world. In the end, our technologies help customers like you deliver competitive products to the market faster and more efficiently.
Attributes
| | |
| --- | --- |
| Adhesion Strength‎ | ‎ 55 oz/in |
| Adhesion Strength (metric)‎ | ‎ 60 N/100mm |
| Adhesive Type‎ | ‎ Hot Melt Synthetic Rubber Resin |
| Backing Material‎ | ‎ Polypropylene Film |
| Brand‎ | ‎ Scotch |
| Color‎ | ‎ Printed |
| Core Size‎ | ‎ 3 Inch |
| Diameter‎ | ‎ 5.109 |
| Elongation‎ | ‎ 160 Percent |
| Industries‎ | ‎ Paper,‎ Food and Beverage,‎ Medical,‎ General Industrial,‎ MRO,‎ Electronics,‎ Print |
| Length‎ | ‎ 109.36 Linear Yard |
| Length (Metric)‎ | ‎ 100 m |
| Performance Level‎ | ‎ Specialty |
| Product Form‎ | ‎ Roll |
| Tensile Strength‎ | ‎ 35 lb/in |
| Tensile Strength (metric)‎ | ‎ 613 N/100mm |
| Thickness‎ | ‎ 1.9 mil |
| Thickness (Metric)‎ | ‎ 0.04 mm |
| Width‎ | ‎ 1.88 Inch |
| Width (Metric)‎ | ‎ 48 mm |