Scotch® Pouch Tape Sheets 832 Clear, 6 in x 10 in, 25 sheets per pad 160 pads per case
3M ID

70070197457
UPC#

00021200622243
3M Product Number

832
Scotch® Pouch Tape Sheets 832 has a clear polypropylene backing with a synthetic rubber resin adhesive for aggressive adhesion to a variety of materials. The backing is printed with a bright orange border and a clear "DOCUMENTS ENCLOSED" message, creating a non-tacky see-through central rectangle to hold and protect shipping documents. Customized messages are also available.

Polypropylene backing/synthetic rubber adhesive sticks well to corrugate and many other substrates
Pre-cut individual sheets are transportable, allowing the user to work from virtually anywhere
Aggressive adhesive prevents rubbing off to withstand rigors of shipping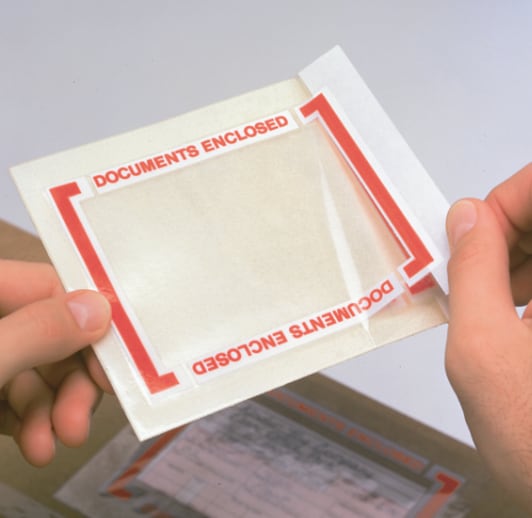 Available in pads for portable back-pocket convenience. No liners help keep work areas clean of debris.
Scotch® Pouch Tape Sheets 832
(PDF, 3.4 Mb) is linerless and easy-to-dispense, offering a strong adhesive for attaching and protecting shipping documents, barcodes, promotional items, packing lists, information and work instructions. There's a strong adhesive tape along the edges of the bright printed border frame and a clear non-adhesive window area in the middle that provides a see-through area for easy document identification.
Recommended Applications
Attaching and protecting shipping documents
Promotional items
Packing lists
Invoices
Product samples
Literature and work instructions
Custom printed applications
Ship with Confidence
Even under ideal conditions, the rigors of the shipping and handling process can cause a number of bumps and scratches to parcels. If left unsecured, a shipping label can become loose and potentially detach itself from the box. We've created an effective solution to this common problem; our 3M Scotch Pouch Tape Sheets 832 secures labels and protects them from the rigors of the shipping and handling process. Additionally, this product provides excellent bar code protection, limiting delays or mishaps during the shipping process.
Weather can also cause damage to package labels. The sturdy film provides protection against rain, snow and other weather that would ordinarily damage unprotected shipping labels. The aggressive synthetic rubber adhesive provides excellent adhesion to various surfaces and prevents rubbing-off to reduce the chance of detachment during shipping.
User-Friendly Document Protection
The conformable film backing also provides excellent flexibility — conforming to packages with curves and varying shapes. The aggressive adhesive sticks well to corrugate and many other common substrates. Superb document protection is also convenient for the user; our Scotch Pouch Tape Sheets 832 comes in easy-to-use precut individual sheets that are transportable, allowing the user to work from virtually anywhere. You can easily carry a pad of 25 Scotch Pouch Tape Sheets in your pocket to quickly and efficiently use the product for on-the-go document protection. This product is also linerless to reduce clutter and waste at workstations. When it comes to shipping valuable parcels, protecting the label is essential to the workflow of your business. We deliver the protection you need to ensure that labels and pertinent documents are protected for more reliable shipping.
Attributes
| | |
| --- | --- |
| Adhesion Strength‎ | ‎ 50 oz/in |
| Adhesion Strength (metric)‎ | ‎ 55 N/100mm |
| Adhesive Type‎ | ‎ Hot Melt Synthetic Rubber Resin |
| Applications‎ | ‎ Branding |
| Backing Material‎ | ‎ Polypropylene |
| Backing Thickness‎ | ‎ 1.6 mil |
| Backing Thickness (metric)‎ | ‎ 0.04 mm |
| Back-Side Adhesive Thickness (metric)‎ | ‎ 0.04 mm |
| Brand‎ | ‎ Scotch |
| Color‎ | ‎ Clear |
| Consumer Label‎ | ‎ Yes |
| Core Size‎ | ‎ 3 |
| Core Size (metric)‎ | ‎ 76 mm |
| Elongation‎ | ‎ 160 Percent |
| Industries‎ | ‎ Food and Beverage,‎ General Industrial,‎ Retail,‎ Consumer Goods,‎ Packaging |
| Length‎ | ‎ 10 Inch |
| Length (Metric)‎ | ‎ 254 mm |
| Product Form‎ | ‎ Pad |
| Tape Thickness‎ | ‎ 2.5 Milli-inch (mil) |
| Tensile Strength‎ | ‎ 30 lb/in |
| Tensile Strength (metric)‎ | ‎ 525 N/100mm |
| Thickness‎ | ‎ 2.5 |
| Thickness (Metric)‎ | ‎ 0.066 |
| Width‎ | ‎ 6 Inch |
| Width (Metric)‎ | ‎ 152.4 mm |