Scotch® Pouch Tape Sheets 830, 5 in x 6 in, 25 sheets per pad 200 pads
3M ID

70070179604
UPC#

00021200621048
3M Product Number

830
Scotch® Pouch Tape Sheets 830 are pre-cut pressure sensitive tapes with a sticky border and a printed, non-tack center section. These pouches provide a quick, simple and secure method of attaching and protecting packing lists and other documentation on a wide range of shipping containers.

Pre-cut individual sheets in transportable pad form provides the flexibility to work from anywhere
Strong film backing provides moisture- and abrasion-resistant barrier to withstand the rigors of shipping
Aggressive synthetic rubber adhesive provides excellent adhesion to various surfaces and prevents rubbing-off to reduce chance of lost or delayed packages
Conformable film backing accommodates bulky and curved shipping parcels and substrates
Standard and custom printed messages available to meet a variety of specific applications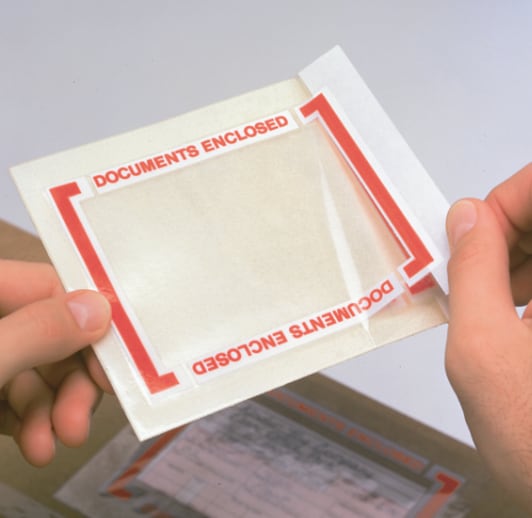 Available in pads for portable back-pocket convenience. No liners help keep work areas clean of debris.
Ship with Confidence
Scotch® Pouch Tape Sheets 830
(PDF, 3.4 Mb) are a linerless solution to attaching documents, literature and samples to packages and products. They are dispensed in single sheets by means of a convenient and easily transportable pad. An aggressive synthetic rubber resin adhesive provides an excellent bond to a variety of substrates and over contoured surfaces to keep packing lists, manifests or labels on the package for safe delivery. The strong film backing is both moisture and abrasion resistant, aiding in resistance against the rigors of shipping or rubbing-off. This reduces the chance of lost or delayed packages or from labels, invoices and bar codes from becoming scuffed and non-legible.
Recommended Applications
Attaching and protecting shipping documents
Promotional items
Packing lists
Invoices
Product samples
Literature and work instructions
Custom printed applications
Bold and Customizable
A bright, orange colored border contains a printed message that reads: DOCUMENTS ENCLOSED. This calls attention to the labels and prevents accidental disposal of documents. A non-tack, see-through window through the central rectangle is designed to hold and protect various literature for easy document identification. Customizable printing options are available to personalize or customize the pouches to specific applications. These options include, but aren't limited to: customer's name and address, logos, telephone numbers or advertisements.
Attributes
| | |
| --- | --- |
| Adhesion Strength‎ | ‎ 50 oz/in |
| Adhesion Strength (metric)‎ | ‎ 55 N/100mm |
| Adhesive Type‎ | ‎ Hot Melt Synthetic Rubber Resin |
| Backing Material‎ | ‎ Polypropylene Film |
| Backing Thickness‎ | ‎ 1.6 mil |
| Backing Thickness (metric)‎ | ‎ 0.04 mm |
| Back-Side Adhesive Thickness (metric)‎ | ‎ 0.04 mm |
| Brand‎ | ‎ Scotch |
| Color‎ | ‎ Clear |
| Consumer Label‎ | ‎ Yes |
| Elongation‎ | ‎ 160 Percent |
| Industries‎ | ‎ Food and Beverage,‎ General Industrial,‎ Retail,‎ Consumer Goods,‎ Packaging |
| Length‎ | ‎ 6 Inch |
| Length (Metric)‎ | ‎ 0.15 m |
| Product Form‎ | ‎ Pad |
| Tape Thickness‎ | ‎ 2.5 Milli-inch (mil) |
| Tensile Strength‎ | ‎ 30 lb/in |
| Tensile Strength (metric)‎ | ‎ 525 N/100mm |
| Thickness‎ | ‎ 2.5 |
| Thickness (Metric)‎ | ‎ 0.066 |
| Width‎ | ‎ 5 Inch |
| Width (Metric)‎ | ‎ 127 mm |