Scotch® Light Duty Packaging Tape 720 Semi-Transparent/High Tack, 1/2 in x 72 yd, 18 per box 4 boxes per case Bulk
3M ID

70006069887
UPC#

00021200035272
3M Product Number

720
Scotch® Light Duty Packaging Tape 720 is a semi-transparent tape featuring a high tack, aggressive rubber resin adhesive and a hand tearable film/fiber backing. It can be used for general purpose sealing and attaching, especially on treated paper overwraps and other hard-to-stick-to surfaces. This tape can be easily used without the aid of a dispenser.

Features very aggressive rubber resin adhesive
Sticks well to treated paper wraps and rough surfaces
Tears by hand, no dispenser needed
Semi-transparent to allow reading of printed data on containers and cartons
Used for general purpose sealing and attaching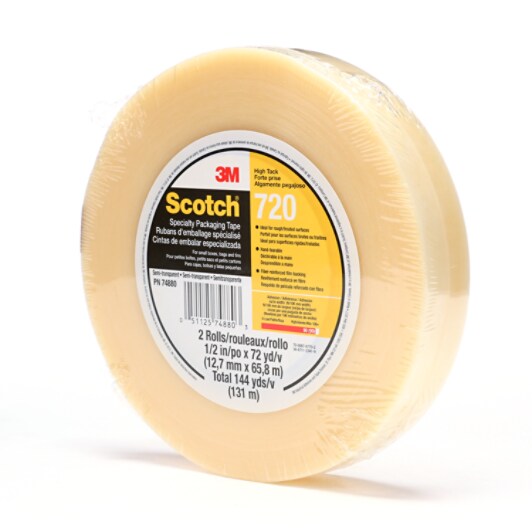 Very Aggressive Adhesive Sticks to Treated Paper Wraps and Rough Surfaces
Scotch® Light Duty Packaging Tape 720 is constructed with a pressure sensitive rubber resin adhesive that sticks well to rough surfaces and treated papers. Its semi-transparent film/fiber backing enables reading of printed data on containers and cartons. This narrow width tape is ideal for attaching, holding and securing solutions in a variety of light duty packaging applications as well as securing inner packs and sealing boxes, bags and tins. Tape 720 also features good dispensing properties for easy unwind and simple application.
Recommended Applications
General purpose sealing and attaching
Bringing Better Ideas to the Surface through Science and Innovation
In our 3M Industrial Adhesives and Tapes Division, we apply the science of adhesion to deliver innovative solutions that improve the design and manufacturing processes of companies around the world. In the end, our technologies help customers like you deliver competitive products to the market faster and more efficiently.
Attributes
| | |
| --- | --- |
| Adhesion Strength‎ | ‎ 90 oz/in |
| Adhesion Strength (metric)‎ | ‎ 99 N/100mm |
| Adhesive Type‎ | ‎ Synthetic Rubber |
| Applications‎ | ‎ Primary Packaging |
| Backing Material‎ | ‎ Film/Fiber tape |
| Backing Thickness‎ | ‎ 4.5 mil |
| Backing Thickness (metric)‎ | ‎ 0.11 mm |
| Back-Side Adhesive Thickness (metric)‎ | ‎ 0.11 mm |
| Brand‎ | ‎ Scotch |
| Color‎ | ‎ Semi Transparent |
| Consumer Label‎ | ‎ No |
| Core Size‎ | ‎ 3 |
| Core Size (metric)‎ | ‎ 76 mm |
| Elongation‎ | ‎ 7 Percent |
| Industries‎ | ‎ General Industrial,‎ Retail,‎ Packaging |
| Length‎ | ‎ 72 Linear Yard |
| Length (Metric)‎ | ‎ 65.83 m |
| Performance Level‎ | ‎ Specialty |
| Product Form‎ | ‎ Roll |
| Tape Thickness‎ | ‎ 6.3 Milli-inch (mil) |
| Tensile Strength‎ | ‎ 20 lb/in |
| Tensile Strength (metric)‎ | ‎ 350 N/100mm |
| Thickness‎ | ‎ 6.3 mil |
| Thickness (Metric)‎ | ‎ 0.16 mm |
| Width‎ | ‎ 0.5 Inch |
| Width (Metric)‎ | ‎ 12.7 mm |