Scotch® High Performance Masking Tape 213 Tan, 1 in x 60 yd 6.5 mil, 36 per case Bulk
3M ID

70002205139
UPC#

00021200028205
3M Product Number

213
Scotch® High Performance Masking Tape 213 has a comparatively high resistance to heat in masking and holding applications where temperatures reach 350°F/177°C for 30 minutes. It has proven to be among the cleanest to remove when tested across a variety of surfaces. This tape is has the ability to exceed clean-removal performance of most tapes on challenging, anodized treated metal surfaces.

Highly cured, synthetic rubber adhesive for excellent high-temperature holding and exceptionally clean removal
Specially treated crepe paper backing is sliver resistant and easy to tear by hand
Provides resistance to solvents and moisture
Designed for controlled unwind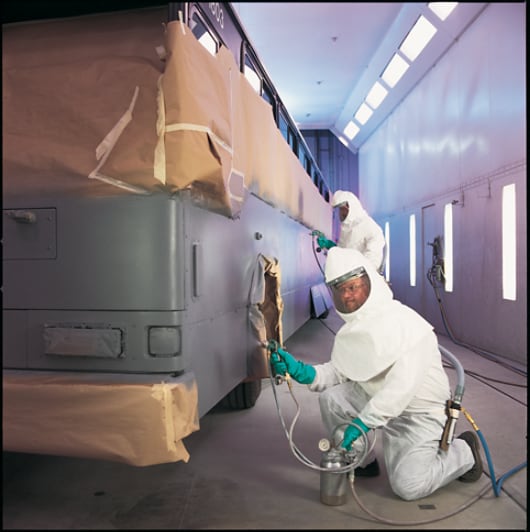 Can withstand temperatures up to 350°F/177°C for 30 minutes
High-Temperature Performance
Scotch® High Performance Masking Tape 213 is designed to deliver reliability when exposed to high temperatures, removing cleanly from even the most challenging of surfaces. The specially treated crepe paper backing is sliver resistant and conformable.
Because this tape can withstand high temperatures (up to 30 minutes at 350°F/177°C) it is ideal for use in masking and holding paint bake applications. It bonds and removes cleanly from even the most challenging surfaces, including anodized aluminum.
Recommended Applications
Painting with high-heat bake cycles
General use on challenging and sensitive surfaces
What is Masking Tape?
Masking tape was developed specifically to help protect surrounding surfaces from overspray, provide clean paint lines, and remove easily and cleanly when finished. Masking tapes from 3M adhere well, resist solvents or water from the paint, and are strong enough to hang plastic sheeting, yet remove cleanly without damaging the subsurface. The backing, typically crepe paper, can conform to curved and irregular surfaces. The tape hand tears for tool-free application.
Attributes
| | |
| --- | --- |
| Adhesion Strength‎ | ‎ 34 oz/in |
| Adhesion Strength (metric)‎ | ‎ 37 N/100mm |
| Adhesive Type‎ | ‎ Rubber |
| Applications‎ | ‎ Painting & Depainting |
| Backing Material‎ | ‎ Crepe Paper |
| Brand‎ | ‎ Scotch |
| Color‎ | ‎ Tan |
| Consumer Label‎ | ‎ No |
| Elongation‎ | ‎ 10 Percent |
| Industries‎ | ‎ Transportation,‎ Specialty Vehicle,‎ Metalworking,‎ Automotive,‎ Furniture,‎ Military & Government,‎ General Industrial,‎ Electronics,‎ Woodworking |
| Length‎ | ‎ 60 Linear Yard |
| Length (Metric)‎ | ‎ 54.86 m |
| Maximum Operating Temperature (Celsius)‎ | ‎ 177 Degree Celsius |
| Maximum Operating Temperature (Fahrenheit)‎ | ‎ 350 Degree Fahrenheit |
| Product Form‎ | ‎ Roll |
| Shelf Life in Months (from date of manufacture)‎ | ‎ 12 |
| Tensile Strength‎ | ‎ 27 lb/in |
| Tensile Strength (metric)‎ | ‎ 480 N/100mm |
| Thickness‎ | ‎ 6 mil |
| Thickness (Metric)‎ | ‎ 0.152 mm |
| Width‎ | ‎ 1 Inch |
| Width (Metric)‎ | ‎ 25.4 mm |