3M™ Flatback Tape 2517 Medium Brown, 12 in x 60 yd 6.5 mil, 1 per inner box 4 per case Bulk
3M ID

70006378106
UPC#

00051115058455
3M Product Number

2517
3M™ Flatback Tape 2517 is a good, general purpose tape ideal for a range of web processing and splicing applications where adhesion in high temperature bake cycles is necessary. This durable tape features a dependable kraft paper backing capable of resisting high temperatures as well as moisture, and can be torn by hand for easy application.

Designed for general purpose splicing
Offers quick and simple roll starting and roll closure
Durable backing can be torn by hand, yet is suitable for machine dispensing
Natural rubber adhesive offers dependable tack and holding power
Can withstand a bake cycle up to 300°F/149°C for up to 30 minutes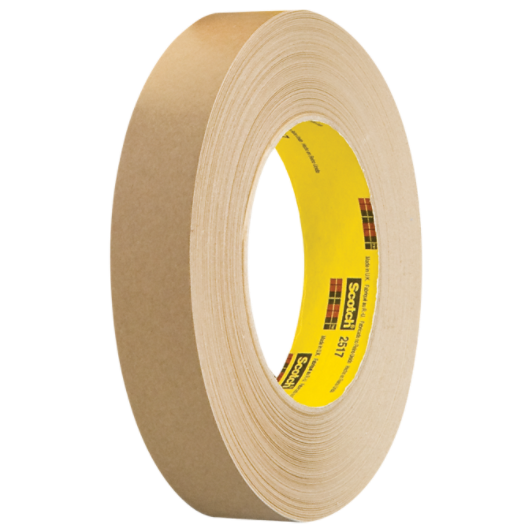 A general purpose tape for splicing liner boards, bundling, holding and packaging applications
A Tough Tape for High Temperatures
3M™ Flatback Tape 2517 was designed specifically to be a strong tape capable of meeting the everyday demands of the most web processing and splicing applications. This smooth flatback tape features an unbleached kraft paper backing that combines strength and heat resistance with consistent unwind and hand-tearability for easy handling in roll starting and roll closure. This tape can be certified to meet ASTM-D6123 type II.
Recommended Applications
Roll starting
Roll closure
High and low temperature splicing
General purpose packaging
Web processing
The Benefit of Flatback Tape
In high-volume industries, where the speed and efficiency of applications play a major role, 3M has designed a series of flatback tapes whose combination of smooth paper backing and controlled unwind provide optimal performance for large-scale jobs. Desired results such as simplified roll starting and roll closure, temperature and moisture resistance, as well as easy handling, make 3M's flatback tapes the go-to solution for operations worldwide.
Attributes
| | |
| --- | --- |
| Adhesion Strength‎ | ‎ 78 oz/in |
| Adhesion Strength (metric)‎ | ‎ 85 N/100mm |
| Adhesive Type‎ | ‎ Rubber |
| Backing Material‎ | ‎ Kraft Paper |
| Brand‎ | ‎ 3M™ |
| Color‎ | ‎ Medium Brown |
| Consumer Label‎ | ‎ No |
| Elongation‎ | ‎ 2 Percent |
| Industries‎ | ‎ Transportation,‎ Specialty Vehicle,‎ Metalworking,‎ Automotive,‎ Furniture,‎ Military & Government,‎ General Industrial,‎ Electronics,‎ Woodworking |
| Length‎ | ‎ 60 Linear Yard |
| Length (Metric)‎ | ‎ 54.86 m |
| Maximum Operating Temperature (Celsius)‎ | ‎ 149 Degree Celsius |
| Maximum Operating Temperature (Fahrenheit)‎ | ‎ 300 Degree Fahrenheit |
| Product Form‎ | ‎ Roll |
| Shelf Life‎ | ‎ 12 months from date of shipment |
| Tensile Strength‎ | ‎ 35 lb/in |
| Tensile Strength (metric)‎ | ‎ 543 N/100mm |
| Thickness‎ | ‎ 6.5 mil |
| Thickness (Metric)‎ | ‎ 0.16 mm |
| Width‎ | ‎ 12 Inch |
| Width (Metric)‎ | ‎ 304.8 mm |