3M™ Flatback Tape 2517 Medium Brown, 12 mm x 55 m 6.5 mil, 72 per case Bulk
3M ID

70006381175
UPC#

00051138946630
3M Product Number

2517
3M™ Flatback Tape 2517 is a general purpose tape with an easy tear kraft paper backing and a rubber adhesive. It is an excellent choice for applications where strong adhesion, a strong backing and high temperature exposure is required, such as splicing, holding and bundling applications.

Kraft paper baking with strong cross direction tensile properties makes it ideal for tabbing and splicing
Resistant to moist conditions to ensure a lasting hold
Rubber adhesive adheres well to a variety of substrates, including steel
Can be machine dispensed
Can withstand a bake cycle up to 300°F/149°C for up to 30 minutes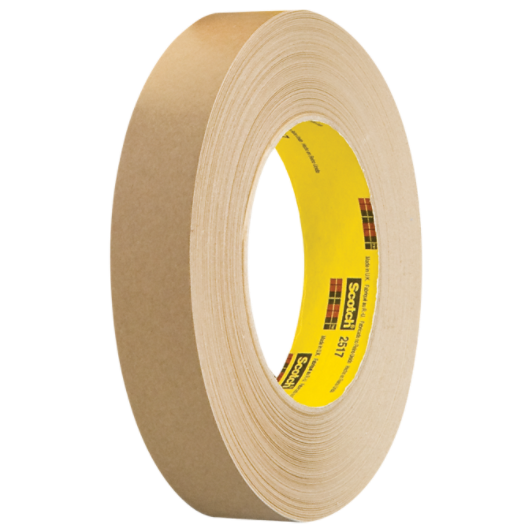 A general purpose tape for splicing liner boards, bundling, holding and packaging applications
Strong and Easy to Tear
Our Scotch® Flatback Tape 2517 is a general purpose flatback tape designed for a range of applications. It features a kraft paper backing that is easy to tear while still maintaining strong cross directional tensile properties. A rubber adhesive is mounted to this backing to provide an immediate initial tack to a wide variety of substrates, including steel. Once adhered it provides strong holding power and removes easily. This tape can be machine dispensed. It will perform in moist conditions and in bake cycles up to 300°F/149°C for up to 30 minutes.
Recommended Applications
Splicing liner boards
High or low temperature splicing applications
Bundling
Holding
Packaging applications
What are Scotch® Flatback Tapes?
Scotch® Flatback Tapes are designed with a range of backings and adhesive strengths to meet the demands of the job. They are used in a variety of industries and specialized applications. Flatback tapes feature core capabilities and dimensional cross tensile properties popular for tabbing and splicing applications. Many have highly colored backings for identification purposes.
Attributes
| | |
| --- | --- |
| Adhesion Strength‎ | ‎ 78 oz/in |
| Adhesion Strength (metric)‎ | ‎ 85 N/100mm |
| Adhesive Type‎ | ‎ Rubber |
| Backing Material‎ | ‎ Kraft Paper |
| Brand‎ | ‎ 3M™ |
| Color‎ | ‎ Medium Brown |
| Consumer Label‎ | ‎ No |
| Elongation‎ | ‎ 2 Percent |
| Industries‎ | ‎ Transportation,‎ Specialty Vehicle,‎ Metalworking,‎ Automotive,‎ Furniture,‎ Military & Government,‎ General Industrial,‎ Electronics,‎ Woodworking |
| Length‎ | ‎ 60.14 Linear Yard |
| Length (Metric)‎ | ‎ 55 m |
| Maximum Operating Temperature (Celsius)‎ | ‎ 149 Degree Celsius |
| Maximum Operating Temperature (Fahrenheit)‎ | ‎ 300 Degree Fahrenheit |
| Product Form‎ | ‎ Roll |
| Shelf Life‎ | ‎ 12 months from date of shipment |
| Tensile Strength‎ | ‎ 35 lb/in |
| Tensile Strength (metric)‎ | ‎ 543 N/100mm |
| Thickness‎ | ‎ 6.5 mil |
| Thickness (Metric)‎ | ‎ 0.16 mm |
| Width‎ | ‎ 0.47 Inch |
| Width (Metric)‎ | ‎ 12 mm |