Scotch® Fingerprint Lifting Tape 8004 Clear, 2 in x 10 yd, 6 rolls per pack 42 packs per case Conveniently Packaged
3M ID

70006788254
UPC#

00051125749350
3M Product Number

8004
Scotch® Fingerprint Lifting Tape 8004 is an ultra-transparent, hand-tearable film tape designed for collecting and preserving physical evidence. The polypropylene backing material is transparent, highly conformable and flexible.

Ultra-transparent, 2 mil (0.051 mm) film tape used to lift and preserve physical evidence such as fingerprints
Polypropylene backing material is 1.4 mil (0.036 mm) thick, moisture, chemical and UV resistant
Archival quality for preserving important information
Good handling, easy-dispensing and easy-tear
Backing material offers transparency, conformability and flexibility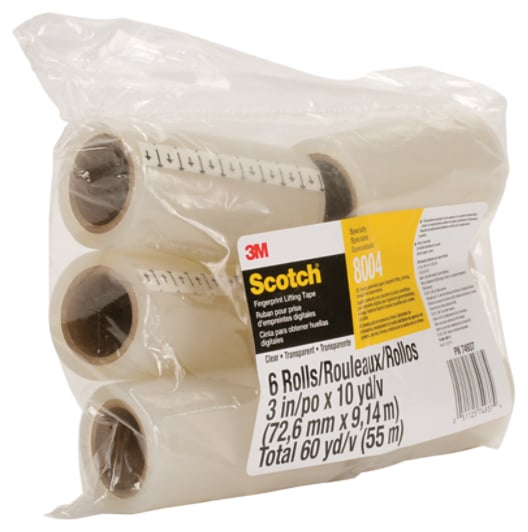 Scotch® Fingerprint Lifting Tape 8004 is used for lifting and preserving physical evidence
Transparent Film Tape for Preserving Physical Evidence
Scotch® Fingerprint Lifting Tape 8004 is a 2 mil (0.051 mm) thick transparent film tape with an acrylic adhesive which adheres instantly to a wide variety of surfaces and retains its clarity. The polypropylene backing material offers excellent clarity with moisture, chemical and UV resistance. It boasts transparent, conformable and flexible. It is used for lifting and preserving physical evidence.
Recommended Applications
Preserving physical information and evidence
Immediate, Light-Duty Solution
Scotch® Light Duty Packaging Tapes provide immediate, high-tack adhesion and resilience to moisture and chemicals. These versatile packaging tapes allow customers to choose the film backing and adhesive needed for application success. Leverage the advantages that come with a strong, yet light-duty, packaging tape that is designed to meet the everyday challenges of packaging or temporary holding applications.
Attributes
| | |
| --- | --- |
| Adhesion Strength‎ | ‎ 16 oz/in |
| Adhesion Strength (metric)‎ | ‎ 17 N/100mm |
| Adhesive Type‎ | ‎ Acrylic |
| Backing Material‎ | ‎ Polypropylene Film |
| Backing Thickness‎ | ‎ 1.4 mil |
| Backing Thickness (metric)‎ | ‎ 0.04 mm |
| Back-Side Adhesive Thickness (metric)‎ | ‎ 0.04 mm |
| Brand‎ | ‎ Scotch |
| Color‎ | ‎ Clear |
| Consumer Label‎ | ‎ Yes |
| Core Size‎ | ‎ 1 |
| Core Size (metric)‎ | ‎ 25 mm |
| Elongation‎ | ‎ 90 Percent |
| Industries‎ | ‎ Military & Government,‎ Packaging |
| Length‎ | ‎ 10 Linear Yard |
| Length (Metric)‎ | ‎ 9.14 m |
| Performance Level‎ | ‎ Specialty |
| Product Form‎ | ‎ Roll |
| Tape Thickness‎ | ‎ 2 Milli-inch (mil) |
| Tensile Strength‎ | ‎ 18 lb/in |
| Tensile Strength (metric)‎ | ‎ 315 N/100mm |
| Thickness‎ | ‎ 2 mil |
| Thickness (Metric)‎ | ‎ 0.051 mm |
| Width‎ | ‎ 2 Inch |
| Width (Metric)‎ | ‎ 50.8 mm |