Scotch® Fine Line Tape 215 Blue, 3/4 in x 60 yd 4.8 mil, 48 per case Bulk
3M ID

70006090156
UPC#

00021200607530
3M Product Number

215
Scotch® Fine Line Tape 215 is a highly conformable tape used to achieve sharp contrast and color separation while painting on highly contoured surfaces. It has proven successful in applications involving complex shapes and irregular surfaces where paper masking tapes or other plastic tapes cannot conform.

Thin tape provides excellent color line separation on tough surfaces
Adheres well on complex shapes, irregular and highly contoured substrates
Resists lifting around corners or in depressed areas
Withstands temperatures as high as 250ºF/121ºC for up to 30 minutes
Available in blue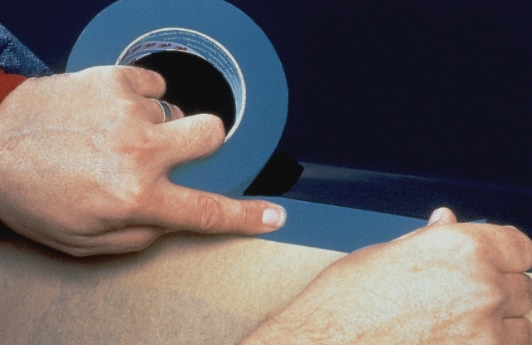 Performs well on complex shapes, irregular and highly contoured surfaces
Paint on Complex Surfaces
Scotch® Fine Line Tape 215 features a natural rubber pressure adhesive for a strong, quick stick. Its smooth, copolymer plastic film backing provides maximum conformability for working with complex shapes and challenging, textured surfaces. Due to its specially developed backing, this tape resists lifting around corners or in depressed areas. Its conformability has proven especially advantageous for adding lap seams in roofing applications.
Recommended Applications
Paint masking for automotive fascia
Paint masking for riveted surfaces
Creating lap seams for roofing
Suitable For High-Temp Bake Cycles
While the backing of Scotch® Fine Line Tape 215 is designed to be thin and conformable, it is also capable of withstanding paint bake cycles. It has proven to maintain form through bake cycles with temperatures up to 250°F/121°C for as long as 30 minutes.
Attributes
| | |
| --- | --- |
| Adhesion Strength‎ | ‎ 43 oz/in |
| Adhesion Strength (metric)‎ | ‎ 47 N/100mm |
| Adhesive Type‎ | ‎ Rubber |
| Backing Material‎ | ‎ Copolymer Plastic Film |
| Brand‎ | ‎ Scotch |
| Color‎ | ‎ Blue |
| Consumer Label‎ | ‎ No |
| Elongation‎ | ‎ 1150 Percent |
| Industries‎ | ‎ Transportation,‎ Specialty Vehicle,‎ Metalworking,‎ Automotive,‎ Furniture,‎ Military & Government,‎ General Industrial,‎ Electronics,‎ Woodworking |
| Length‎ | ‎ 60 Linear Yard |
| Length (Metric)‎ | ‎ 54.86 m |
| Maximum Operating Temperature (Celsius)‎ | ‎ 121 Degree Celsius |
| Maximum Operating Temperature (Fahrenheit)‎ | ‎ 250 Degree Fahrenheit |
| Product Form‎ | ‎ Roll |
| Shelf Life in Months (from date of manufacture)‎ | ‎ 12 |
| Tensile Strength‎ | ‎ 15 lb/in |
| Tensile Strength (metric)‎ | ‎ 263 N/100mm |
| Thickness‎ | ‎ 4.8 mil |
| Thickness (Metric)‎ | ‎ 0.12 mm |
| Width‎ | ‎ 0.75 Inch |
| Width (Metric)‎ | ‎ 19.05 mm |