Scotch® Filament Tape 899 Red, 12 mm x 55 m, 72 per case Bulk
3M ID

70006248515
UPC#

00021200398636
3M Product Number

899
Easily identifiable, Scotch® Filament Tape 899 is a red, high-strength tape comprised of a polypropylene backing and a pressure-sensitive rubber resin adhesive. This easy identifiable tape is abrasion and moisture resistant and offers both strong initial adhesion and long-term holding power.

High-strength, filament-reinforced tape resists nicks, abrasion and moisture
Red color is easily identifiable and attractive for printed boxes
Synthetic rubber adhesive provides long-term holding power and bonds easily to most fiberboard, plastics and metal surfaces
Glass yarn filaments add strength for box closing, bundling and more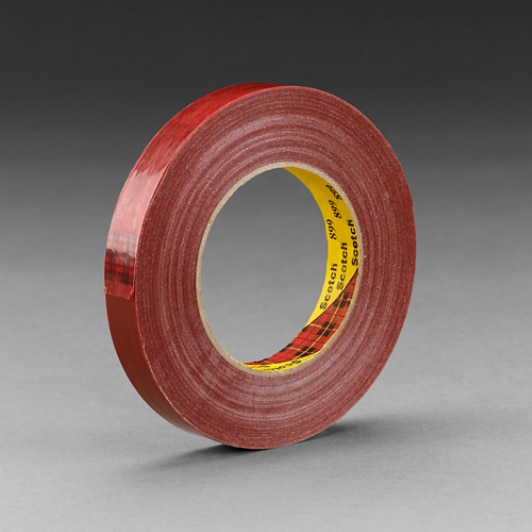 Instantaneous and Identifiable
Scotch® Filament Tape 899
(PDF, 11 Kb) is best recognized by its signature red color, which is both highly visible in a commercial setting and highly attractive when applied to printed boxes. This filament-reinforced tape has a red, polypropylene backing that resists abrasion, moisture, scuffing and breaks, even if nicked or punctured. With an increased tensile strength, this tape is ideal for a variety of reinforcing, strapping and bundling applications. The synthetic adhesive bonds well to a variety of surfaces commonly used in packaging, such as corrugated cardboard, fiberboard, plastic and metals.
Recommended Applications
Packing corrugated fiberboard
Strapping and reinforcing
The World's Go-To Source for Filament Tapes Since 1946
3M's line of filament-reinforced tapes and strapping tapes are high strength, reliable and affordable solutions that give you product and package integrity. For closing boxes, stabilizing pallets, bundling and reinforcing; securing appliance components during transport and easy-open tear strips, our high strength tapes provide important benefits for manufacturers of piping, metal products, furniture, appliances, automotive parts, sporting goods, as well as food and beverage processors.
Attributes
| | |
| --- | --- |
| Adhesion Strength‎ | ‎ 70 oz/in |
| Adhesion Strength (metric)‎ | ‎ 77 N/100mm |
| Adhesive Type‎ | ‎ Synthetic Rubber |
| Applications‎ | ‎ High-Strength Bundling |
| Backing Material‎ | ‎ Polypropylene |
| Brand‎ | ‎ Scotch |
| Color‎ | ‎ Red |
| Consumer Label‎ | ‎ No |
| Core Size‎ | ‎ 3 |
| Core Size (metric)‎ | ‎ 76 mm |
| Elongation‎ | ‎ 3 Percent |
| Industries‎ | ‎ Transportation,‎ Specialty Vehicle,‎ Metalworking,‎ Automotive,‎ Furniture,‎ Military & Government,‎ General Industrial,‎ Consumer Goods |
| Length‎ | ‎ 60.14 Linear Yard |
| Length (Metric)‎ | ‎ 55 m |
| Product Form‎ | ‎ Roll |
| Tape Thickness‎ | ‎ 6.6 Milli-inch (mil) |
| Tensile Strength‎ | ‎ 360 lb/in |
| Tensile Strength (metric)‎ | ‎ 6305 N/100mm |
| Thickness‎ | ‎ 6.6 mil |
| Thickness (Metric)‎ | ‎ 0.168 mm |
| Width‎ | ‎ 0.47 Inch |
| Width (Metric)‎ | ‎ 12 mm |