Scotch® Filament Tape 893 Clear, 12 mm x 55 m, 72 rolls per case
3M ID

70006248721
UPC#

00051131069374
3M Product Number

893
For securing boxes and pallets, bundling pipe or reinforcing large bulk containers, Scotch® Filament Tape 893 is a high-strength, reliable and affordable solution for product and package. This filament-reinforced tape has a clear, polypropylene backing that resists abrasion, moisture, scuffing and breaks, even if nicked or punctured.

High-strength, filament-reinforced tape resists nicks, abrasion and moisture
Synthetic rubber adhesive bonds easily to most fiberboard, plastics and metal surfaces
Glass yarn filaments add strength for box closing, bundling and more
Able to withstand rough shipping and handling conditions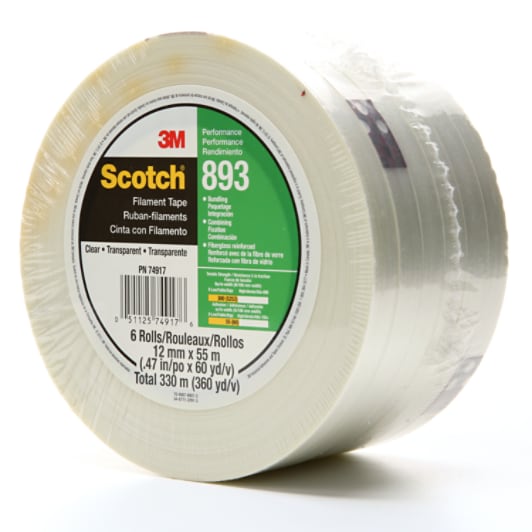 High-Strength Solution for Splicing, Bundling and Strapping
Scotch® Filament Tape 893
(PDF, 10.87 Kb) provides an excellent solution for metal splicing, rebar and pipe bundling or reinforcing large bulk containers. This filament-reinforced tape has a clear, polypropylene backing that resists abrasion, moisture, scuffing and breaks, even if nicked or punctured. With an increased tensile strength, this tape is ideal for a variety of reinforcing, strapping and bundling applications. This sturdy tape dispenses easily without curling for easy application and its multi-layer synthetic-rubber adhesive system prevents delamination. The synthetic adhesive bonds well to a variety of surfaces commonly used in
packaging
(PDF, 1.44 Mb) , such as corrugated cardboard, fiberboard, plastic and metals.
Using an H-seal with Scotch Filament Tape 893 helps maintain a secure closure in rough handling conditions
Recommended Applications
High strength reinforcing
Heavy duty strapping
Sealing and palletizing cartons
Securing boxes
Metal splicing and coil tabbing
Metal and pipe bundling
The World's Go-To Source for Filament Tapes Since 1946
3M's line of filament-reinforced tapes and strapping tapes are high strength, reliable and affordable solutions that give you product and package integrity. For closing boxes, stabilizing pallets, bundling and reinforcing; securing appliance components during transport and easy-open tear strips, our high strength tapes provide important benefits for manufacturers of piping, metal products, furniture, appliances, automotive parts, sporting goods, as well as food and beverage processors.
Attributes
| | |
| --- | --- |
| Adhesion Strength‎ | ‎ 55 oz/in |
| Adhesion Strength (metric)‎ | ‎ 60 N/100mm |
| Adhesive Type‎ | ‎ Synthetic Rubber |
| Applications‎ | ‎ High-Strength Bundling |
| Backing Material‎ | ‎ Polypropylene |
| Brand‎ | ‎ Scotch |
| Color‎ | ‎ Clear |
| Consumer Label‎ | ‎ No |
| Core Size‎ | ‎ 3 |
| Core Size (metric)‎ | ‎ 76 mm |
| Elongation‎ | ‎ 4.5 Percent |
| Industries‎ | ‎ Transportation,‎ Specialty Vehicle,‎ Food and Beverage,‎ Automotive,‎ Military & Government,‎ General Industrial |
| Length‎ | ‎ 60.14 Linear Yard |
| Length (Metric)‎ | ‎ 55 m |
| Performance Level‎ | ‎ Performance |
| Product Form‎ | ‎ Roll |
| Tape Thickness‎ | ‎ 6 Milli-inch (mil) |
| Tensile Strength‎ | ‎ 300 lb/in |
| Tensile Strength (metric)‎ | ‎ 5254 N/100mm |
| Thickness‎ | ‎ 6 mil |
| Thickness (Metric)‎ | ‎ 0.15 mm |
| Width‎ | ‎ 0.47 Inch |
| Width (Metric)‎ | ‎ 12 mm |