Scotch® Filament Tape 8915 Clean Removal, 36 mm x 55 m, 24 rolls per case
3M ID

70006158466
UPC#

00021200694622
3M Product Number

8915
Scotch® Filament Tape 8915 Clean Removal is specifically designed to hold appliance parts in place during manufacturing and shipping. Reinforced with continuous glass-yarn filaments, this high-performance tape provides high adhesion to a wide variety of substrates, but removes cleanly and is stain resistant on most finishes.

Designed for holding appliance parts together during manufacture and shipping
Adhesive offers clean removal and stain resistance on most finishes
Synthetic rubber adhesive bonds firmly to a wide variety of substrates
Transparent polypropylene film backing provides excellent abrasion, moisture and scuff resistance
High tensile strength ideal for strapping, bundling and reinforcing applications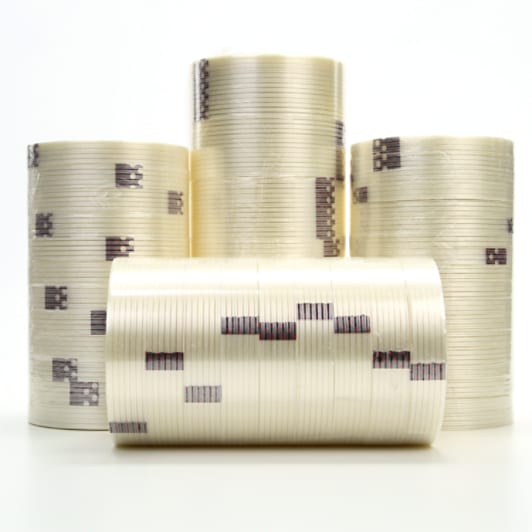 Available in a variety of widths and lengths to suit your project needs
Laminated Adhesive Layer Provides Extra Measure of Protection
Our
Scotch
® Filament Tape 8915 Clean Removal combines a strong polypropylene film backing reinforced with continuous glass yarn filaments and a hot melt synthetic rubber resin adhesive. The heavy film backing provides proper stiffness and excellent abrasion and moisture resistance while the aggressive adhesive is specifically formulated to provide quick tack, lasting hold and clean removal on a variety of surfaces. The multi-layer adhesive system prevents delamination to help ensure tape strength and performance throughout the application. Scotch® Filament Tape 8915 Clean Removal is commonly used in metalworking, appliance, electronics and general industrial markets.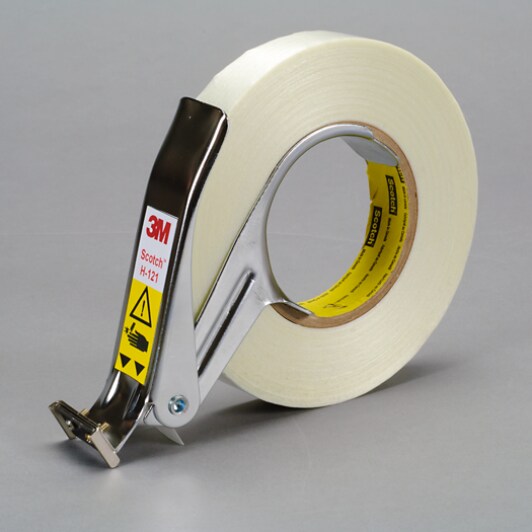 Choose a Scotch® Filament Tape Dispenser specifically designed for Scotch® Filament Tapes
Provides Very Good Holding Power under a Wide Range of Conditions
The adhesive provides good initial adhesion and holds well with minimum rub-down. The tough, clear film backing is abrasion and moisture resistant, provides good aging and protects the filaments and adhesive. The backing, filaments, and adhesive combine to provide high tensile and shear strength and provide an extra layer of security for stabilizing parts. This tape gives you good holding under wide range of conditions with a minimum amount of tape, leading to lower cost for applications where high tensile strength is a main requirement
The World's Go-To Source for Filament Tapes Since 1946
3M's line of filament-reinforced tapes and strapping tapes are high strength, reliable and affordable solutions that give you product and package integrity. For closing boxes, stabilizing pallets, bundling and reinforcing; securing appliance components during transport and easy-open tear strips, their high strength tapes provide important benefits for manufacturers of piping, metal products, furniture, appliances, automotive parts, sporting goods, as well as food and beverage processors.
Bringing Better Ideas to the Surface through Science and Innovation
In the 3M Industrial Adhesives and Tapes Division, they apply the science of adhesion to deliver innovative solutions that improve the design and manufacturing processes of companies around the world. In the end, their technologies help customers like you deliver competitive products to the market faster and more efficiently.
Application Profiles
Attributes
| | |
| --- | --- |
| Adhesion Strength‎ | ‎ 65 oz/in |
| Adhesion Strength (metric)‎ | ‎ 71 N/100mm |
| Adhesive Type‎ | ‎ Synthetic Rubber |
| Applications‎ | ‎ High-Strength Bundling |
| Backing Material‎ | ‎ Polypropylene |
| Backing Thickness (metric)‎ | ‎ 0.15 mm |
| Brand‎ | ‎ Scotch |
| Clean Removal‎ | ‎ Yes |
| Color‎ | ‎ Clear |
| Consumer Label‎ | ‎ No |
| Core Size‎ | ‎ 3 |
| Core Size (metric)‎ | ‎ 76 mm |
| Elongation‎ | ‎ 3 Percent |
| Industries‎ | ‎ Metalworking,‎ General Industrial,‎ Appliance,‎ Electronics |
| Length‎ | ‎ 60.14 Linear Yard |
| Length (Metric)‎ | ‎ 55 m |
| Product Form‎ | ‎ Roll |
| Tape Thickness‎ | ‎ 6 Milli-inch (mil) |
| Tensile Strength‎ | ‎ 170 lb/in |
| Tensile Strength (metric)‎ | ‎ 2977 N/100mm |
| Thickness‎ | ‎ 6 |
| Thickness (Metric)‎ | ‎ 0.15 |
| Width‎ | ‎ 1.41 Inch |
| Width (Metric)‎ | ‎ 36 mm |