Scotch® Custom Printed Pouch Tape 828CP, 5 in x 6 in, 8 per case
3M ID

70070168573
UPC#

00021200620324
3M Product Number

828CP
Scotch® Custom Printed Pouch Tape 828CP is an easily dispensed roll of pressure sensitive tape with a sticky border and a printed, non-tack center section. These rolls provide a quick, simple and secure method of attaching and protecting packing lists and other documentation to a wide range of shipping containers.

Easily dispensed roll of pressure sensitive tapes with a sticky border and a printed, non-tack center section
Custom print and size options to meet your needs
Improve throughput by up to 40% by pairing with companion dispensers M797 and M727.
Strong film backing provides moisture- and abrasion-resistant barrier to withstand the rigors of shipping
Aggressive synthetic rubber adhesive provides excellent adhesion to various surfaces and prevents rubbing-off to reduce chance of lost or delayed packages
Conformable film backing accommodates bulky and curved shipping parcels and substrates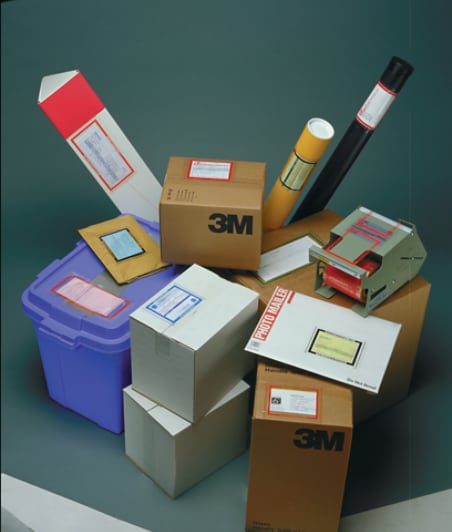 Scotch® Pouch Tapes provide a quick, simple and secure method of attaching documents to shipping containers
Ship with Confidence
Scotch® Custom Printed Pouch Tape 828CP is a linerless solution for attaching documents, literature and samples to packages. It is dispensed by means of a convenient pouch tape dispenser. An aggressive synthetic rubber resin adhesive provides an excellent bond to a variety of substrates and over contoured surfaces to keep packing lists, manifests or labels on the package for safe delivery. The strong film backing is both moisture and abrasion resistant, aiding in resistance against the rigors of shipping or rubbing-off. This reduces the chance of lost or delayed packages or from labels, invoices and bar codes from becoming scuffed and non-legible.
Recommended Applications
Attaching and protecting shipping documents
Promotional items
Packing lists
Invoices
Product samples
Literature and work instructions
Pair with a Scotch® Pouch Tape dispenser to improve throughput by up to 40%
Roll Format for Easy Dispensing
Scotch® Custom Printed Pouch Tape 828CP is available in roll format. When pairing with Scotch® Pouch Tape Dispenser M727 and Scotch® Adjustable Tape Dispenser M797, users can improve throughput by up to 40%.
Bold, Easy-to-Read Message
A bright, orange colored border contains space for your custom printed, personalized message. This calls attention to the labels and prevents accidental disposal of documents. A non-tack, see-through window through the central rectangle is designed to hold and protect various literature for easy document identification.
Attributes
| | |
| --- | --- |
| Adhesion Strength‎ | ‎ 50 oz/in |
| Adhesion Strength (metric)‎ | ‎ 55 N/100mm |
| Adhesive Type‎ | ‎ Hot Melt Synthetic Rubber Resin |
| Applications‎ | ‎ Branding |
| Backing Material‎ | ‎ Polypropylene Film |
| Backing Thickness‎ | ‎ 1.6 mil |
| Backing Thickness (metric)‎ | ‎ 0.04 mm |
| Back-Side Adhesive Thickness (metric)‎ | ‎ 0.04 mm |
| Brand‎ | ‎ Scotch |
| Color‎ | ‎ Transparent |
| Consumer Label‎ | ‎ No |
| Core Size‎ | ‎ 3 |
| Core Size (metric)‎ | ‎ 76 mm |
| Elongation‎ | ‎ 160 Percent |
| Industries‎ | ‎ Food and Beverage,‎ General Industrial,‎ Retail,‎ Consumer Goods,‎ Packaging |
| Length‎ | ‎ 5 Inch |
| Length (Metric)‎ | ‎ 0.15 m |
| Product Form‎ | ‎ Roll |
| Tape Thickness‎ | ‎ 2.5 Milli-inch (mil) |
| Tensile Strength‎ | ‎ 30 lb/in |
| Tensile Strength (metric)‎ | ‎ 525 N/100mm |
| Thickness‎ | ‎ 2.5 |
| Thickness (Metric)‎ | ‎ 0.066 |
| Width‎ | ‎ 6 Inch |
| Width (Metric)‎ | ‎ 127 mm |