Scotch® Custom Printed Pouch Tape 828CP, 5 in x 6 in, 8 per case
3M ID

70070168573
UPC#

00021200620324
3M Product Number

828CP
Scotch® Custom Printed Pouch Tape 828CP is a pressure sensitive pouch tape that is custom printed with a company logo, message or design. This tape features a clear, non-tacky window for displaying documents and offers a strong Scotchpro™ film backing coated with an aggressive adhesive that produces excellent adhesion to a wide range of boxes and container surfaces.

Strong, low-profile attachment solution
Unique 3M tape construction – strong adhesive tape on the edges frames large, non-adhesive window area in middle
"Traps" documents, packing lists, invoices, flyers, cards, parts or samples
Polypropylene backing is stronger than polyethylene envelopes
Custom-printed messages draw attention, such as "THANK YOU" or "WELCOME"
Roll format means no liners to remover that can also litter work area – use M727 Dispenser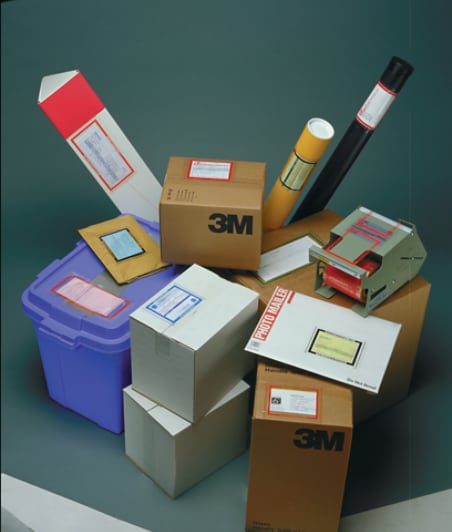 Polypropylene backing/synthetic rubber adhesive sticks well to corrugate and many other substrates
Protect Documents and Safely Deliver with Style
With
Scotch
® Custom Printed Pouch Tape 828CP, you can custom-print the tape to fit a variety of business needs, such as brand identification, return addresses or special messaging. This tape has a clear, non-tacky window for displaying documents as well as protecting documents from damage. The Scotchpro™ film backing is coated with an aggressive pressure-sensitive rubber resin adhesive that is resistant to abrasion and moisture, providing excellent adhesion to a wide range of boxes and container surfaces and keeping packing lists and labels safe and secure throughout delivery. Scotch® Custom Printed Pouch Tape 828CP adds impact, gains attention and leaves packages looking professional.
Recommended Applications
Scotch® Custom Printed Pouch Tape 828CP can be used across many industries and has many application possibilities, such as designing the tape to include: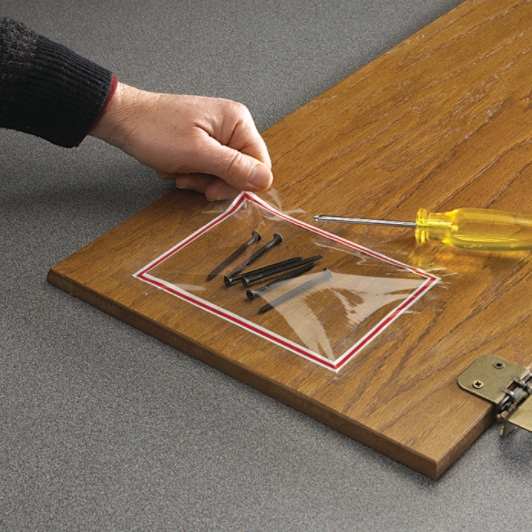 Attach documents, packing lists, invoices, literature, catalogs, brochures, or even product samples, small part packets or other merchandise
Business logos
Special messages
Business design
Special instructions
Return address
Custom-Fit for Brand Awareness and Secure Delivery
Scotch® Custom Printed Pouch Tape 828CP provides a simple, fast and effective solution to attaching documents, literature and samples to your packages and products. We engineered this pouch tape to keep your documents safe throughout the supply chain as well as offer an opportunity to personalize your packages with brand and company messaging designs. Celebrate your business and, at the same time, reduce the chances of lost or delayed packages.
Attributes
| | |
| --- | --- |
| Adhesion Strength‎ | ‎ 50 oz/in |
| Adhesion Strength (metric)‎ | ‎ 55 N/100mm |
| Adhesive Type‎ | ‎ Hot Melt Synthetic Rubber Resin |
| Backing Material‎ | ‎ Polypropylene Film |
| Backing Thickness‎ | ‎ 1.6 mil |
| Backing Thickness (metric)‎ | ‎ 0.04 mm |
| Back-Side Adhesive Thickness (metric)‎ | ‎ 0.04 mm |
| Brand‎ | ‎ Scotch |
| Color‎ | ‎ Transparent |
| Consumer Label‎ | ‎ No |
| Core Size‎ | ‎ 3 |
| Core Size (metric)‎ | ‎ 76 mm |
| Elongation‎ | ‎ 160 Percent |
| Industries‎ | ‎ Food and Beverage,‎ General Industrial,‎ Retail,‎ Consumer Goods,‎ Packaging |
| Length‎ | ‎ 5 Inch |
| Length (Metric)‎ | ‎ 0.15 m |
| Product Form‎ | ‎ Roll |
| Tape Thickness‎ | ‎ 2.5 Milli-inch (mil) |
| Tensile Strength‎ | ‎ 30 lb/in |
| Tensile Strength (metric)‎ | ‎ 525 N/100mm |
| Thickness‎ | ‎ 2.5 |
| Thickness (Metric)‎ | ‎ 0.066 |
| Width‎ | ‎ 6 Inch |
| Width (Metric)‎ | ‎ 127 mm |