Scotch® Box Sealing Tape 313 Clear, 48 mm x 914 m, 6 rolls per case Bulk
3M ID

XG700006164
UPC#

00021200423673
3M Product Number

313
Scotch® Box Sealing Tape 313 closes a wide variety of medium weight box materials securely, including recycled liner paper and fiberboard. The backing of this value performance tape is crafted from polypropylene making it easy to handle and conformable around edges and on rough surfaces for a tight seal. The tape withstands cold temperatures and works well on boxes weighing up to 70 lbs.

High adhesion and holding power resists popping for a secure seal
Suitable for hard to stick to surfaces and cold temperature applications
Available with custom printing for security and/or branding
Backing resists nicks, abrasions, moisture and scuffing for long-lasting performance
Designed for easy handling and smooth dispensing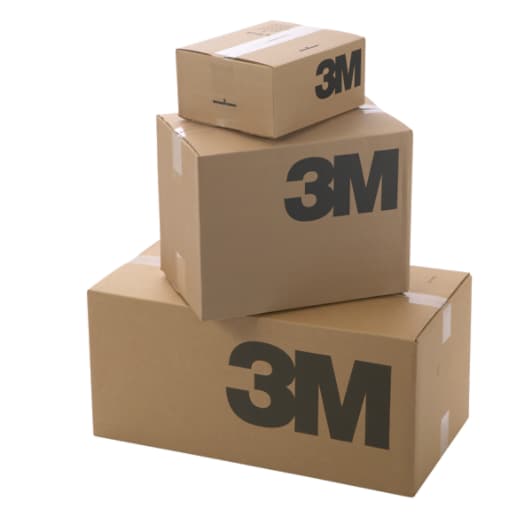 Scotch® Box Sealing Tapes are made with a polypropylene film tape that resists abrasion, moisture, chemicals and scuffing.
Our Scotch® Box Sealing Tape 313 is FDA approved for indirect food contact.
Durable and Dependable
Medium duty sealing tape, also known as packing tape or adhesive tape, is designed to securely close regular slotted containers (RSC) and packages used for moving, shipping and distribution. The tapes durability and high hold works especially well on challenging recycled corrugate and fiberboard. Because it is economical and reliable, medium duty sealing tape is popular with manufacturers of food and beverages, sporting goods, piping, metal fabrications, automotive parts and furniture.
Learn More About Scotch Brand Products for Industrial Applications
Comparison of Scotch® Box Sealing Tapes
Product
Tape Structure
(Backing/Adhesive)
Backing Thickness mils (mm)
Total Thickness mils (mm)
Adhesion to Steel oz./in. (N/100 mm)
Tensile Strength lbs./in. (N/100 mm)
Elongation at Break %
Comments
ASTM Test Method:
D-3652
D-3652
D-3330
D-3759
D-3759
Scotch® Box Sealing Tape
311
Polypropylene/Acrylic
1.1 (.028)
2.05 (.052)
22 (24)
25 (438)
125
Available in Clear and Tan
313
Polypropylene/Acrylic
1.6 (.041)
2.55 (.065)
24 (26)
35 (613)
125
Available in Clear and Tan
353
Polyester/Synthetic Rubber
1.0 (.025)
1.9 (.048)
45 (49)
25 (437)
110
Available in Clear and Tan
355
Polyester/Synthetic Rubber
2.0 (.051)
3.43 (.089)
78 (85)
67 (1174)
130
Available in Clear and Tan
371
Polypropylene/Synthetic Rubber
1.2 (.030)
1.9 (.048)
45 (49)
22 (385)
160
Available in Clear, Tan, Blue, Green, Orange, Red, White, and Yellow
372
Polypropylene/Synthetic Rubber
1.4 (.035)
2.2 (.056)
45 (49)
26 (455)
160
Available in Clear and Tan
373
Polypropylene/Synthetic Rubber
1.6 (.041)
2.5 (.064)
50 (55)
30 (525)
160
Available in Clear, Tan, Blue, Green, Orange, Red, White, and Yellow
375
Polypropylene/Synthetic Rubber
2.0 (.051)
3.1 (.079)
55 (60)
35 (613)
160
Available in Clear and Tan
Attributes
| | |
| --- | --- |
| Adhesion Strength‎ | ‎ 32 oz/in |
| Adhesion Strength (metric)‎ | ‎ 35 N/100mm |
| Adhesive Type‎ | ‎ Acrylic |
| Applications‎ | ‎ Automated Carton Sealing,‎ Box Closure |
| Backing Material‎ | ‎ Polypropylene Film |
| Backing Thickness (metric)‎ | ‎ 0.04 |
| Brand‎ | ‎ Scotch |
| Color‎ | ‎ Clear |
| Consumer Label‎ | ‎ Yes |
| Core Size‎ | ‎ 3 Inch |
| Elongation‎ | ‎ 125 Percent |
| Industries‎ | ‎ Paper,‎ Food and Beverage,‎ Medical,‎ General Industrial,‎ MRO,‎ Electronics,‎ Print |
| Length‎ | ‎ 999.56 Linear Yard |
| Length (Metric)‎ | ‎ 914 m |
| Performance Level‎ | ‎ Performance |
| Product Form‎ | ‎ Roll |
| Tensile Strength‎ | ‎ 35 lb/in |
| Tensile Strength (metric)‎ | ‎ 613 N/100mm |
| Thickness‎ | ‎ 2.5 mil |
| Thickness (Metric)‎ | ‎ 0.06 mm |
| Width‎ | ‎ 1.88 Inch |
| Width (Metric)‎ | ‎ 48 mm |