3M™ Value Duct Tape 1900 Silver, 2.83 in x 50 yd 5.8 mil, 12 per case Individual Wrap
3M ID

70006412434
UPC#

00051115234224
3M Product Number

1900
Constructed of polyethylene film laminated to cloth with a rubber adhesive, this value tape resists curling and tears off the roll cleanly for simple applications in MRO/construction. Our 3M™ Value Duct Tape 1900 is economically priced to best provide a quick solution for simple tasks. It is removable with little or no adhesive residue up to three months after application.

For light use in MRO/construction applications
Removes cleanly for up to three months when applied indoors
Sticks immediately and stays on for up to one year without deterioration
Water-resistant backing resists wear and light abrasion
Provides a tight, moisture-resistant seal in many containment situations
Conforms to irregular surfaces without lifting
Save time and hassle of removing sticky or dried-on residue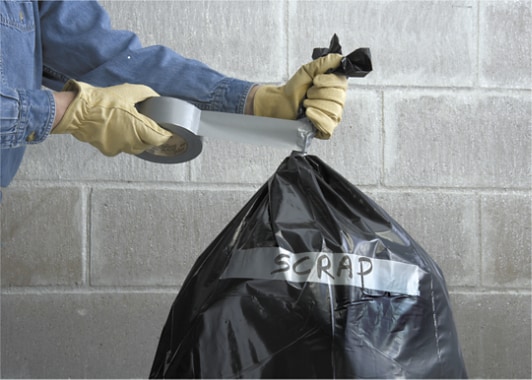 A Tape with Versatility
Originally developed for heating, ventilating and air conditioning (HVAC) applications, duct tape is used today in a variety of maintenance, repair and construction settings. Due to its unique design and low price, 3M™ Value Duct Tape 1900 is a good choice for light indoor duties where overall strength and durability are not crucial. The economical tape can also be used at temperatures as high as 200°F for up to 30 minutes.
3M™ Value Duct Tape 1900 comes with a classic, silver-colored backing. Our sturdy vinyl tape can be torn from the roll and sticks instantly, providing a wide range of convenient solutions.
Recommended Applications
Marking
Labeling
Temporary repair
Built to Stick
3M's family of rugged cloth and duct tapes adheres to most surfaces for applications ranging from bundling to moisture proofing, sealing to splicing, reinforcing to hanging poly drapes. Available in a variety of colors and strengths, they're known best for their hand tearability, high tensile strength and conformability.
Learn more about 3M Industrial Adhesives and Tapes
here.
(PDF, 1.18 Mb)
Attributes
| | |
| --- | --- |
| Adhesion Strength‎ | ‎ 62 oz/in |
| Adhesion Strength (metric)‎ | ‎ 68 N/100mm |
| Adhesive Type‎ | ‎ Synthetic Rubber |
| Backing Material‎ | ‎ Polyethylene over cloth scrim |
| Brand‎ | ‎ 3M |
| Color‎ | ‎ Silver |
| Consumer Label‎ | ‎ No |
| Elongation‎ | ‎ 15 Percent |
| Industries‎ | ‎ Transportation,‎ Specialty Vehicle,‎ Automotive |
| Length‎ | ‎ 50 Linear Yard |
| Length (Metric)‎ | ‎ 45.7 m |
| Maximum Operating Temperature (Celsius)‎ | ‎ 93 Degree Celsius |
| Maximum Operating Temperature (Fahrenheit)‎ | ‎ 200 Degree Fahrenheit |
| Product Form‎ | ‎ Roll |
| Shelf Life in Months (from date of manufacture)‎ | ‎ 12 |
| Tensile Strength‎ | ‎ 19 lb/in |
| Tensile Strength (metric)‎ | ‎ 333 N/100mm |
| Thickness‎ | ‎ 5.8 mil |
| Thickness (Metric)‎ | ‎ 0.15 mm |
| Width‎ | ‎ 2.83 Inch |
| Width (Metric)‎ | ‎ 72 mm |