3M™ Tape Sheets 3750P Clear, 2 in x 6 in, 25 sheets per pad 40 pads per carton 5 cartons per case Bulk
3M ID

70006093036
UPC#

00051131068841
3M Product Number

3750P
3M™ Tape Sheets 3750P are pre-cut to 2" x 6" sheets for convenient carrying and "dispenser-less" taping for easy application. Each 25 sheet layered pad has a removable paper tab and is designed for in-field repair of damaged packages, shipping label protection and other, miscellaneous packaging applications such as sealing envelopes and small packages..

Pre-cut to 2" x 6" for in-field repair of damaged packages, shipping label protection, and other packaging applications where convenient carrying and easy application are necessary
Padded for convenient carrying and "dispenser-less" taping, no cutting tool required
Features a removable paper tab for easy handling
Transparent, polypropylene backing with strong synthetic rubber adhesive sticks to bags, boxes, plastic film, metals and glass
Weather resistant and long aging for indoor/outdoor use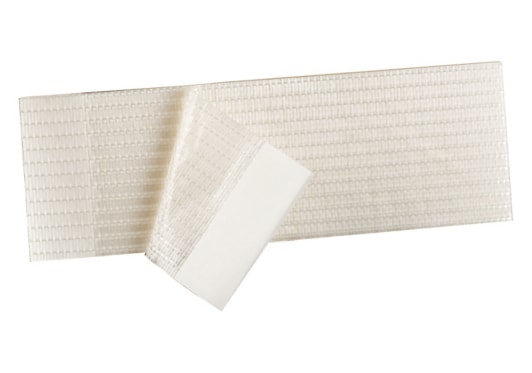 No Dispenser? No Problem!
3M™ Tape Sheets 3750P
(PDF, 12.27 Kb) have a durable polypropylene backing that is strong, conformable and shock resistant. The pressure sensitive hot melt rubber resin adhesive is formulated to provide good adhesion to a wide variety of surfaces including bags, boxes, plastic film, powder coats, metals and glass. For easy one hand application, simply peel away the back sheet and place the pad on a vertical or horizontal surface.
Portable and Lightweight for Convenient Use
With unlimited peel and stick convenience, 3M™ Tape Sheets 3750P are perfect for convenient, in-field repairing, patching and mending, avoiding costly returns and product re-work due to damage somewhere in the supply chain, from plant to retail store.
Recommended Applications
In-field repair
Package patching
Shrink wrap mending
Shipping label protection
Protect against weather damage
Bringing Better Ideas to the Surface through Science and Innovation
In our 3M Industrial Adhesives and Tapes Division, we apply the science of adhesion to deliver innovative solutions that improve the design and manufacturing processes of companies around the world. In the end, our technologies help customers like you deliver competitive products to the market faster and more efficiently.
Attributes
| | |
| --- | --- |
| Adhesion Strength‎ | ‎ 55 oz/in |
| Adhesion Strength (metric)‎ | ‎ 60 N/100mm |
| Adhesive Type‎ | ‎ Synthetic Rubber Resin |
| Applications‎ | ‎ Primary Packaging,‎ Packaging Repair,‎ General and Primary Packaging |
| Backing Material‎ | ‎ Polypropylene |
| Backing Thickness‎ | ‎ 2 mil |
| Backing Thickness (metric)‎ | ‎ 0.05 mm |
| Back-Side Adhesive Thickness (metric)‎ | ‎ 0.05 mm |
| Brand‎ | ‎ 3M |
| Color‎ | ‎ Clear |
| Consumer Label‎ | ‎ No |
| Elongation‎ | ‎ 160 Percent |
| Industries‎ | ‎ Food and Beverage,‎ General Industrial,‎ Retail,‎ Consumer Goods |
| Length‎ | ‎ 6 Inch |
| Length (Metric)‎ | ‎ 0.15 m |
| Maximum Operating Temperature (Celsius)‎ | ‎ 26 Degree Celsius |
| Maximum Operating Temperature (Fahrenheit)‎ | ‎ 80 Degree Fahrenheit |
| Performance Level‎ | ‎ General Use |
| Primary Liner Color‎ | ‎ Kraft |
| Product Form‎ | ‎ Pad |
| Tape Thickness‎ | ‎ 3.1 Milli-inch (mil) |
| Tensile Strength‎ | ‎ 35 lb/in |
| Tensile Strength (metric)‎ | ‎ 613 N/100mm |
| Thickness‎ | ‎ 3.1 mil |
| Thickness (Metric)‎ | ‎ 0.079 mm |
| Width‎ | ‎ 2 Inch |
| Width (Metric)‎ | ‎ 50.8 mm |