Scotch® Strapping Tape 8896 Ivory, 18 mm x 110 m, 48 rolls per case
3M ID

70006433091
UPC#

00051115260018
3M Product Number

8896
Our Scotch® Strapping Tape 8896 is a high performance tape specifically formulated for use in many industries, including appliance and metalworking. The tensilized polypropylene film backing features a pressure-sensitive natural rubber adhesive that provides good initial adhesion holding power and clean removal on a variety of metal, vinyl, plastic, fiberboard, powder coat and glass surfaces.

Removes cleanly and resists stains on common surfaces, such as painted metal, plastic and glass
Proprietary 3M pressure-sensitive rubber adhesive provides good adhesion to adhere to most surfaces
Provides high tensile strength for long lasting hold
Special polypropylene film backing provides proper stiffness
Resists tearing, breaking, abrasion, moisture and scuffs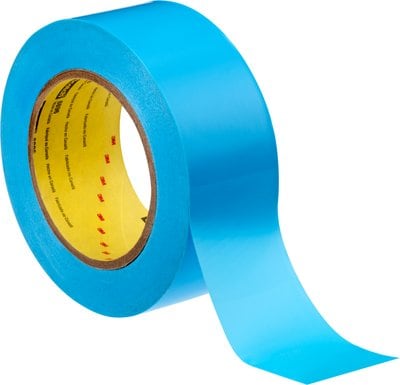 Clean Removal Leaves Less Mess
Strapping tapes are high strength, reliable and affordable solutions for product and package integrity. For securing large or heavy components during transport, these tapes provide important application benefits for manufacturers of metal products, furniture, appliances, automotive parts, and sporting goods. The tape is designed to secure shelving, racks, doors, panels, cords and parts in place, from plant to install. Available in blue, white and ivory to suit a variety of customer needs.
Our
Scotch® Strapping Tape 8896
(PDF, 9.78 Kb) features 170 lb. tensile strength and the polypropylene backing provides proper stiffness for manual or semi-automatic dispensing. It offers excellent abrasion, moisture, and scuff resistance to hold packaging materials, spacers, corner boards, power cords and other hard-to-manage parts firmly in place.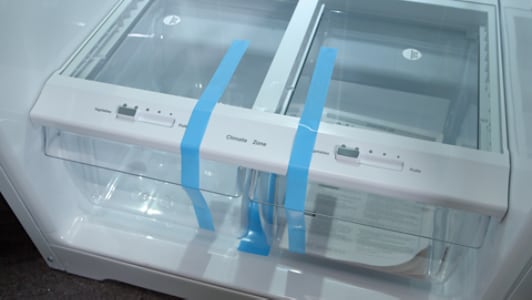 Secure racks, doors and shelves in appliances
Recommended Applications
Secure racks, doors, shelves and other components in appliances
Electronics component assembly
Access door restraint during shipping
Utility strapping
Mounting protective packaging materials
Attributes
| | |
| --- | --- |
| Adhesion Strength‎ | ‎ 70 oz/in |
| Adhesion Strength (metric)‎ | ‎ 77 N/100mm |
| Adhesive Type‎ | ‎ Synthetic Rubber |
| Applications‎ | ‎ Protecting Corners of Appliances,‎ High-Strength Bundling |
| Backing Material‎ | ‎ Tensilized Polypropylene |
| Backing Thickness (metric)‎ | ‎ 0.11 |
| Brand‎ | ‎ 3M |
| Clean Removal‎ | ‎ Yes |
| Color‎ | ‎ Ivory |
| Consumer Label‎ | ‎ No |
| Core Size‎ | ‎ 3 |
| Core Size (metric)‎ | ‎ 76 mm |
| Elongation‎ | ‎ 32 Percent |
| Industries‎ | ‎ Metalworking,‎ General Industrial,‎ Appliance,‎ Electronics |
| Length‎ | ‎ 120.3 Linear Yard |
| Length (Metric)‎ | ‎ 110 m |
| Product Form‎ | ‎ Roll |
| Tape Thickness‎ | ‎ 4.6 Milli-inch (mil) |
| Tensile Strength‎ | ‎ 160 lb/in |
| Tensile Strength (metric)‎ | ‎ 2802 N/100mm |
| Thickness‎ | ‎ 4.6 |
| Thickness (Metric)‎ | ‎ 0.12 |
| Width‎ | ‎ 0.7 Inch |
| Width (Metric)‎ | ‎ 18 mm |