Scotch® Strapping Tape 8896 Blue, 18 mm x 55 m, 48 rolls per case
3M ID

70006273257
UPC#

00021200423932
3M Product Number

8896
3M™ Strapping Tape 8896 is a high-performance clean-removal tape with a tensilized polypropylene film backing and pressure-sensitive adhesive. The tape is designed to secure shelving, racks, doors, panels, cords and other appliance and electronic parts in place, from plant to install.

High strength tape for utility bundling, reinforcing, and pallet unitizing applications
Tape holds firm, removes cleanly with no adhesive residue
Great adhesion to vinyl and other plastics, glass, and metals that are painted, unpainted, or powder coated
Holds shelving, racks, doors, panels, cords and other parts in place, from plant to install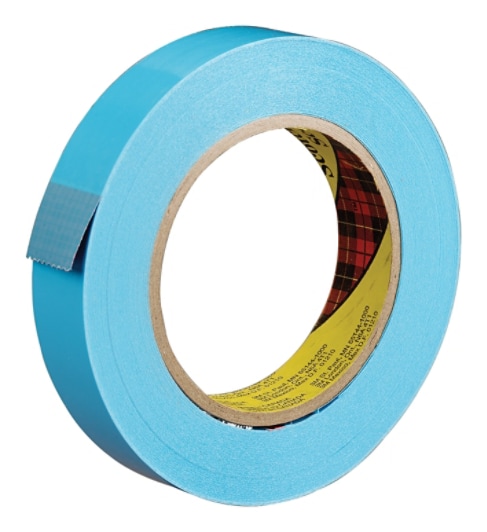 Holds Firm and Removes Clean
The pressure-sensitive synthetic rubber resin adhesive on
3M™ Strapping Tape 8896
(PDF, 10 Kb) is specifically formulated to provide balanced adhesion, clean removal, and stain resistance on painted metals, plastic, and glass surfaces. The monoaxially-oriented polypropylene backing provides proper stiffness for manual or semi-automatic dispensing and offers excellent abrasion, moisture, and scuff resistance to hold packaging materials, spacers, corner boards, power cords and other hard-to-manage parts firmly in place.
Recommended Applications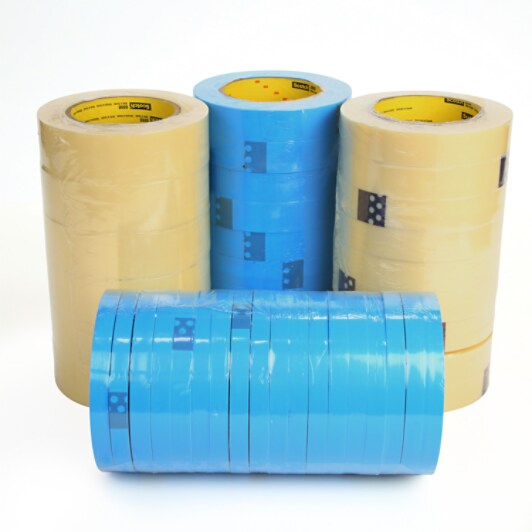 Softer adhesive for a better bond to hard-to stick-to surfaces
Filament-reinforced tapes and strapping tapes
(PDF, 2.2 Mb) are high strength, reliable and affordable solutions for product and package integrity. For closing boxes, stabilizing pallets, bundling and reinforcing, securing appliance components during transport and easy-open tear strips, high strength tapes provide important application benefits for manufacturers of piping, metal products, furniture, appliances, automotive parts, sporting goods, and also food and beverage processors.
Bringing Better Ideas to the Surface through Science and Innovation
In our 3M Industrial Adhesives and Tapes Division, we apply the science of adhesion to deliver innovative solutions that improve the design and manufacturing processes of companies around the world. In the end, our technologies help customers like you deliver competitive products to the market faster and more efficiently.
Attributes
| | |
| --- | --- |
| Adhesion Strength‎ | ‎ 70 oz/in |
| Adhesion Strength (metric)‎ | ‎ 77 N/100mm |
| Adhesive Type‎ | ‎ Synthetic Rubber |
| Applications‎ | ‎ Protecting Corners of Appliances,‎ High-Strength Bundling |
| Backing Material‎ | ‎ Tensilized Polypropylene |
| Backing Thickness (metric)‎ | ‎ 0.11 mm |
| Brand‎ | ‎ 3M |
| Clean Removal‎ | ‎ Yes |
| Color‎ | ‎ Blue |
| Consumer Label‎ | ‎ No |
| Core Size‎ | ‎ 3 |
| Core Size (metric)‎ | ‎ 76 mm |
| Elongation‎ | ‎ 32 Percent |
| Industries‎ | ‎ Metalworking,‎ General Industrial,‎ Appliance,‎ Electronics |
| Length‎ | ‎ 60.14 Linear Yard |
| Length (Metric)‎ | ‎ 55 m |
| Product Form‎ | ‎ Roll |
| Tape Thickness‎ | ‎ 4.6 Milli-inch (mil) |
| Tensile Strength‎ | ‎ 160 lb/in |
| Tensile Strength (metric)‎ | ‎ 2802 N/100mm |
| Thickness‎ | ‎ 4.6 |
| Thickness (Metric)‎ | ‎ 0.12 |
| Width‎ | ‎ 0.7 Inch |
| Width (Metric)‎ | ‎ 18 mm |