3M™ Splicing Tape 253 Tan, 1 in x 60 yd, 36 per case Bulk
3M ID

70006114170
UPC#

00021200838743
3M Product Number

253
3M™ Splicing Tape 253 is a single-coated paper tape with a modified poly liner implemented on the face side of the tape to help ensure roll quality and provide protection against contamination. This tape is ideal for silicone and plastic based material splicing and butt splicing applications.

Special silicone adhesive exhibits good "web-grab" and peel adhesion to many silicone treated materials
Silicone-coated backing enables the splice to be functional
Liner helps ensure roll quality, ease of unwind and protection of adhesive against contamination until splice is ready to be made
Materials release from the tape backing as easily as from the material itself for clean removal of tape and adhesive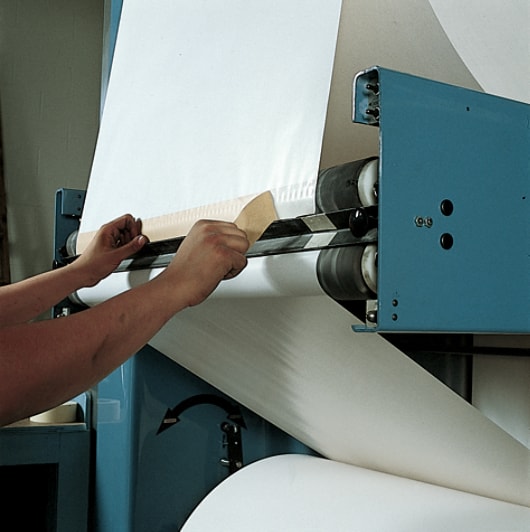 Liner helps ensure roll quality, ease of unwind and protection of adhesive against contamination
Solutions for Silicone Splicing Applications
3M™ Splicing Tape 253 is a 4.6 mil, tan, single-coated paper tape with a modified poly liner. The tape itself is a treated flatstock paper backing coated with a silicone adhesive. We've implemented a modified poly liner on the face side of the tape to help ensure roll quality and provide protection for the adhesive against contamination until the splice is ready to be made. The release liner also helps create an easy and controlled unwind for easy manipulation and deployment of the tape. 3M™ Splicing Tape 253 is designed to perform at temperatures up to 150°F/66°C.
Recommended Applications
Butt splicing many paper and plastic based materials
Splicing many silicone treated materials
Clean Application and Removal with Silicone
The tape features an adhesive that is long-aging to allow the tape to remain adhered and flexible. Silicone adhesives stick well to difficult surfaces such as silicone liners and silicone coated surfaces. When finished this tape removes cleanly and easily to eliminate time consuming cleaning processes. This tape will remove cleanly from a variety of substrates.
Attributes
| | |
| --- | --- |
| Adhesion Strength‎ | ‎ 49 oz/in |
| Adhesion Strength (metric)‎ | ‎ 54 N/100mm |
| Adhesive Type‎ | ‎ Silicone |
| Applications‎ | ‎ Butt Splices |
| Backing Material‎ | ‎ Treated Flatstock Paper |
| Brand‎ | ‎ 3M |
| Color‎ | ‎ Tan |
| Consumer Label‎ | ‎ No |
| Industries‎ | ‎ Paper,‎ Print |
| Length‎ | ‎ 60 Linear Yard |
| Length (Metric)‎ | ‎ 54.86 m |
| Maximum Operating Temperature (Celsius)‎ | ‎ 66 Degree Celsius |
| Maximum Operating Temperature (Fahrenheit)‎ | ‎ 150 Degree Fahrenheit |
| Primary Liner‎ | ‎ Modified Poly Liner |
| Product Form‎ | ‎ Roll |
| Product Type‎ | ‎ Single Coated |
| Shelf Life in Months (from date of manufacture)‎ | ‎ 12 |
| Thickness‎ | ‎ 4.6 mil |
| Thickness (Metric)‎ | ‎ 0.12 mm |
| Width‎ | ‎ 1 Inch |
| Width (Metric)‎ | ‎ 25.4 mm |