3M™ Scotch-Weld™ Urethane Adhesive DP640 Brown, 400 mL, 6 per case Duo-Pak
3M ID

62354935306
UPC#

00021200895449
3M Product Number

640
3M™ Scotch-Weld™ Urethane Adhesive 640 is a two-part, non-sag urethane adhesive. This adhesive features non-sag and shear thinning properties that allow for accurate and precise application. 3M™ Scotch-Weld™ Urethane Adhesive 640 delivers tough, flexible bonds with good adhesion to a wide variety of substrates, especially wood and many properly abraded and cleaned plastics.

Strong adhesive provides tough, flexible bonds
Features non-sag and shear thinning properties for accurate application
Low viscosity for easy dispensing
Long work-life allows for time to reach optimal results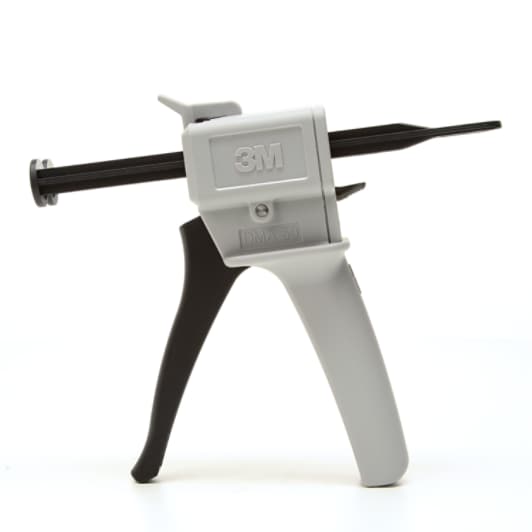 3M™ Scotch-Weld™ EPX™ Plus II applicator
Formulated for Flexibility and Accurate Application
Tough, flexible bonds can be achieved through 3M™ Scotch-Weld™ Urethane Adhesive 640, a two-part urethane adhesive. This urethane adhesive features non-sag and shear thinning properties for precise handling. Its long work-life (40-60 minutes) allows time for adjustments during the application process. In addition, 3M™ Scotch-Weld™ Urethane Adhesive 640 is formulated to have low viscosity for easy dispensing. This adhesive has a 1:1 mix ratio and reaches handling strength in approximately 8 hours, providing good adhesion to many substrates, especially wood and many properly abraded and cleaned plastics. 3M™ Scotch-Weld™ EPX™ Plus II applicator and mix nozzles are required for dispensing (not included).
Recommended Applications
3M™ Scotch-Weld™ Urethane Adhesive 640 can be used across many industries and have a wide variety of application possibilities, such as:
Bonding
Gluing
Joining
Attaching
Assembling
Repairing
Crack filling
Anchoring
Encapsulating
Potting
Sealing
The Basics of Urethane Adhesives
Polyurethanes are a class of polymers generally noted for their flexibility when cured. Two-part polyurethane adhesives comprise two components designed to be mixed, like an epoxy adhesive. The isocyanate, generally the accelerator or hardener side, reacts with the polyol or resin side when mixed, curing more quickly than one-part, moisture cure polyurethane systems, and with no depth of cure issues.
Urethane adhesives will work on most common materials such as wood, metals, rubbers, cured epoxy, leather, tile and glass, many plastics, concrete and more. The versatility of urethane adhesives comes from its chemical components; different formulations result in different stiffness, cure speed, hardness and other properties. These 2 component polyurethane structural adhesives can cure to be relatively rigid or more flexible to meet a wide range of requirements. Urethane adhesives will maintain bond strength integrity through variable environmental factors such as temperature, moisture and chemical exposure.
Get the Job Done with Precision
3M™ Scotch-Weld™ Urethane Adhesive 640 delivers tough, yet flexible, bonds. With an extended work-life as well as non-sag and thixotropic properties, you can be sure you have the time and the flexibility necessary to get the job done and reach the desired results.
Attributes
| | |
| --- | --- |
| Adhesive Type‎ | ‎ Urethane |
| Brand‎ | ‎ Scotch-Weld |
| Color‎ | ‎ Brown |
| Consumer Label‎ | ‎ No |
| Full Cure‎ | ‎ 7 Days @ 72 F (22 C) |
| Hardness‎ | ‎ 70-80 Shore A |
| Industries‎ | ‎ Construction,‎ Military & Government,‎ General Industrial,‎ MRO,‎ Woodworking |
| Mix Ratio Volume Base:Accelerator‎ | ‎ 1 : 1 |
| Open Time‎ | ‎ 40 minutes @ 72 F (22 C) |
| Physical Form‎ | ‎ Flowable Liquid |
| Product Form‎ | ‎ Each |
| Product Type‎ | ‎ Urethane Adhesive |
| Set Time‎ | ‎ 8 Hour |
| Shear Strength at 72 Degrees F (22 Degrees C)‎ | ‎ 2000 Pound-Force Per Square Inch |
| Shelf Life‎ | ‎ 12 months from date of shipment |
| Specific Gravity‎ | ‎ 1.29 |
| Storage Temperature‎ | ‎ 72 Degree Fahrenheit |
| Substrate 1‎ | ‎ Plastics (High Performance Nylon),‎ Plastics (ABS, PVC, Acrylic),‎ Metal,‎ Glass & Ceramics,‎ Wood & Hardboard,‎ Rubber (Except EPDM),‎ EPDM Rubber |
| Substrate 2‎ | ‎ Plastics (High Performance Nylon),‎ Plastics (ABS, PVC, Acrylic),‎ Metal,‎ Glass & Ceramics,‎ Wood & Hardboard,‎ Rubber (Except EPDM),‎ EPDM Rubber |
| Substrates‎ | ‎ Plastics (High Performance Nylon),‎ Plastics (ABS, PVC, Acrylic),‎ Metal,‎ Glass & Ceramics,‎ Wood & Hardboard,‎ Rubber (Except EPDM),‎ EPDM Rubber |
| Viscosity Range (cps) at Room Temperature‎ | ‎ 25,000 |
| Volume (metric)‎ | ‎ 400 ml |