3M™ Scotch-Weld™ Urethane Adhesive DP620NS Black, 50 mL, 12 per case
3M ID

62264550302
UPC#

00021200964169
3M Product Number

620
3M™ Scotch-Weld™ Urethane Adhesive 620 is a flexible, two-part polyurethane based structural adhesive that performs well in numerous applications where some flexibility is needed. It effectively bonds to many substrates such as composites, metals, wood, and many plastics and rubbers, ceramics and glass (may require primer for durability).

Versatile polyurethane adhesive has excellent impact resistance and easily adheres to a variety of substrates
Low dispense viscosity; yet non-sagging after dispensing so adhesive stays where placed
Low temperature flexibility and low shrinkage
Long open time provides ample opportunity to position and adjust work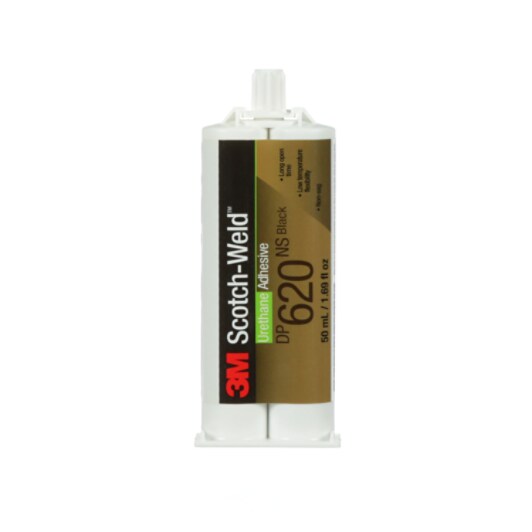 3M™ Scotch-Weld™ Urethane Adhesive 620 Duo-Pak
3M™ Scotch-Weld™ Urethane Adhesive 620 is a rapid-setting, two-part, polyurethane adhesive with low temperature flexibility and low shrinkage. These features make this urethane adhesive an ideal choice for bonding dissimilar substrates together, and in exterior applications, particularly in the general industrial, transportation, maintenance and repair, and construction industries. With an easy mixing, non-sag formula you can be assured our adhesive will remain where you place it even when used on vertical surfaces. It is available in bulk or smaller
Duo-Pak
forms.
Two Parts, One Common Bond
The mix ratio is 1:1 for quick, precise dispensing, and with a 20-minute working time there's ample opportunity for repositioning to keep projects on track. The adhesive reaches handling strength in approximately four hours and is fully cured in 48 hours (at 72°F/22°C). Unlike one-part polyurethanes, this material has no depth of cure problems and cures throughout relatively quickly.
Why Choose Urethane?
Urethane adhesives are two-part adhesives that are relatively flexible when cured, have excellent impact resistance and good adhesion to most plastics. They also bond well to woods, concrete and rubbers, but have reduced resistance to solvents and high temperatures. Uncured adhesive components are sensitive to moisture.
Structurally Strong
Polyurethane adhesives are part of the class of adhesives called "
structural adhesives
(PDF, 2.6 Mb)," which also includes acrylic, cyanoacrylate, and others. Polyurethanes begin as reactive liquid polymers that undergo a chemical reaction when mixed, and then cure to form a solid plastic material. Once the two parts are mixed in their specified ratio, they begin the curing process and offer a limited working time where the adhesive can be applied and the two surfaces positioned as need. This "work life" lasts anywhere from a few minutes to a few hours. This class of structural adhesives provides high shear and peel strengths, depending on the formula and better heat and chemical resistance than other common adhesives.
Attributes
| | |
| --- | --- |
| Adhesive Type‎ | ‎ Urethane |
| Brand‎ | ‎ Scotch-Weld |
| Color‎ | ‎ Black |
| Consumer Label‎ | ‎ No |
| Full Cure‎ | ‎ 48 Hours @ 72 F (22 C) |
| Industries‎ | ‎ Construction,‎ General Industrial,‎ MRO |
| Open Time‎ | ‎ 20 minutes @ 72 F (22 C) |
| Physical Form‎ | ‎ Paste |
| Product Form‎ | ‎ Each |
| Product Type‎ | ‎ Urethane Adhesive |
| Set Time‎ | ‎ 4 Hour |
| Shelf Life in Months (from date of manufacture)‎ | ‎ 12 |
| Specific Gravity‎ | ‎ 1.13 |
| Substrate 1‎ | ‎ Plastics (High Performance Nylon),‎ Plastics (ABS, PVC, Acrylic),‎ Metal,‎ Glass & Ceramics,‎ Wood & Hardboard,‎ Rubber (Except EPDM),‎ EPDM Rubber |
| Substrate 2‎ | ‎ Plastics (High Performance Nylon),‎ Plastics (ABS, PVC, Acrylic),‎ Metal,‎ Glass & Ceramics,‎ Wood & Hardboard,‎ Rubber (Except EPDM),‎ EPDM Rubber |
| Substrates‎ | ‎ Plastics (High Performance Nylon),‎ Plastics (ABS, PVC, Acrylic),‎ Metal,‎ Glass & Ceramics,‎ Wood & Hardboard,‎ Rubber (Except EPDM),‎ EPDM Rubber |
| Viscosity Range (cps) at Room Temperature‎ | ‎ Paste |
| Volume (metric)‎ | ‎ 50 ml |