3M™ Scotch-Weld™ Urethane Adhesive 604NS Black Part B, 5 Gallon, 1 per case
3M ID

62264885302
UPC#

00021200964619
3M Product Number

604
3M™ Scotch-Weld™ Urethane Adhesive 604 is a non-sag, two-component polyurethane adhesive. Rapid-setting, this urethane adhesive offers a fast, yet flexible solution that can be used for bonding dissimilar substrates, such as concrete, ceramic, wood, plastic, rubber and metal.

Fast-curing adhesive delivers tough bonds quickly
Non-sag properties for precise handling during application
Low-temperature flexibility provides opportunity for adjustments
Flexible adhesive that is capable of bonding dissimilar substrates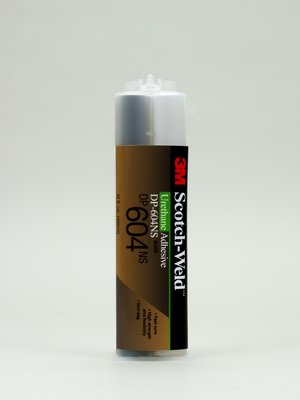 Tough, Fast-Curing Solution
As a non-sag, two-component polyurethane adhesive, 3M™ Scotch-Weld™ Urethane Adhesive 604 is fast-curing. This adhesive quickly establishes tough bonds and offers low-temperature flexibility. 3M™ Scotch-Weld™ Urethane Adhesive 604 dispenses as a non-sag paste for accurate and precise handling during application. This adhesive can be used for bonding dissimilar substrates, such as concrete, ceramic, wood, plastic, rubber and metal. With a 1:1 mix ratio, this urethane adhesive has a 4-minute work life, cures in 6 hours and reaches handling strength in 20 minutes. For the duo-pak cartridges, 3M™ Scotch-Weld™ EPX™ Plus II applicator and mix nozzles are required (not included).
Recommended Applications
3M™ Scotch-Weld™ Urethane Adhesive 604 can be used across many industries. Some recommended applications include:
Bonding wood or metal door sills to concrete
Bonding wood and metal door frames to wood or metal structures
Bonding wood paneling to wood or plaster
Bonding of aluminum shades to glass
Damming material against corrosion
Sealing fabric water hoses
What are Urethane Adhesives?
Polyurethanes are a class of polymers generally noted for their flexibility when cured. Two part polyurethane adhesives comprise two independent formulations designed to be mixed, much like an epoxy adhesive. The isocyanate stream, generally the accelerator or hardener side, reacts with the polyol or resin side. These two components will react when mixed, curing more quickly than one-part, moisture cure polyurethane systems, and with no depth of cure issues.
Urethane adhesives will work on most common materials such as wood, metals, rubbers, cured epoxy, leather, tile and glass, many plastics, concrete and more. The versatility of urethane adhesives comes from its chemical recipe; different chemical combinations result in different properties that produce different levels of stiffness, density, flexibility or hardness. They can cure to a solid and be relatively rigid, or cure to a semi-hardened state and remain flexible to meet a wide range of requirements. In either finished state, urethane adhesives will generally maintain bond strength integrity through variable environmental factors such as temperature, moisture and chemical exposure.
Formulated for Flexibility
For applications that require a fast-curing, tough solution, look no further than 3M™ Scotch-Weld™ Urethane Adhesive 604. This non-sag urethane adhesive is formulated for flexibility and bonding dissimilar substrates. Enjoy the benefits and explore the advantages that come from a strong, yet flexible, solution.
Attributes
| | |
| --- | --- |
| Adhesive Type‎ | ‎ Urethane |
| Brand‎ | ‎ Scotch-Weld |
| Color‎ | ‎ Amber |
| Consumer Label‎ | ‎ No |
| Full Cure‎ | ‎ 6 Hours @ 72 F (22 C) |
| Hardness‎ | ‎ 85 Shore A |
| Industries‎ | ‎ Construction,‎ General Industrial,‎ MRO |
| Open Time‎ | ‎ 4 minutes @ 72 F (22 C) |
| Physical Form‎ | ‎ Liquid |
| Product Form‎ | ‎ Gallon |
| Product Type‎ | ‎ Urethane Adhesive |
| Set Time‎ | ‎ 20 Minute |
| Shelf Life in Months (from date of manufacture)‎ | ‎ 12 |
| Specific Gravity‎ | ‎ 1.04 |
| Substrate 1‎ | ‎ Plastics (High Performance Nylon),‎ Plastics (ABS, PVC, Acrylic),‎ Metal,‎ Glass & Ceramics,‎ Wood & Hardboard,‎ Rubber (Except EPDM),‎ EPDM Rubber |
| Substrate 2‎ | ‎ Plastics (High Performance Nylon),‎ Plastics (ABS, PVC, Acrylic),‎ Metal,‎ Glass & Ceramics,‎ Wood & Hardboard,‎ Rubber (Except EPDM),‎ EPDM Rubber |
| Substrates‎ | ‎ Plastics (High Performance Nylon),‎ Plastics (ABS, PVC, Acrylic),‎ Metal,‎ Glass & Ceramics,‎ Wood & Hardboard,‎ Rubber (Except EPDM),‎ EPDM Rubber |
| Viscosity Range (cps) at Room Temperature‎ | ‎ 800-2000 |
| Volume‎ | ‎ 5 gal |