3M™ Scotch-Weld™ Urethane Adhesive 3532 Brown Part B/A, 1 Quart Kit, 6 per case
3M ID

62353264302
UPC#

00021200208799
3M Product Number

3532
3M™ Scotch-Weld™ Urethane Adhesives 3532 provides fast and strong adhesion to many primed or painted metal and plastic substrates. Formulated to deliver tough structural bonds as well as high peel strength, our two-part, polyurethane adhesive is an excellent solution for a variety of applications, including metal, wood and composites.

Polyurethane adhesive creates tough, semi-rigid bonds
Engineered to provide high peel strength to maximize bond
Delivers long-term durability through excellent impact-resistance
Sag-resistant urethane adhesive provides precise, accurate application
Shortened work-life delivers a quick bond for rapid results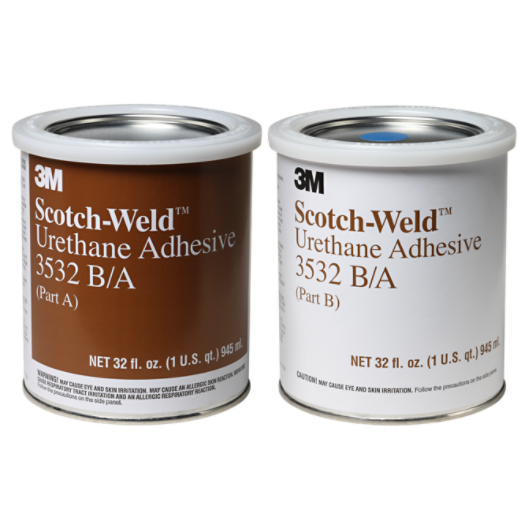 Fast, Tough Bond with Precise Application
3M™ Scotch-Weld™ Urethane Adhesives
(PDF, 195 Mb) provides strong bonds capable of withstanding impact. This urethane adhesive is also engineered to be sag resistant approximately 30 seconds after mixing, which allows for more precise handling, accurate application and positioning of parts. Upon application, its work-life of 10 minutes establishes a fast, secure bond to quickly achieve the desired results. 3M™ Scotch-Weld™ Urethane Adhesives 3532 cures in 24 hours at room temperature or with heat. This option gives you control over the speed in which the bond reaches the shear strength required.
Recommended Applications
3M™ Scotch-Weld™ Urethane Adhesives 3532 may be applied with spatula, trowel or flow equipment. Used in a wide variety of industries, this urethane adhesive works for the following applications: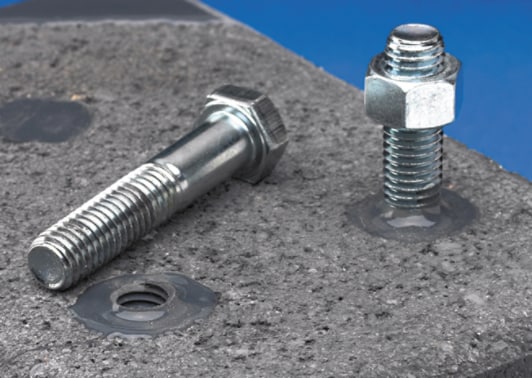 Multi-purpose, semi-right bonds
Wood working
Metal working
Composites
Maintenance
Repair bonding
Gluing
Joining
Attaching
Assembling
Repairing
Crack filling
Anchoring
Encapsulating
Potting
Sealing
What to Know About Urethane Adhesives
Polyurethanes are a class of polymers generally noted for their flexibility when cured. Two part polyurethane adhesives comprise two independent formulations designed to be mixed, much like an epoxy adhesive. The isocyanate stream, generally the accelerator or hardener side, reacts with the polyol or resin side. These two components will react when mixed, curing more quickly than one-part, moisture cure polyurethane systems, and with no depth of cure issues.
Urethane adhesives
(PDF, 2.6 Mb) will work on most common materials such as wood, metals, rubbers, cured epoxy, leather, tile and glass, many plastics, concrete and more. The versatility of urethane adhesives comes from its chemical recipe; different chemical combinations result in different properties that produce different levels of stiffness, density, flexibility or hardness. They can cure to a solid and be relatively rigid, or cure to a semi-hardened state and remain flexible to meet a wide range of requirements. In either finished state, urethane adhesives will maintain bond strength integrity through variable environmental factors such as temperature, moisture and chemical exposure.
The Benefits of Using a Structural Adhesive
Utilizing a structural adhesive like 3M™ Scotch-Weld™ Urethane Adhesives 3532 offers several advantages, such as:
Eliminates the need to damage surfaces (i.e. drilling holes)
Joins dissimilar materials and works well with many surfaces
Provides aesthetically pleasing results as refinishing steps are not required
Offers the highest load bearing capability
Excellent environmental and chemical resistance
Provides a wide range of cure times and properties
Delivers excellent temperature and solvent resistance
Does not need access to air or moisture to dry and therefore has an unlimited depth of cure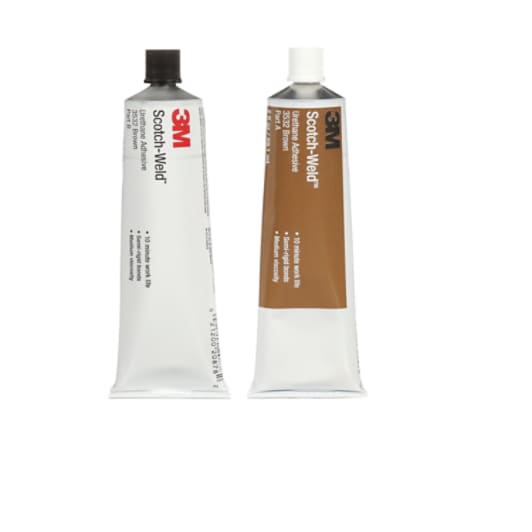 Building the Bond You Need
As a polyurethane adhesive, 3M™ Scotch-Weld™ Urethane Adhesive 3532 quickly delivers the tough structural bonds that you need. Non-sagging, quick to bond upon application and tough on impact, we designed this urethane adhesive to offer a wide range of solutions for challenging bonding applications.
Attributes
| | |
| --- | --- |
| Adhesion Strength‎ | ‎ 400 oz/in |
| Adhesive Type‎ | ‎ Urethane |
| Brand‎ | ‎ Scotch-Weld |
| Color‎ | ‎ Brown |
| Consumer Label‎ | ‎ No |
| Full Cure‎ | ‎ 24 Hours @ 72 F (22 C) |
| Industries‎ | ‎ Construction,‎ Military & Government,‎ General Industrial,‎ MRO,‎ Woodworking |
| Mix Ratio Volume Base:Accelerator‎ | ‎ 1 : 1 |
| Open Time‎ | ‎ 10 minutes @ 72 F (22 C) |
| Physical Form‎ | ‎ Paste |
| Product Form‎ | ‎ Kit |
| Product Type‎ | ‎ Urethane Adhesive |
| Set Time‎ | ‎ 90 Minute |
| Shear Strength at 72 Degrees F (22 Degrees C)‎ | ‎ 2000 Pound-Force Per Square Inch |
| Shelf Life in Months (from date of manufacture)‎ | ‎ 12 |
| Specific Gravity‎ | ‎ 1.33 |
| Storage Temperature‎ | ‎ 72 Degree Fahrenheit |
| Substrate 1‎ | ‎ Plastics (High Performance Nylon),‎ Plastics (ABS, PVC, Acrylic),‎ Metal,‎ Glass & Ceramics,‎ Wood & Hardboard,‎ Rubber (Except EPDM),‎ EPDM Rubber |
| Substrate 2‎ | ‎ Plastics (High Performance Nylon),‎ Plastics (ABS, PVC, Acrylic),‎ Metal,‎ Glass & Ceramics,‎ Wood & Hardboard,‎ Rubber (Except EPDM),‎ EPDM Rubber |
| Substrates‎ | ‎ Plastics (High Performance Nylon),‎ Plastics (ABS, PVC, Acrylic),‎ Metal,‎ Glass & Ceramics,‎ Wood & Hardboard,‎ Rubber (Except EPDM),‎ EPDM Rubber |
| Viscosity Range (cps) at Room Temperature‎ | ‎ 30,000 |
| Volume‎ | ‎ 1 Liquid Quart(US) |