3M™ Scotch-Weld™ PUR Easy Adhesive EZ250120, 1/10 gal Cartridge, 5 per case, Applicator Needed
3M ID

62385352307
UPC#

00051115235542
3M Product Number

EZ250120
3M™ Scotch-Weld™ PUR Adhesive EZ250120 achieves fast set time and is effective across a wide range of service temperatures. It is ideal for bonding wood and select plastics, including ABS, PVC and polycarbonate. This all-in-one adhesive and dispenser solution features fast, easy clean-up and handy accessories to meet all your dispensing needs.

120 seconds set time for fast-paced processes and productivity
Creates high-strength bonds that are plasticizer resistant
Bonds to a variety of materials, including wood and many plastics
100% solids formula with no VOCs
Contains UV dye to easily visualize bond lines and remove excess squeeze out
Low viscosity for very thin bond lines or for covering large surfaces
Creates bond lines as thin as .001"-.003" on wood
4 minute open time for joining parts together
One component adhesive for easy application with no mixing or guesswork
Designed for use with the 3M™ Scotch-Weld™ PUR Applicator and unique disposable nozzles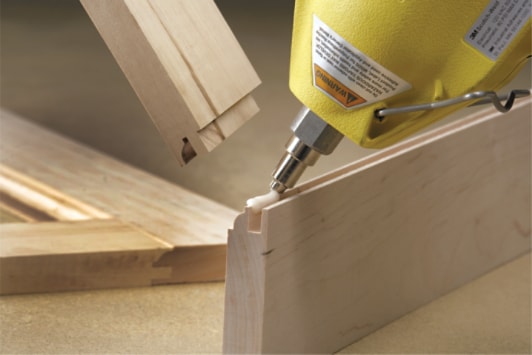 Bonds to a variety of materials, including wood and many plastics
Low Viscosity for Very Thin Bond Lines
3M™ Scotch-Weld™ PUR Adhesive EZ250120 with no VOCs offers the initial fast speed of a hot melt with urethane horse power for added strength. The 100% solids adhesive creates bond lines as thin as .001"-.003" on wood and is ideal for creating strong bonds with little to no clamping or fixturing. It contains UV dye to easily visualize bond lines and remove excess squeeze out. Designed with low viscosity, it should be dispensed with our
3M™ Scotch-Weld™ PUR Easy 250 Applicator
. The adhesive can be kept at optimum temperature using the
3M™ Scotch-Weld™ PUR Easy 250 Preheater
for easy swap out. It features a generous 4 minute open time for joining parts together followed by 120 seconds to handling strength to allow for subsequent processing
Recommended Applications
Wood or plastic for furniture and cabinetry
Edge moldings and trim for countertops, tables, shelving and desks
Wood or MDF drawer bottoms, backs and facings
Thin bond line applications in woodworking
Understanding 3M™ Scotch-Weld™ Polyurethane Reactive (PUR) Adhesives
3M™ Scotch-Weld ™ PUR Adhesives
(PDF, 247.57 Kb) are one-component, moisture-curing urethane adhesives that are applied warm to create dramatically strong bonds to a variety of substrates such as
wood
(PDF, 17.52 Kb),
fiber reinforced plastic (FRP)
(PDF, 22.78 Kb) and many other plastics to themselves, to metal and to glass. Fast-acting strength begins to build as the adhesives cool for rapid, convenient application with minimal downtime from clamping or fixturing. These adhesives can be extruded from hand held or
bench mounted
3M™ Scotch-Weld™ PUR Adhesive Applicators.
PURs offer attractive options: from woodworkers searching for thin bond lines and replacing unsightly mechanical fasteners, to plastic, glass and metal materials assembly in automotive, electronics, general assembly and many other industries.
Bringing Better Ideas to the Surface through Science and Innovation
In our 3M Industrial Adhesives and Tapes Division, we apply the science of adhesion to deliver innovative solutions that improve the design and manufacturing processes of companies around the world. In the end, our technologies help customers like you deliver competitive products to the market faster and more efficiently.
Click here for more information on 3M Structural Adhesives.
(PDF, 15.87 Mb)
Attributes
| | |
| --- | --- |
| Adhesive Type‎ | ‎ Urethane |
| Application Method‎ | ‎ Extruded from hand held or bench mounted applicators |
| Brand‎ | ‎ Scotch-Weld |
| Color‎ | ‎ White/Off-White |
| Consumer Label‎ | ‎ No |
| Full Cure‎ | ‎ 24 Hour |
| Hardness‎ | ‎ 60 Shore D |
| Industries‎ | ‎ Automotive,‎ Construction,‎ Furniture,‎ Signage,‎ Consumer Goods,‎ Specialty Vehicle,‎ Transportation,‎ General Industrial,‎ Military & Government,‎ Retail,‎ Electronics,‎ Woodworking,‎ Packaging |
| Product Form‎ | ‎ Cartridge |
| Set Time‎ | ‎ >61 Second |
| Shelf Life in Months (from date of manufacture)‎ | ‎ 12 |
| Solids Weight Percent (Approximate)‎ | ‎ 100 Percent |
| Storage Temperature‎ | ‎ 60 to 80 Degree Fahrenheit |
| Substrate 1‎ | ‎ Plastics (ABS, PVC, Acrylic),‎ Metal |
| Substrate 2‎ | ‎ Plastics (ABS, PVC, Acrylic),‎ Metal |
| Substrates‎ | ‎ Plastics (ABS, PVC, Acrylic),‎ Metal,‎ Wood |
| Volume‎ | ‎ 0.1 gal |