3M™ Scotch-Weld™ Metal Primer 3901 Red, 1/2 Pint, 12 per case
3M ID

62390135259
UPC#

00021200210877
3M Product Number

3901
3M™ Scotch-Weld™ Metal Primer 3901 is a primer designed for applications using 3M™ Scotch-Weld™ Structural Adhesives. This film and liquid adhesive primer is able to improve metal and glass adhesion. Additional features of this primer include improved corrosion protection and resistance to environmental exposure for metal.

Improves glass and metal adhesion and resistance to environmental exposure for epoxy and urethane structural adhesives
Offers improved corrosion protection to metal for long-lasting performance
Protects cleaned surfaces until bonding operations can be completed
Ensures complete wetting of film adhesive to adhered surfaces
Easy application and quick drying

 
Glass and metal applications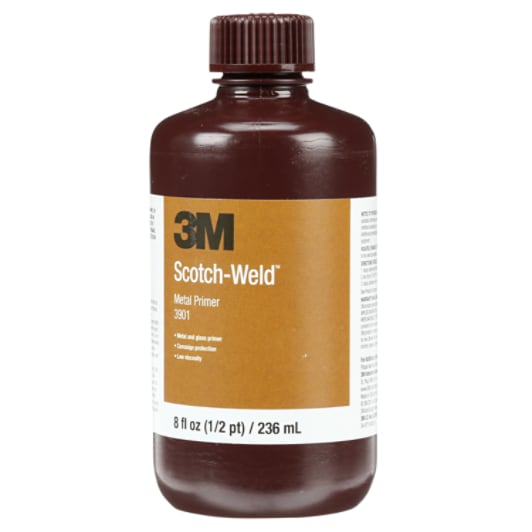 Offers easy application and is quick drawing
Protects Cleaned Surfaces until Bonding Operations can be Completed
For those applications using 3M™ Scotch-Weld™ Structural Adhesives, 3M™ Scotch-Weld™ Metal Primer 3901 ensures that surfaces remain relatively free of oxidation until the bonding application is completed. Protection from and resistance to corrosion and environmental exposure is key to successful, long-lasting adhesion.
Understanding Anaerobic Adhesives
Anaerobic adhesives are uniquely formulated to cure in the absence of oxygen. The term "anaerobic" means "living without air" and when the oxygen is excluded, a chemical chain reaction begins that causes the adhesive to polymerize. Contact with metal speeds the polymerization process and rapidly accelerates the curing process, forming tough cross-linked plastic that provides aggressive adhesion with effective shear strength.
More commonly referred to as threadlockers, pipe sealants, retaining compounds, and gasket makers, these adhesives are often used to enhance the seal, or holding force, in the threads of joined fastener systems such as nut-and-bolt assemblies. A nut-and-bolt assembly may have as little as 15% metal-to-metal contact and even a small amount of anaerobic adhesive readily fills any air voids between the threads and then hardens to a thermoset plastic. These unique adhesives are easy-to-dispense, cure rapidly, and provide effective torque strength while resisting temperature and vibration and sealing out moisture and gasses to protect against corrosion. Anaerobic adhesives can decrease manufacturing costs, enhance equipment reliability, minimize aftermarket breakdown, and reduce warranty claims.
Click here for more information on 3M Structural Adhesives.
(PDF, 15.87 Mb)
Attributes
| | |
| --- | --- |
| Applications‎ | ‎ Structural Glazing |
| Brand‎ | ‎ Scotch-Weld |
| Color‎ | ‎ Red |
| Consumer Label‎ | ‎ No |
| Industries‎ | ‎ Transportation,‎ Specialty Vehicle,‎ Metalworking,‎ Construction,‎ Military & Government,‎ General Industrial |
| Physical Form‎ | ‎ Liquid |
| Product Form‎ | ‎ Pint |
| Shelf Life in Months (from date of manufacture)‎ | ‎ 15 |
| Solids Weight Percent (Approximate)‎ | ‎ <1 Percent |
| Storage Temperature‎ | ‎ 72 Degree Fahrenheit |
| Viscosity Range (cps) at Room Temperature‎ | ‎ 3-7 |
| Volume‎ | ‎ 0.5 Liquid Pint(US) |