3M™ Scotch-Weld™ Low Odor Acrylic Adhesive 810 Black Part B, 20 Litre, 1 per case
3M ID

62278887302
UPC#

00021200490804
3M Product Number

810
3M™ Scotch-Weld™ Low Odor Acrylic Adhesive DP810 is a toughened two-part, room-temperature curing acrylic adhesive specially formulated to bond oily metals, plastics, and other surfaces. With lower odor and non-flammable properties, 3M™ Scotch-Weld™ Acrylic Adhesive DP810 contributes to a safer work environment compared to typical acrylic adhesives.

Low odor adhesive is ideal for any setting where harsh fumes or flammability are an issue
Provides high shear and peel strength and is toughened for impact resistance
10 minute work life and 20 minute handling strength
Bonds oily metals with minimal surface prep
Bonds most plastics, composites and metals

 
Sporting goods (metal to metal, metal to plastic bonding)
Appliance manufacturing (metal to metal, metal to glass)
Electronic casing assembly
10 Minute Work Life and 20 Minute Handling Strength
With a mix ratio is 1:1, 3M™
Scotch-Weld
™ Low Odor Acrylic Adhesive DP810 provides a 10 minute work life to allow time to adjust fit prior to setting. The adhesive reaches handling strength in approximately 20 minutes and is fully cured in 8-24 hours (at 72°F/22°C). (Note: excess adhesive exposed to air around the bond lines may remain tacky up to 48 hrs.) 3M™ Scotch-Weld™ Low Odor Acrylic Adhesive DP810 is approved under UL 746C, polymeric materials use in electrical equipment.
Easy Adhesion with Acrylic
Acrylic adhesives
, often referred to as epoxy adhesives or epoxy glue, are two-part adhesives that provide excellent bond strength and durability, although slightly lower adhesion than 2 part epoxy in some situations. However, acrylic glues have several features that make them easier to use, including a much faster cure speed, higher tolerance for oily or unprepared bonding surfaces and the ability to bond a wide variety of materials, including nearly all plastics. Newer acrylic adhesive formulations are room temperature stable with a moderate shelf life.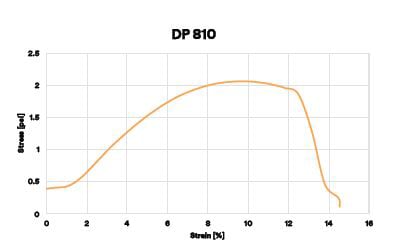 Stress Strain curve and material properties for 3M™ Scotch-Weld™ Low Odor Acrylic Adhesive DP810
Attributes
| | |
| --- | --- |
| Adhesion Strength‎ | ‎ 480 oz/in |
| Adhesive Type‎ | ‎ Acrylic |
| Applications‎ | ‎ Bonding Composite Materials |
| Brand‎ | ‎ Scotch-Weld |
| Color‎ | ‎ Black |
| Consumer Label‎ | ‎ No |
| Full Cure‎ | ‎ 8-24 Hours @ 72 F (22 C) |
| Industries‎ | ‎ Transportation,‎ Specialty Vehicle,‎ Metalworking,‎ Construction,‎ Military & Government,‎ General Industrial,‎ Electronics,‎ Consumer Goods |
| Mix Ratio Volume Base:Accelerator‎ | ‎ 1 : 1 |
| Open Time‎ | ‎ 10 minutes @ 72 F (22 C) |
| Physical Form‎ | ‎ Flowable Liquid |
| Product Form‎ | ‎ Liter |
| Product Type‎ | ‎ Acrylic Adhesive |
| Set Time‎ | ‎ 10 Minute |
| Shear Strength at 72 Degrees F (22 Degrees C)‎ | ‎ 3600 Pound-Force Per Square Inch |
| Shelf Life in Months (from date of manufacture)‎ | ‎ 12 |
| Specific Gravity‎ | ‎ 1.07 |
| Storage Temperature‎ | ‎ <=40 Degree Fahrenheit |
| Substrate 1‎ | ‎ Nylon - Fiber Reinforced,‎ Plastics (High Performance Nylon),‎ Plastics (ABS, PVC, Acrylic),‎ Metal,‎ Glass & Ceramics,‎ Wood & Hardboard,‎ Epoxy - Fiber Reinforced |
| Substrate 2‎ | ‎ Nylon - Fiber Reinforced,‎ Plastics (High Performance Nylon),‎ Plastics (ABS, PVC, Acrylic),‎ Metal,‎ Glass & Ceramics,‎ Wood & Hardboard,‎ Epoxy - Fiber Reinforced |
| Substrates‎ | ‎ Plastics (High Performance Nylon),‎ Plastics (ABS, PVC, Acrylic),‎ Metal,‎ Glass & Ceramics,‎ Wood & Hardboard |
| Viscosity Range (cps) at Room Temperature‎ | ‎ 18,000-22,000 |
| Volume (metric)‎ | ‎ 20 L |