3M™ Sprayable Hot Melt Adhesive 6111 HT Tan, 850 lb Gaylord
3M ID

62611393398
UPC#

00021200565670
3M Product Number

6111HT
3M™ Hot Melt Spray Adhesive 6111HT is a 100% solids, high temperature resistant adhesive used to bond most foams, fabrics, particle board and thin metal. The sprayable thermoplastic adhesive offers easy, quick and accurate application to keep jobs running smoothly.

Sprayable, 100% solids adhesive alternative
Offers excellent adhesion to polypropylene
One or two surface application increases bonding range
Bonds wide variety of substrates, including most foams, plastics, particle board, light gauge metals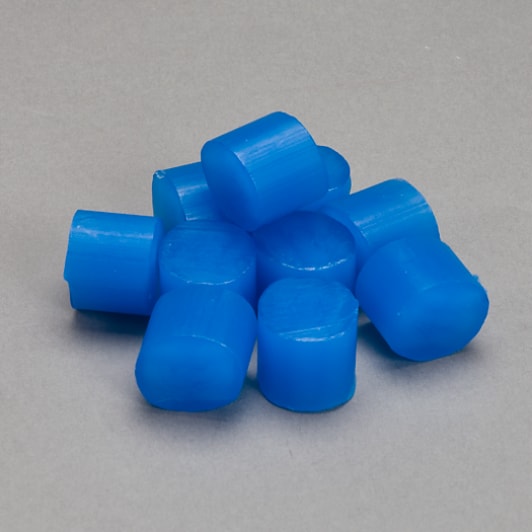 6111HT Blue offers higher heat resistance and visibility
Our 3M™ Hot Melt Spray Adhesive 6111HT is a heat applied, 100% solids, sprayable adhesive for a fast and neat alternative to aerosols, contact adhesives and solvent-based adhesives. It bonds to a variety of surfaces to increase the number of jobs it can be used for.
Recommended Applications
Foams
Plastics
Particle board
Light gauge metals
Easy and Accurate Application
Some adhesives require inordinate prep time with a limited range of uses. Our 3M™ Hot Melt Spray Adhesive 6111HT meets the needs of the consumer by delivering an application method that gets the job done right. It is ideal for large surface lamination assemblies, such as laminates to table tops, fabric to foam and veneers to furniture and flooring. By simply adding heat, the user can enjoy a strong adhesive that is easily, quickly and accurately applied to one or two surfaces. Once applied, the adhesive cools to form a long lasting bond.
As an added bonus, the adhesion is virtually immediate, with an open time of 1-6 minutes depending upon the surface. The spray adhesive not only shortens the time it takes to complete jobs, it also gives the user a controlled method to apply adhesive with minimal overspray.
Click here for more information on 3M™ Hot Melt Adhesive Systems.
(PDF, 1.68 Mb)
Attributes
| | |
| --- | --- |
| Adhesive Type‎ | ‎ Polypropylene |
| Application Method‎ | ‎ Bulk Process |
| Brand‎ | ‎ 3M |
| Color‎ | ‎ Tan |
| Consumer Label‎ | ‎ No |
| Heat Resistance‎ | ‎ 175 Degree Fahrenheit |
| Industries‎ | ‎ Automotive,‎ Construction,‎ Furniture,‎ Signage,‎ Consumer Goods,‎ Specialty Vehicle,‎ Transportation,‎ General Industrial,‎ Military & Government,‎ Retail,‎ Electronics,‎ Woodworking,‎ Packaging |
| Length‎ | ‎ 0.76 Inch |
| Length (Metric)‎ | ‎ 20 |
| Maximum Operating Temperature (Fahrenheit)‎ | ‎ 175 Degree Fahrenheit |
| Net Weight‎ | ‎ 850 Pound |
| Open Time‎ | ‎ 3 Minute |
| Product Form‎ | ‎ Pound |
| Size‎ | ‎ Chips |
| Solids Weight Percent (Approximate)‎ | ‎ 100 Percent |
| Substrate 1‎ | ‎ Plastic, Hard-to-Bond (LSE),‎ Foam,‎ Fabric,‎ Felt,‎ Cork & Fibrous Glass,‎ Plastic, Easy-to-Bond (HSE) |
| Substrate 2‎ | ‎ Plastic, Hard-to-Bond (LSE),‎ Foam,‎ Fabric,‎ Felt,‎ Cork & Fibrous Glass,‎ Plastic, Easy-to-Bond (HSE) |
| Substrates‎ | ‎ Plastic, Hard-to-Bond (LSE),‎ Foam,‎ Fabric,‎ Felt,‎ Cork & Fibrous Glass,‎ Plastic, Easy-to-Bond (HSE) |
| Width‎ | ‎ 0.75 Inch |
| Width (Metric)‎ | ‎ 19 mm |