3M™ Hot Melt Applicator PG II With Speedloader Cartridge Feed Refurbished, 1 per case
3M ID

62994999316
UPC#

00021200647871
3M Product Number

PG II
3M™ Hot Melt Applicator PG II Speedloader Cartridge Feed is a hot melt applicator with pneumatic pressure that can dispense up to 7.5 pounds of adhesive per hour for high volume applications. Three cartridges can be loaded into the Speedloader Cartridge Feed for a continuous flow of hot melt adhesive.

Dispenses up to 7.5 pounds of hot melt adhesive per hour
Rear cartridge feed provides continuous flow of adhesive
Trigger helps improve worker comfort
Maintains a fixed 385°F (196°C) melt temperature
Designed for use with 1" x 3" PG hot melt adhesive sticks
Convenient stand holds applicator in proper standby or hands free position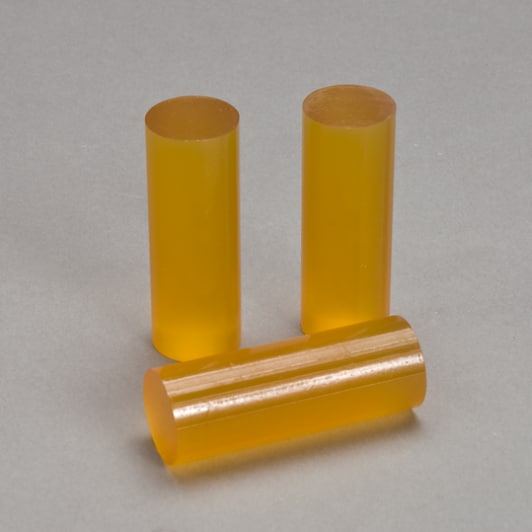 Many hot melts are available for PG II
Dispenses Up to 67.5 Pounds of Hot Melt Adhesive per Hour
Our 3M™ Hot Melt Applicator PG II Speedloader Cartridge Feed uses 120V AC/500W power to maintain a 385°F (196°C) temperature for consistent, reliable dispensing of 1" x 3" PG hot melt adhesives. We built this applicator for ease of control, with the trigger uniquely designed to provide variable flow control. Adhesive flow is also controlled by the type of applicator tip used and pneumatic pressure setting. This gives you flexibility to customize flow and minimize waste. It is designed for use with 1" x 3" PG hot melt adhesive sticks.
Recommended Applications
Small joint assembly
Large surface lamination
Mounting and trim attachment
Point-of-purchase displays
Trade exhibits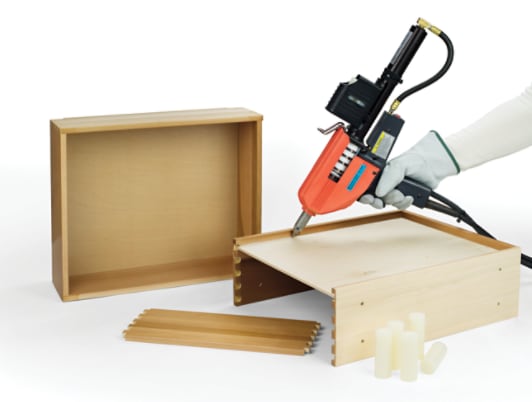 Ideal for small joint, mounting and trim attachment
Rear Cartridge Feed Port Provides Continuous Flow of Adhesive
As the chamber in our
3M™ Hot Melt Applicator PG II
(PDF, 1.8 Mb) runs low, it emits a whistling sound. The piston can be retracted and 3 adhesive glue sticks loaded into the chamber to keep production flowing.
Convenient Stand Holds Applicator in Proper Standby
3M™ Hot Melt Applicator PG II Speedloader Cartridge Feed includes a bench stand to hold it in the proper standby position. Stands for
hands free operation
are also available. Two dispensing tips, 3M™ Hot Melt Applicator Standard Nozzle Tip 9921 and 3M™ Hot Melt Applicator PG II/PG II LT Extension Tip 9946, are included to help deliver
1" x 3" PG hot melt adhesives
where you need it.
Applicator tip reduces initial adhesive surge
Understanding Hot Melt Applicators
Hot melt adhesive applicators, commonly called "glue guns," are tools used to apply liquefied thermoplastic adhesives and are available in low and high-temperature versions. Low-temperature adhesive applicators operate at approximately 250°F (121°C) and are beneficial when bonding heat sensitive materials such as electronics, plastics, and cloth. High-temperature applicators operate at a minimal temperature of approximately 380°F (193°C) and can dispense adhesives that produce a stronger bond than low-temperature adhesives.
Melted adhesive is extruded through a nozzle by either pneumatic pressure, a mechanical trigger mechanism, or with pressure applied directly on the stick. Different nozzles can be used to apply thin, wide strips or narrow, thicker beads. Hot melt adhesive generally sets quickly, ranging from a few seconds to a few minutes, depending on the adhesive formulation.
Click here for more information on 3M™ Hot Melt Adhesive Systems
(PDF, 1.7 Mb)
Attributes
| | |
| --- | --- |
| Adhesive Size‎ | ‎ 1 in x 3 in |
| Brand‎ | ‎ 3M |
| Consumer Label‎ | ‎ No |
| Industries‎ | ‎ Automotive,‎ Construction,‎ Furniture,‎ Signage,‎ Consumer Goods,‎ Specialty Vehicle,‎ Transportation,‎ General Industrial,‎ Military & Government,‎ Retail,‎ Electronics,‎ Woodworking,‎ Packaging |
| Operating Temperature‎ | ‎ Hot Melt |
| Output (lbs per hour)‎ | ‎ 5.5 - 7.5 |
| Product Form‎ | ‎ Each |
| Solids Weight Percent (Approximate)‎ | ‎ 100 Percent |