3M™ Hot Melt Applicator PG II Speedloader Magazine Feed, 1 per case
3M ID

62993898303
UPC#

00021200220340
Our 3M™ Hot Melt Applicator PG II Speedloader with Magazine Feed is no lightweight. It's a hot melt, hi volume applicator using 120V AC / 500W power to melt, and pneumatic pressure to drive, up to 7.5 pounds of adhesive per hr and keep your high-demand production processes moving. The magazine holds up to 9 – 1"x3" adhesive sticks and the applicator holds 3 more in the chamber, for a total of 12.

Holds up to 12 adhesive sticks to support continuous assembly, packaging, and other operations
Maintains a fixed 385° F (196° C) temperature for hot-melt adhesives
Trigger-control adapts flow to the task at hand
Dispenses up to 7.5 lbs. of adhesive per hour to support high-volume demands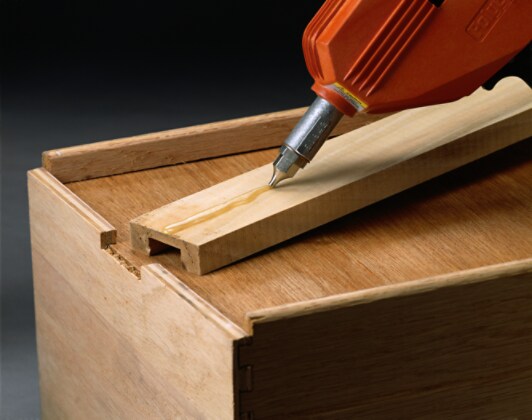 3M™ Hot Melt Adhesives and Applicators are advanced handheld systems to help you improve productivity, lower cost and minimize waste
Recommended Applications
Woodworking
Furniture
Automotive
Transportation
Aerospace
General Industrial
Upholstery
Point Of Purchase Display
Sample Boards
Military
Window, Door, Building
Trophies
Novelties
Audio Components
Cabinets
Construction
Packaging
Electronics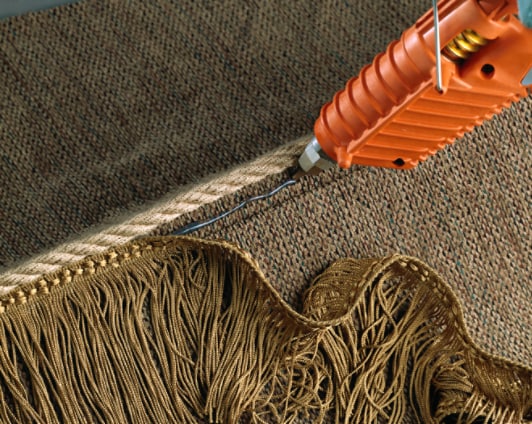 Liquid adhesive is forced out the tip of the applicator through the nozzle valve
Trigger Happy Applicator
This applicator is built for ease of control also, with the trigger being uniquely designed to provide variable flow control. Pulling the trigger slowly to the rear will start the adhesive flow. Increased pressure on the trigger increases the flow rate and amount of adhesive dispensed. Adhesive flow is also controlled by the type of applicator tip used and air pressure setting. This gives the operator flexibility to customize flow and minimize waste.
Thermostatically Controlled
A fixed thermostat on the heat block automatically maintains temperature for consistent, reliable performance. The applicator also includes a bench stand to hold it in the proper position when not in use and two tips, 9921 and 9946, to help deliver the adhesive where and how needed. This tool is designed for the reliability to keep processes moving and the simplicity to keep the focus on those processes, a great solution where ever two surfaces need to be bonded together. The applicator is designed for standard-melt adhesives (melting point of approximately 350-380° F/ 177-196° C) and performs best when combined with hot melt adhesives in the 3M™ Hot Melt Adhesive Stick family.
The Cold Facts on Our Hot Melts
Hot-melt adhesive applicators, commonly called "glue guns," are tools used to apply liquefied thermoplastic adhesives and are available in low and high-temperature versions. Low-temperature adhesive applicators operate at approximately 250°F (121°C) and are beneficial when bonding heat sensitive materials such as electronics, plastics, and cloth. High-temperature applicators operate at a minimal temperature of approximately 380° F (193° C) and can dispense adhesives that produce a stronger bond than low-temperature adhesives. The applicator creates a flow of adhesive when a solidified adhesive stick is fed into the heat chamber, where it is melted using a fixed-temperature heating element. The molten adhesive is then extruded through a nozzle by either pneumatic pressure, a mechanical trigger mechanism, or with pressure applied directly on the stick. Nozzles can be changed to dispense adhesive in a manner that meets a variety of requirements; from a thin, wide strip for carton sealing, to a narrow, thicker bead for bonding wood, composites, or metal. Nozzles are typically metal and become extremely hot during use, which can quickly burn skin. Once dispensed from the applicator, the adhesive generally sets quickly, ranging from a few seconds to a few minutes, depending on the adhesive formula. Hot-melt applicators are widely used in industry, crafts, home, and work with materials ranging from paper and lace to wood and metal.
Attributes
| | |
| --- | --- |
| Adhesive Size‎ | ‎ 1 in x 3 in |
| Brand‎ | ‎ 3M |
| Consumer Label‎ | ‎ No |
| Industries‎ | ‎ Automotive,‎ Construction,‎ Furniture,‎ Signage,‎ Consumer Goods,‎ Specialty Vehicle,‎ Transportation,‎ General Industrial,‎ Military & Government,‎ Retail,‎ Electronics,‎ Woodworking,‎ Packaging |
| Operating Temperature‎ | ‎ Hot Melt |
| Output (lbs per hour)‎ | ‎ 5.5 - 7.5 |
| Product Form‎ | ‎ Each |
| Solids Weight Percent (Approximate)‎ | ‎ 100 Percent |