3M™ Hot Melt Applicator LT Quadrack, 1 per case
3M ID

62928199504
UPC#

00021200894473
We offer the 3M™ Hot Melt Applicator LT Quadrack as a comfortable, easy-to-control applicator that dispenses up to 2.6 pounds of liquefied adhesive per hour to meet the demands of high-production environments, whenever and wherever two surfaces require a strong, clean bond. Because we believe if you have to do hot glue, you might as well do it quickly and comfortably.

Low operating temperature provides adhesive for heat sensitive parts
Quadrack converter provides positive feed-through
Palm trigger improves operator comfort
Palm trigger helps reduce operator fatigue in high demand applications
Balanced design and lightweight for easy, controlled application

 
Adhesive application on paper
Weighing only 13.8 oz., this low temperature applicator uses 120V /150W power to melt, and a unique palm trigger to drive, the low-melt adhesive smoothly and evenly to keep various production processes moving. An operating temperature of 265° F (129° C) is automatically maintained by a fixed thermostat on the heat block. The 3M™ Hot Melt Applicator LT Quadrack comes with a standard 0.093" tip to help you meet a wide variety of needs.
3M Thinking, Performance Design
We used our minds and took the next step in producing a sensible, reliable applicator that is as effective as it is comfortable. Designed to be a simple, practical tool, the 3M™ Hot Melt Applicator LT Quadrack is a reliable tool for dispensing low-melt adhesive sticks. This applicator is a great solution for assembling joining, attaching, securing, repairing, panel bonding, adhering, and structural bonding. The special Quadrack converter is a unique feed mechanism that attaches to the rear of the converter and eliminates linkage failure associated with trigger type hand applicators. The applicator will utilize various 3M™ Hot Melt Adhesive Scotch-Weld™ LM 5/8 x 8" ribbed sticks to bond a wide variety of materials and is an indispensible asset for dozens of applications. The resulting positive feed-through helps you produce a continuous flow of adhesive with smooth, even beads. The palm trigger gives you a comfortable grip and feeds the adhesive stick on demand through to the heat block. It is self-contained and features a comfortable hand-held design that includes a palm trigger that reduces repetitive motion fatigue by spreading the effort across your whole palm area. Our balanced design and light weight also contribute toward an easy, controlled and precise means of manual adhesive application. This applicator is designed exclusively for low-melt-formula adhesive sticks.
Recommended Applications
Woodworking
Furniture
Automotive
Transportation
Aerospace
General Industrial
Upholstery
Point of Purchase Display
Sample Boards
Military
Window, Door, Building
Trophies
Novelties
Audio Components
Cabinets
Construction
Packaging
Electronics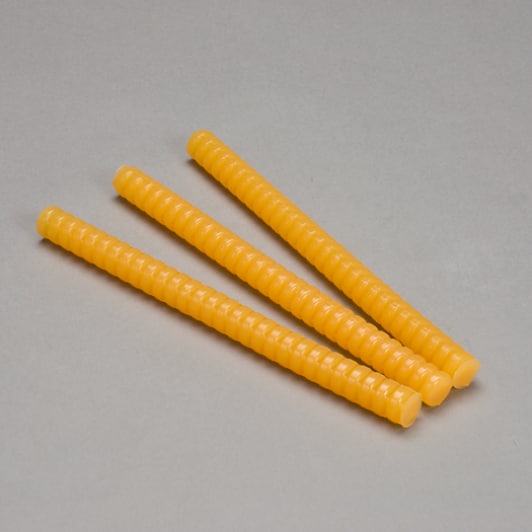 Hot melt adhesive
The Cold Facts on Our Hot Melts
Hot-melt adhesive applicators, commonly called "glue guns," are tools used to apply liquefied thermoplastic adhesives and are available in low and high-temperature versions. Low-temperature adhesive applicators operate at approximately 250° F (121° C) and are beneficial when bonding heat sensitive materials such as electronics, plastics, and cloth. High-temperature applicators operate at a minimal temperature of approximately 380° F (193° C) and can dispense adhesives that produce a stronger bond than low-temperature adhesives. The applicator creates a flow of adhesive when a solidified adhesive stick is fed into the heat chamber, where it is melted using a fixed-temperature heating element. The molten adhesive is then extruded through a nozzle by either pneumatic pressure, a mechanical trigger mechanism, or with pressure applied directly on the stick. Nozzles can be changed to dispense adhesive in a manner that meets a variety of requirements; from a thin, wide strip for carton sealing, to a narrow, thicker bead for bonding wood, composites, or metal. Nozzles are typically metal and become extremely hot during use, which can quickly burn skin. Once dispensed from the applicator, the adhesive generally sets quickly, ranging from a few seconds to a few minutes, depending on the adhesive formula. Hot-melt applicators are widely used in industry, crafts, home, and work with materials ranging from paper and lace to plastics, wood, and metal.
Attributes
| | |
| --- | --- |
| Adhesive Size‎ | ‎ 5/8 in x 8 in |
| Brand‎ | ‎ 3M |
| Consumer Label‎ | ‎ No |
| Industries‎ | ‎ Automotive,‎ Construction,‎ Furniture,‎ Signage,‎ Consumer Goods,‎ Specialty Vehicle,‎ Transportation,‎ General Industrial,‎ Military & Government,‎ Retail,‎ Electronics,‎ Woodworking,‎ Packaging |
| Operating Temperature‎ | ‎ Low Melt |
| Output (lbs per hour)‎ | ‎ 2.6 - 3.5 |
| Product Form‎ | ‎ Each |
| Solids Weight Percent (Approximate)‎ | ‎ 100 Percent |