3M™ Hot Melt Applicator Bench Mount PG II, includes required nozzle assembly, 1 per case
3M ID

62927699306
UPC#

00021200822773
3M Product Number

9276
We developed the 3M™ Hot Melt Applicator Bench Mount PG II as a special assembly that optimizes productivity by holding the 3M™ Hot Melt Applicator PG II / PG II LT in a 45° position for hands-free adhesive application. This step-saving system allows one worker to concentrate on joining the material while minimizing fatigue from positioning the applicator before and after each step.

Provides hands-free operation for PG II and PG II LT applicators
Adjustable height adapts applicator to many tasks
Supports high-volume production environments
Eliminates operator fatigue from holding applicator
Stable 45° angle ensures precise placement of adhesive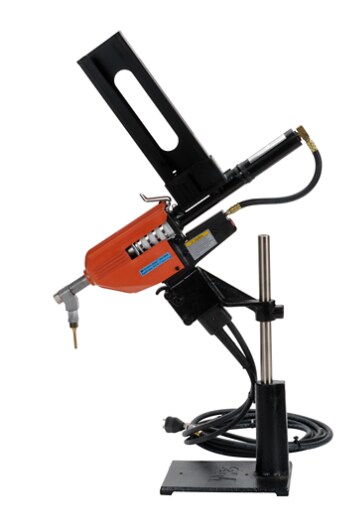 Holds 3M™ Hot Melt Applicator PG II / PG II LT in a 45° position, for hands-free adhesive application
Accurate Hands-Free Adhesion Application
3M™ Hot Melt Applicator Bench Mount PG II is a special assembly developed to optimize productivity. We designed this assembly to hold the 3M™ Hot Melt Applicator PG II / PG II LT in a 45° position, for hands-free adhesive application. It is an adjustable and adaptable solution for various task requirements, allowing positioning of the nozzle tip from a minimum of 9-1/2" to a maximum of 15-1/2" from the bench top. We also included a nozzle adapter that, for any compatible nozzle, directs adhesive flow straight down. This hot melt applicator bench mount supports high-volume production environments and eliminates operator fatigue. In addition, the 45° angle ensures precise placement of adhesion for accurate results.
Recommended Applications
3M™ Hot Melt Applicator Bench Mount PG II can be used across many industries for a variety of applications, including:
Assembling
Joining
Attaching
Securing
Repairing
Panel bonding
Bundling
Sealing
Encapsulating
Rigidizing
Foam bonding
Gluing
Packaging
The Many Advantages of Glue Guns
3M™ hot melt adhesive applicators, commonly called "glue guns," are tools used to apply liquefied thermoplastic adhesives and are available in low and high-temperature versions. Low-temperature adhesive applicators operate at approximately 250°F/ 121°C and are beneficial when bonding heat sensitive materials such as electronics, plastics and cloth. High-temperature applicators operate at a minimal temperature of approximately 380°F/ 193°C. The applicator creates a flow of adhesive when a solidified adhesive stick is fed into the heat chamber, where it is melted using a fixed-temperature heating element. The molten adhesive is then extruded through a nozzle by either pneumatic pressure, a mechanical trigger mechanism, or with pressure applied directly on the stick. Nozzles can be changed to dispense adhesive in a manner that meets various requirements; from a thin, wide strip for carton sealing, to a narrow, thicker bead for bonding wood, composites or metal. Nozzles are typically metal and become extremely hot during use, which can quickly burn skin. Once dispensed from the applicator, the adhesive generally sets quickly, in most cases just a few seconds. Hot-melt applicators are widely used in industry, crafts, home and work with materials ranging from paper and lace to wood and some metals.
Adaptable Design for Optimized Productivity
Enjoy the benefits that come from a hands-free applicator with 3M™ Hot Melt Applicator Bench Mount PG II. With an adjustable height, this assembly can meet the demands of many tasks and support high-volume production environments. Minimize operator fatigue and benefit from the precise placement of an applicator bench mount designed to help optimize productivity.
Attributes
| | |
| --- | --- |
| Brand‎ | ‎ 3M |
| Consumer Label‎ | ‎ No |
| Industries‎ | ‎ Automotive,‎ Construction,‎ Furniture,‎ Signage,‎ Consumer Goods,‎ Specialty Vehicle,‎ Transportation,‎ General Industrial,‎ Military & Government,‎ Retail,‎ Electronics,‎ Woodworking,‎ Packaging |
| Product Form‎ | ‎ Each |
| Solids Weight Percent (Approximate)‎ | ‎ 100 Percent |