3M™ Hot Melt Applicator AE II LT, 5 per case
3M ID

62979999307
UPC#

00051115255670
3M Product Number

AE II LT
Our 3M™ Hot Melt Applicator AE II LT combines the best features of a high volume industrial system into a compact, self-contained applicator. It is a high volume, high productivity industrial tool at a great value. Warm-up is only 3 minutes and its adhesive output of up to 4 lbs per hour, using 1/2 x 12" sticks, will help you keep pace with demanding packaging and assembly operations.

Delivers up to 4 lbs. of adhesive per hour for high volume production
Contoured grip and wide trigger provide operator comfort and precise control
Rugged, high impact resin construction withstands daily industrial use
Positive check valve nozzle helps minimize dripping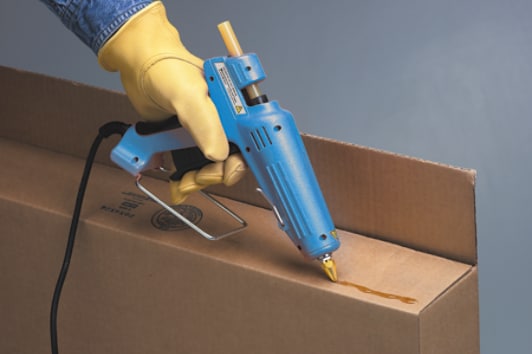 All electric operation for low melt adhesives
Its industrial-grade 250-Watt Positive Temperature Coefficient (PTC) system ensures a consistent 270°F (132°C) for reliable adhesive flow and application. When paired with
3M™ Hot Melt Adhesives
, this lightweight, durable applicator can be used for a wide range of duties including strong, attractive package closures, short-run manual case sealing, rework areas, and multi-station operations; furniture and fixture assembly, or bonding temperature sensitive plastics such as EPS foam.
Recommended Applications
Woodworking
Furniture
Automotive
Transportation
Aerospace
General Industrial
Upholstery
Point Of Purchase Display
Sample Boards
Military
Window, Door, Building
Trophies
Novelties
Audio Components
Cabinets
Construction
Packaging
Electronics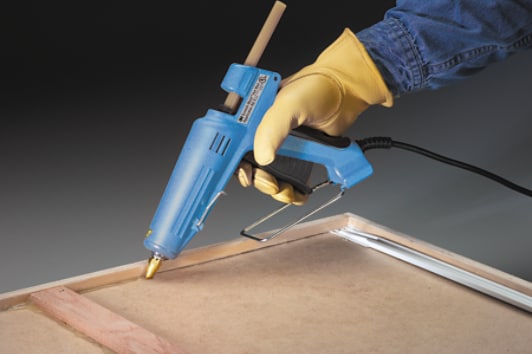 Hot Melt Applicator AE II LT combines the best features of a high volume industrial system into a compact, self-contained applicator
Hot-melt adhesive applicators, commonly called "hot glue guns," are tools used to apply liquefied thermoplastic adhesives and are available in low and high-temperature versions. Low-temperature adhesive applicators operate at approximately 250°F (121°C) and are beneficial when bonding heat sensitive materials such as electronics, plastics, and cloth. High-temperature applicators operate at a minimal temperature of approximately 380°F (193°C) and can dispense adhesives that produce a stronger bond than low-temperature adhesives. The applicator creates a flow of adhesive when a solidified adhesive stick is fed into the heat chamber, where it is melted using a fixed-temperature heating element. The molten adhesive is then extruded through a nozzle by either pneumatic pressure, a mechanical trigger mechanism, or with pressure applied directly on the stick. Nozzles can be changed to dispense adhesive in a manner that meets a variety of requirements; from a thin, wide strip for carton sealing, to a narrow, thicker bead for bonding wood, composites, or metal. Nozzles are typically metal and become extremely hot during use, which can quickly burn skin. Once dispensed from the applicator, the adhesive generally sets quickly, ranging from a few seconds to a few minutes, depending on the adhesive formula. Hot-melt applicators are widely used in industry, crafts, home, and work with materials ranging from paper and lace to wood and metal.
Attributes
| | |
| --- | --- |
| Adhesive Size‎ | ‎ 1/2 in x 12 in |
| Brand‎ | ‎ 3M |
| Consumer Label‎ | ‎ No |
| Industries‎ | ‎ Automotive,‎ Construction,‎ Furniture,‎ Signage,‎ Consumer Goods,‎ Transportation,‎ Specialty Vehicle,‎ General Industrial,‎ Military & Government,‎ Retail,‎ MRO,‎ Electronics,‎ Woodworking,‎ Packaging |
| Operating Temperature‎ | ‎ Low Melt |
| Output (lbs per hour)‎ | ‎ 3.6 - 5.5 |
| Product Form‎ | ‎ Each |
| Solids Weight Percent (Approximate)‎ | ‎ 100 Percent |