3M™ Hot Melt Adhesive 3762 LM PG Light Amber, 1 in x 3 in, 22 lb per case
3M ID

62372093302
UPC#

00021200491283
3M Product Number

3762
3M™ Hot Melt Adhesive 3762 is a 100% is an economical, fast-setting resin solid hot melt adhesive. It's designed for general purpose applications as well as manual and corrugated carton sealing and general packaging. When heated to its specified melt point this adhesive forms an aggressive hot tack that bonds to handling strength in seconds to help maintain high-tempo productivity.

Aggressive hot tack rapidly achieves handling strength for packaging and other applications
Medium open time allows for positioning and fit adjustment
Securely bonds difficult to seal substrates such as lightly waxed surfaces
Virtually invisible when bonded, eliminating unattractive mechanical fasteners and tape products
Bonds to corrugated or paperboard cartons, wood, particle board, chipboard and cushioning foams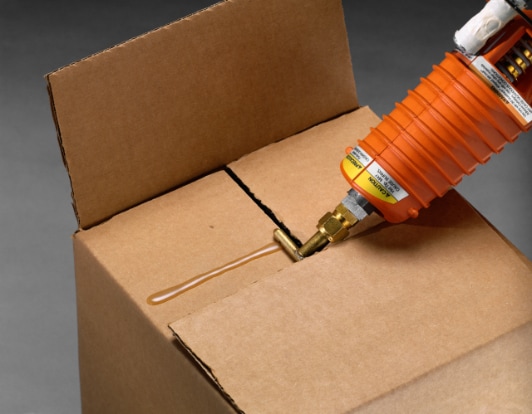 Keep Production Flowing
3M™ Hot Melt Adhesive 3762 is formulated to grab and seal quickly to meet the demands of high-volume production settings such as packing, woodworking and assembly. These features increase the speed of carton closures and provide adhesion to wood, paperboard, corrugated and other fibrous substrates. It provides strong shear strength, which means your packages stay sealed and components stay bonded under most conditions.
Economical and Safe
A 35 second open time, along a 1/8" bead, is sufficient for positioning and adjusting for fit and supports high-tempo productivity for packaging, woodworking, and applications that involve fibrous materials. We manufacture this product using 100% solids, thermoplastic resin for use with our 3M™ Hot Melt Applicators. As a low-volatile-organic (VOC) compound, this adhesive produces minimal odor when heated and helps support a comfortable work environment.
Recommended Applications
General packaging
Recouperage
Repacking chipboard
Point-of-Purchase
Beadboard
Displays
Woodworking
Trade exhibits
Foam inserts
Craft applications
Bonding waxed surfaces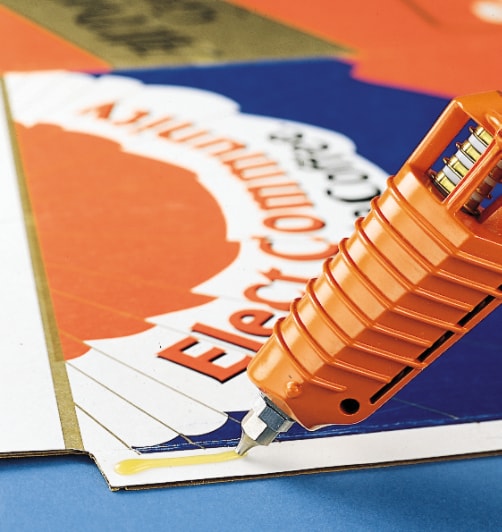 Hot-Melt Adhesive 3762 & 3792 Application Woodworking
The Hot Melt Advantage
Hot-melt adhesive applicators, commonly called "glue guns" are tools used to apply liquefied thermoplastic adhesives and are available in low and high-temperature versions. Low-temperature adhesive applicators operate at approximately 250°F/ 121°C and are beneficial when bonding heat sensitive materials such as electronics, plastics, and cloth. High-temperature applicators operate at a minimal temperature of approximately 380°F/ 193°C. The applicator creates a flow of adhesive when a solidified adhesive stick is fed into the heat chamber, where it is melted using a fixed-temperature heating element. The molten adhesive is then extruded through a nozzle by either pneumatic pressure, a mechanical trigger mechanism, or with pressure applied directly on the stick. Nozzles can be changed to dispense adhesive in a manner that meets various requirements; from a thin, wide strip for carton sealing, to a narrow, thicker bead for bonding wood, composites, or metal. Nozzles are typically metal and become extremely hot during use, which can quickly burn skin. Once dispensed from the applicator, the adhesive generally sets quickly, in most cases just a few seconds. Hot-melt applicators are widely used in industry, crafts, home, and work with materials ranging from paper and lace to wood and some metals.
Learn more about 3M™ Hot Melt Adhesives
(PDF, 3 Mb)
Learn more about 3M™ Hot Melt Bonding Systems
(PDF, 3 Mb)
Attributes
| | |
| --- | --- |
| Adhesive Type‎ | ‎ Ethylene Vinyl Acetate |
| Application Method‎ | ‎ Spray,‎ Handheld Process |
| Brand‎ | ‎ 3M |
| Color‎ | ‎ Light Amber |
| Consumer Label‎ | ‎ No |
| Heat Resistance‎ | ‎ 130 Degree Fahrenheit |
| Industries‎ | ‎ Automotive,‎ Construction,‎ Furniture,‎ Signage,‎ Consumer Goods,‎ Specialty Vehicle,‎ Transportation,‎ General Industrial,‎ Military & Government,‎ Retail,‎ Electronics,‎ Woodworking,‎ Packaging |
| Length‎ | ‎ 3 Inch |
| Length (Metric)‎ | ‎ 0.07 m |
| Maximum Operating Temperature (Fahrenheit)‎ | ‎ 130 Degree Fahrenheit |
| Net Weight‎ | ‎ 22 Pound |
| Open Time‎ | ‎ 35 Second |
| Product Form‎ | ‎ Pound |
| Size‎ | ‎ PG |
| Solids Weight Percent (Approximate)‎ | ‎ 100 Percent |
| Substrate 1‎ | ‎ Paper & Cardboard |
| Substrate 2‎ | ‎ Paper & Cardboard |
| Substrates‎ | ‎ Paper & Cardboard |
| Width‎ | ‎ 1 Inch |
| Width (Metric)‎ | ‎ 25.4 mm |