3M™ Hot Melt Adhesive 3731 B Off-White, Chips, 22 lb per case Box with Plastic Liner
3M ID

62373193358
UPC#

00021200491405
3M Product Number

3731
3M™ Hot Melt Adhesive 3731 delivers a strong, durable bond as a 100% solids, solvent-free adhesive. We formulated this adhesive to maintain a durable, reliable bond through high heat resistance, providing you with exceptional performance for a wide range of applications.

Solvent-free and 100% solids adhesive that provides strong bonds
Adhesive that offers long-term durability through high-temperature resistance
Thermoplastic adhesive that offers the capability to bond to low surface energy (LSE) substrates
Fast-setting for quick, efficient and effective results
Provides good peel strength, creating tough and resilient bonds

 
A Fast-Moving Hot Melt Adhesive
Engineered to deliver excellent results,
3M™ Hot Melt Adhesive 3731
(PDF, 256 Kb) is a high heat resistant adhesive that offers long-term durability by withstanding elevated temperatures without lifting or deformation. This hot melt adhesive also bonds well to a variety of substrates and is an excellent candidates for bonding low surface energy (LSE) substrates, including polyethylene and polypropylene. In addition, 3M™ Hot Melt Adhesive 3731 is fast setting, with an open bead time of 30 seconds, presenting strong results and tough bonds within a short period of time. Designed to provide good peel strength, our Hot Melt Adhesive 3731 creates a resilient bond that is long-lasting, offering confidence and peace of mind for a wide range of applications.
Recommended Applications
3M™ Hot Melt Adhesive 3731 can be utilized in many industries, including automotive, construction, furniture, signage, consumer goods, specialty vehicle, transportation, military, retail, electronics, woodworking and packaging.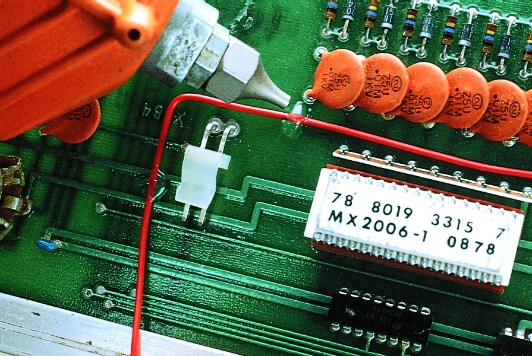 High heat resistance
Some of the recommended applications for this product are the following:
Plastic
Wood
Foam
Fabric
Cardboard
Hot Melt Adhesives in Brief
Hot melts are 100% solids thermoplastic resins. These adhesives are engineered to re-melt after bonding if exposed to high enough temperatures. The advantages of
hot melt adhesives
(PDF, 2.9 Mb) is that, unlike mechanical fasteners and sealing tapes, they are virtually invisible between surfaces.
Our hot melt adhesives liquefy when heated, quickly fill gaps and wet the bonding surface. When they are applied to a surface, they cool, harden and reach their bond strength within seconds. Due to their quick work-life, you can move assemblies immediately upon application which eliminates the need for clamps, fixturing or additional drying time and energy.
A Rapid Solution
For a resilient, durable bond to meet your project needs, we designed 3M™ Hot Melt Adhesive 3731 to not only create a tough bond, but provide this strong adhesion fast. We engineered our hot melt glue to be the adhesive solution you need that meets your demands and excels in performance.
Attributes
| | |
| --- | --- |
| Adhesive Type‎ | ‎ Polypropylene |
| Application Method‎ | ‎ Spray,‎ Handheld Process |
| Brand‎ | ‎ 3M |
| Color‎ | ‎ Tan |
| Consumer Label‎ | ‎ No |
| Heat Resistance‎ | ‎ 265 Degree Fahrenheit |
| Industries‎ | ‎ Automotive,‎ Construction,‎ Furniture,‎ Signage,‎ Consumer Goods,‎ Specialty Vehicle,‎ Transportation,‎ General Industrial,‎ Military & Government,‎ Retail,‎ Electronics,‎ Woodworking,‎ Packaging |
| Maximum Operating Temperature (Fahrenheit)‎ | ‎ 265 Degree Fahrenheit |
| Net Weight‎ | ‎ 22 Pound |
| Open Time‎ | ‎ 30 Second |
| Product Form‎ | ‎ Pound |
| Size‎ | ‎ Chips |
| Solids Weight Percent (Approximate)‎ | ‎ 100 Percent |
| Substrate 1‎ | ‎ Plastic, Hard-to-Bond (LSE) |
| Substrate 2‎ | ‎ Plastic, Hard-to-Bond (LSE) |
| Substrates‎ | ‎ Plastic, Hard-to-Bond (LSE) |