3M™ Scotch-Weld™ Epoxy Adhesive 460NS Off-White Part B, 5 Gallon, 1 per case
3M ID

62279285308
UPC#

00021200436734
3M Product Number

460NS
We developed 3M™ Scotch-Weld™ Epoxy Adhesive 460NS as a toughened, two-part, room-temperature curing epoxy adhesive that provides strong shear and peel strength along with a high impact and vibration resistance, making this an ideal adhesive for the most demanding end-use applications. It maintains bond strength at high and low temperatures and stands up to paint bake operations.

Provides the highest shear, peel, impact, vibration and fatigue resistance in the Scotch-Weld Epoxy Adhesive family
Available in Bulk or duo-pak cartridges which offer immediate mixing and dispensing with easy hand application
Long work-time allows for positioning and adjusting for fit prior to setting
No sag, high viscosity formula won't run or migrate
Effective system for joining, gluing, adhering, attaching, repairing, potting, panel bonding, adhering, and structural bonding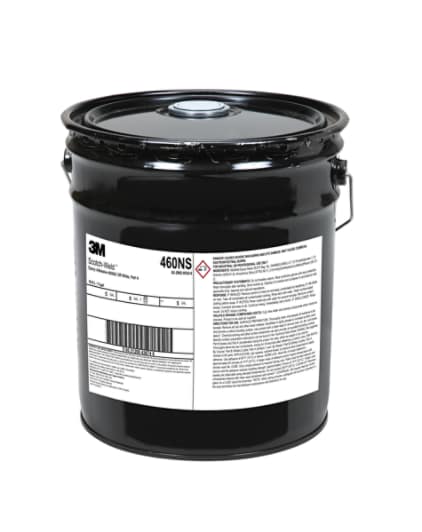 3M™ Scotch-Weld™ Epoxy Adhesive 460NS in bulk
You can use this unique epoxy adhesive to replace mechanical fasteners, screws, rivets, spot welds, and is excellent for indoor bonding for a variety of substrates such as metals, ceramics, wood, many plastics and glass. 3M™ Scotch-Weld™ Epoxy Adhesive 460NS starts as a high viscosity paste for easy, controlled dispensing that won't drip, sag or migrate. It then cures to an off-white color. The mix ratio is 2:1 and provides a 60 minute work life to allow plenty of time to adjust fit prior to setting. The adhesive reaches handling strength in approximately 4 hours and is fully cured in 48 hours (at 72°F /22°C).
What Are Epoxy Adhesives?
Epoxies are polymeric materials that start out as liquids and undergo a chemical reaction to form a solid. These compounds are a major part of the class of adhesives called "structural adhesives," which includes polyurethane, acrylic, cyanoacrylate, and others. Epoxies include two compounds: resins and hardeners. When the two are mixed in their specified ratio they react chemically; and once the reaction has finished, they form a strong and rigid plastic material. Once the two parts are mixed, there is a limited working time in which the epoxy can be applied, ranging from a few minutes to an hour or longer. These adhesives provide better heat and chemical resistance than other common adhesives and those that require heat to cure will be more heat and chemical resistant than those that cure at room temperature. An epoxy based polymer is mechanically strong, chemically resistant to degradation, and very tacky during its working time. Epoxy adhesives are used in the manufacture of buildings, homes, aircraft, automobiles, bicycles, boats, golf clubs, skis, and snowboards, as well as many other applications where high-strength bonds are needed along with resistance to environmental conditions. Epoxy adhesives can be formulated to meet almost any requirement for bonding wood, metal, glass, stone, and various plastics. Using different formulations, epoxies can be made flexible or rigid, transparent or opaque, quick setting or slow setting.
Industrial uses for epoxies range widely and include coatings, adhesives, and composite materials like carbon fiber and glass-reinforced. They are the preferred choice for their ability to flow and conform to the work area, strong adhesion, chemical and heat resistance, and exceptional mechanical and electrical insulating properties.
Attributes
| | |
| --- | --- |
| Adhesion Strength‎ | ‎ 1120 oz/in |
| Adhesive Type‎ | ‎ Epoxy |
| Applications‎ | ‎ Hard Disk Drive Component Assembly,‎ Bonding |
| Brand‎ | ‎ Scotch-Weld |
| Color‎ | ‎ Off-White |
| Consumer Label‎ | ‎ No |
| Full Cure‎ | ‎ 24 Hours @ 72 F (22 C) |
| Hardness‎ | ‎ 78-84 Shore D |
| Industries‎ | ‎ Transportation,‎ Specialty Vehicle,‎ Construction,‎ Military & Government,‎ General Industrial,‎ Electronics,‎ Consumer Goods |
| Mix Ratio Volume Base:Accelerator‎ | ‎ 2 : 1 |
| Open Time‎ | ‎ 60 minutes @ 72 F (22 C) |
| Physical Form‎ | ‎ Paste |
| Product Form‎ | ‎ Gallon |
| Product Type‎ | ‎ Epoxy Adhesive |
| Shear Strength at 72 Degrees F (22 Degrees C)‎ | ‎ 4650 Pound-Force Per Square Inch |
| Shelf Life in Months (from date of manufacture)‎ | ‎ 24 |
| Specific Gravity‎ | ‎ 1.14 |
| Storage Temperature‎ | ‎ 72 Degree Fahrenheit |
| Substrate 1‎ | ‎ Metal,‎ Glass & Ceramics |
| Substrate 2‎ | ‎ Metal,‎ Glass & Ceramics |
| Substrates‎ | ‎ Metal,‎ Glass & Ceramics,‎ Wood,‎ Glass,‎ Ceramic |
| Viscosity Range (cps) at Room Temperature‎ | ‎ 150,000-275,000 |
| Volume‎ | ‎ 5 gal |