3M™ Scotch-Weld™ Epoxy Adhesive 2216 Gray Part B, 55 Gallon, 1 per case
3M ID

62221695307
UPC#

00021200203619
3M Product Number

2216
3M™ Scotch-Weld Epoxy Adhesive 2216 is a flexible, two-part epoxy adhesive that cures at room temperature. It provides a high strength bond with both high shear and peel strength while remaining highly flexible, making it ideal for applications where vibration and thermal expansion and contraction are common. It also withstands very cold temperatures without overly embrittling.

Very flexible bond is resistant to extreme shock, vibration and flexing, making it ideal for potting and applications in the transportation industries
Maintains a strong bond under expansion, contraction, and limited movement while retaining good strength after environmental aging
Excellent for cryogenic bonding applications or adhering substrates that will be exposed to extreme cold
Medium viscosity help minimize running, dripping, or migration while also self-leveling
Versatile bonding agent will adhered a wide variety of similar and dissimilar substrates, including metals and masonry
Can be heat cured to reduce curing times from 7 days to as a little as 30 minutes

 
Cryogenic bonding applications where bonded agents might experience temperature extremes
Potting where expansion and thermal changes may occur, such as solar panels and appliance or construction applications
Military bonding applications, for example bonding parts on movable transports
General aerospace and transportation bonding where vibrations and movement are common
Bonding most plastics
Bonding ceramic, plastic and glass to metal
Attaching various substrates to masonry and stone
Reliable, Long-Term Dependability
We've designed the 3M™ Scotch-Weld Epoxy Adhesive 2216 to perform under extremely frigid temperatures. Because it can withstand temperatures up to -423°F/-252°C it is ideal for cryogenic bonding applications. At room temperature it offers a 90 minute work life to allow for repositioning and adjustments. It will slowly cure over 7 days, but can be heat cured to reduce this to as little as 30 minutes (at 200°F/93°C.) It has a bonded shear strength that can withstand up to 3,200 psi at 72°F/24°C.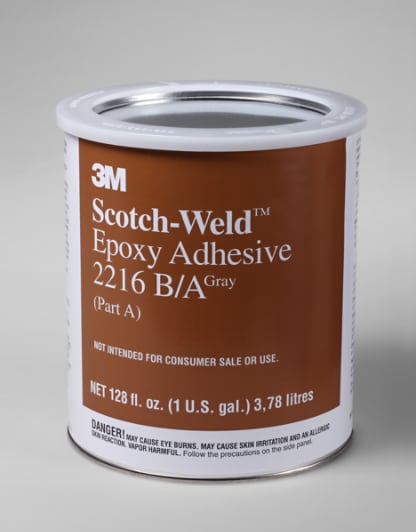 Available in a variety of sizes to meet your project needs
Structurally Sound
Epoxy adhesives are part of the class of adhesives called "structural adhesives," which also includes polyurethane, acrylic, cyanoacrylate, and others. Two part structural adhesives are formulated as liquid reactive polymers that undergo a reaction when mixed, and then cure to form a solid material. Once the two parts are mixed in their specified ratio, they begin the curing process and offer a limited working time where the adhesive can be applied and the two surfaces positioned as required. This "work life" lasts anywhere from a few minutes to 48 hours or longer. This class of structural adhesives provides high shear and peel strengths, depending on the formula and better heat and chemical resistance than other common adhesives. Epoxies that are heat cured are more heat and chemical resistant than those that cure at room temperature. Epoxy adhesives are widely used virtually anywhere high-strength bonds are needed along with resistance to environmental conditions. These adhesives are popular for their ease of use, mechanical strength, and chemical resistance. Formulations can be created to make epoxies that are flexible or rigid, transparent or opaque, quick setting or slow setting. The versatility with which epoxy adhesives can be formulated helps meet almost any requirement for bonding wood, metal, glass, stone, and various plastics.
Note: 3M™ Scotch-Weld epoxy adhesive 2216 B/A is identical to 3M™ Scotch-Weld™ Epoxy Adhesive EC-2216 B/A in chemical composition. 3M™ Scotch-Weld™ Epoxy Adhesive EC-2216 B/A has been labeled, packaged, tested, and certified for aircraft and aerospace applications. 3M™ Scotch-Weld™ Epoxy Adhesive 2216 B/A may be used for aircraft and aerospace applications if proper Certificates of Test have been issued and material meets all aircraft manufacturer's specification requirements.
Attributes
| | |
| --- | --- |
| Adhesion_Strength‎ | ‎ 800 oz/in |
| Adhesive_Type‎ | ‎ Epoxy |
| Applications‎ | ‎ Hard Disk Drive Component Assembly,‎ Bonding,‎ Potting |
| Brand‎ | ‎ Scotch-Weld |
| Color‎ | ‎ Gray |
| Consumer_Label‎ | ‎ No |
| Density‎ | ‎ 11.4 Pound Per Gallon |
| Flame_Retardant‎ | ‎ UL94 HB |
| Full_Cure‎ | ‎ 7 Days @ 72 F (22 C) |
| Hardness‎ | ‎ 50-65 Shore D |
| Industries‎ | ‎ Transportation,‎ Specialty Vehicle,‎ Military and Government,‎ Construction,‎ General Industrial,‎ Electronics,‎ Consumer Goods |
| Mix_Ratio_Volume_Base_Accelerator‎ | ‎ 2 : 3 |
| Open_Time‎ | ‎ 90 minutes @ 72 F (22 C) |
| Physical_Form‎ | ‎ Flowable Liquid |
| Product_Form‎ | ‎ Gallon |
| Product_Type‎ | ‎ Epoxy Adhesive |
| Shear_Strength_at_72_Degrees_F_22_Degrees_C‎ | ‎ 3200 Pound-Force Per Square Inch |
| Shelf_Life_in_Months_from_date_of_manufacture‎ | ‎ 24 |
| Specific_Gravity‎ | ‎ 1.36 |
| Storage_Temperature‎ | ‎ 72 Degree Fahrenheit |
| Substrate_1‎ | ‎ Plastics (High Performance Nylon),‎ Plastics (ABS, PVC, Acrylic),‎ Metal,‎ Glass & Ceramics,‎ Wood & Hardboard,‎ Rubber (Except EPDM),‎ EPDM Rubber |
| Substrate_2‎ | ‎ Plastics (High Performance Nylon),‎ Plastics (ABS, PVC, Acrylic),‎ Metal,‎ Glass & Ceramics,‎ Wood & Hardboard,‎ Rubber (Except EPDM),‎ EPDM Rubber |
| Substrates‎ | ‎ Plastics (High Performance Nylon),‎ Plastics (ABS, PVC, Acrylic),‎ Metal,‎ Glass & Ceramics,‎ Wood & Hardboard,‎ Rubber (Except EPDM),‎ EPDM Rubber |
| Viscosity_Range_cps_at_Room_Temperature‎ | ‎ 75,000-150,000 |
| Volume‎ | ‎ 55 gal |