3M™ Scotch-Weld™ Acrylic Adhesive Accelerator A3-1 Green Part A, 5 Gallon, 1 per case
3M ID

62295285308
UPC#

00051115689802
3M Product Number

A3-1
3M™ Scotch-Weld™ Acrylic Adhesive Accelerator A3-1 is the accelerator (Part A) of a two-part acrylic adhesive, engineered to be used with a B/A system. We designed this accelerator to use with our 3M™ Scotch-Weld™ Acrylic Adhesives DP8405NS, DP8410NS and DP8425NS. The fast rate of cure from this system provides rapid strength build-up and produces tough, impact-resistant bonds.

Accelerator designed to cure with select acrylic adhesives: DP8405NS, DP8410NS, DP8425NS
Provides fast strength build-up when used in a 10:1 B/A mix ratio
Formulated to produce tough, impact-resistant bonds for durability
Engineered to create reliable, non-sag adhesive for accurate application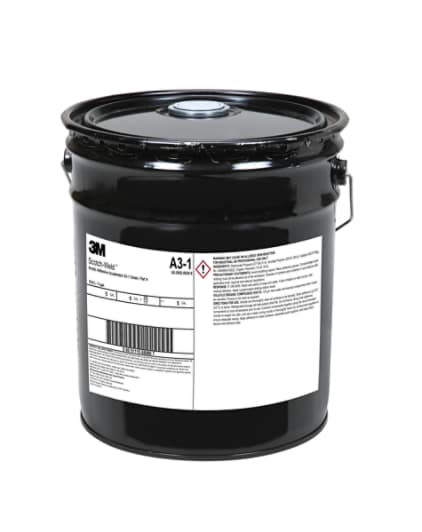 Available in two sizes to meet your project needs
Quick Rate of Cure Provides Fast Strength Build-Up
3M™ Scotch-Weld™ Acrylic Adhesive Accelerator A3-1 is the accelerator (Part A) designed to be mixed with the base (Part B) for a two-part acrylic adhesive, a B/A system (base acrylic sold separately). With a 10:1 mix ratio, this accelerator features an exceptionally fast rate of strength build-up, providing structural strength in minutes. 3M formulated this system to produce tough, durable, impact-resistant bonds as well as a non-sag adhesive for accurate application. These toughened products offer excellent shear, peel and impact performance. They provide improved adhesion to many plastics and metals, including those with slightly oily surfaces. Selected, Part B, acrylic adhesives include: DP8405NS, DP8410NS and DP8425NS.
Recommended Applications
Metalworking such as HVAC, appliance, sporting goods, and specialty vehicles
Sign manufacturing such as panel to frame bonding, trim attachment, letter bonding, and frame assembly
Bonding plastics, composites and powder coats to metal
Formulated to Produce Tough, Impact-Resistant Bonds for Durability
Formulated as a part of a tough, reliable solution, 3M™
Scotch-Weld
™ Acrylic Adhesive Accelerator A3-1 quickly produces the shear, peel and impact performance for those demanding applications that require fast results. For structural strength in minutes, look no further than the engineering of 3M, putting science to work.
Easy Adhesion with Acrylic
Acrylic adhesives
are two-part methyl methacrylate adhesives (MMA) that provide excellent bond strength and durability. Often referred to as epoxy adhesives or epoxy glue, acrylics actually belong to a separate chemical family with their own unique characteristics. Acrylic glues have several features that make them easier to use, including a faster cure speed, higher tolerance for oily or unprepared bonding surfaces and the ability to bond a wide variety of materials, including nearly all plastics. Newer acrylic adhesive formulations are room temperature stable with a long shelf life.
Attributes
| | |
| --- | --- |
| Adhesive Type‎ | ‎ Acrylic |
| Brand‎ | ‎ Scotch-Weld |
| Color‎ | ‎ Green |
| Consumer Label‎ | ‎ No |
| Industries‎ | ‎ Transportation,‎ Specialty Vehicle,‎ Metalworking,‎ Construction,‎ Automotive,‎ Signage,‎ General Industrial,‎ MRO,‎ Appliance,‎ Electronics,‎ Consumer Goods,‎ Aerospace |
| Physical Form‎ | ‎ Flowable Liquid |
| Product Form‎ | ‎ Gallon |
| Product Type‎ | ‎ Acrylic Adhesive |
| Shelf Life in Months (from date of manufacture)‎ | ‎ 18 |
| Storage Temperature‎ | ‎ 72 Degree Fahrenheit |
| Substrate 1‎ | ‎ Plastics (High Performance Nylon),‎ Plastics (ABS, PVC, Acrylic),‎ Metal,‎ Glass & Ceramics,‎ Wood & Hardboard |
| Substrate 2‎ | ‎ Plastics (High Performance Nylon),‎ Plastics (ABS, PVC, Acrylic),‎ Metal,‎ Glass & Ceramics,‎ Wood & Hardboard |
| Substrates‎ | ‎ Plastics (High Performance Nylon),‎ Plastics (ABS, PVC, Acrylic),‎ Metal,‎ Glass & Ceramics,‎ Wood & Hardboard |
| Volume‎ | ‎ 5 gal |