3M™ Polyester Film Tape 856 Transparent, 1-1/2 in x 72 yd, 24 per case
3M ID

70006328648
UPC#

00021200957710
3M Product Number

856
3M™ Polyester Film Tape 856 is a light duty film tape used for permanent edging and label protection. It features a tough, polyester backing which provides abrasion and edge tear resistance. The transparent backing allows clear visibility of information protected by tape.

Transparent, 2 mil (0.051 mm) light duty film tape used for permanent edging and label protection
Tough polyester film provides abrasion and edge tear resistance
Acrylic adhesive adheres to a wide variety of substrates
Transparent backing allows visibility of information protected by the tape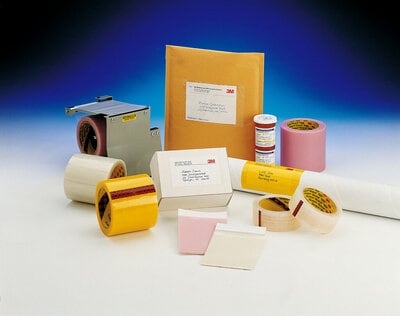 3M™ Polyester Film Tape 856 is a high performance tape that resists nicks, abrasions, moisture and scuffing
Tough, Polyester Film Reinforcement
3M™ Polyester Film Tape 856 is a transparent 2.0 mil polyester film tape with an acrylic adhesive. It is an edging and reinforcing tape commonly used in a variety of industrial, paper and print applications. The tough polyester backing provides excellent abrasion and tear resistance. It has a long term aging, transparent backing that provides visibility through the tape. This protects vital information without obscuring important details.
Recommended Applications
Paper edging
Hole reinforcing
Label protection
Reinforcement of punch holes in card stock
Attaching, holding, tabbing, and mending various papers
Adhere with Acrylic
3M™ Polyester Film Tape 856 features an acrylic adhesive that adheres immediately on contact to a variety of substrates. Once bonded, this adhesive will provide high, secure adhesion for extended periods. This acrylic adhesive resists yellowing.
Easy Identification with Exceptional Hold
Scotch® Label Protection Tapes
offer reliability and strength, sticking to the job until the package is delivered. We designed these tapes with the resilience to withstand the harsh environments and rough handling that packages encounter throughout the delivery process. Take advantage of the confidence that comes from a label protection tape engineered to help deliver your products safely and securely.
Attributes
| | |
| --- | --- |
| Adhesion Strength‎ | ‎ 20 oz/in |
| Adhesion Strength (metric)‎ | ‎ 22 N/100mm |
| Adhesive Type‎ | ‎ Acrylic |
| Applications‎ | ‎ Edging & Reinforcing Paper |
| Backing Material‎ | ‎ Polyester |
| Brand‎ | ‎ 3M |
| Color‎ | ‎ Transparent |
| Consumer Label‎ | ‎ No |
| Core Size‎ | ‎ 3 |
| Core Size (metric)‎ | ‎ 76 mm |
| Elongation‎ | ‎ 90 Percent |
| Industries‎ | ‎ Paper,‎ General Industrial,‎ Print |
| Length‎ | ‎ 72 Linear Yard |
| Length (Metric)‎ | ‎ 65.83 m |
| Product Form‎ | ‎ Roll |
| Tensile Strength‎ | ‎ 25 lb/in |
| Tensile Strength (metric)‎ | ‎ 438 N/100mm |
| Thickness‎ | ‎ 2 mil |
| Thickness (Metric)‎ | ‎ 0.05 mm |
| Width‎ | ‎ 1.5 Inch |
| Width (Metric)‎ | ‎ 38.1 mm |