3M™ Non-Printed Packing List Envelope NP6, 9-1/2 in x 12 in, 1000 per case
3M ID

70006318482
UPC#

00021200737800
3M Product Number

NP6
3M™ Non-Printed Packing List Envelope NP6 is a 9.5" x 12" unprinted, clear, side-loaded polyethylene envelope with easy and secure open and close. We designed this envelope with a high-tack rubber resin adhesive that sticks on contact to packages. Oil- and water-resistant, this packing list envelope securely protects documents from damage throughout delivery.

9.5" x 12" unprinted, clear, side-loaded envelope opens easily and closes securely
Provides control and protection of on-package packing list and invoice documents
Non-printed design provides a clear window for logos, instructions or other information and is barcode readable
Offers convenient peel-and-stick document attachment
Features a polyethylene backing, synthetic rubber adhesive and paper liner
Tough film helps reduce puncturing and tearing

 
Holding packing slips, invoices, catalogues and cards
Interim holder for papers to be attached to shipping container
Miscellaneous light-duty hardware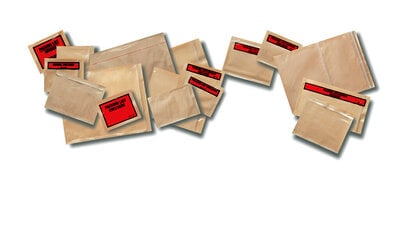 3M™ Packing List Envelope Family
Easy to Apply, Easy to Use
3M™ Non-Printed Packing List Envelope NP6 features easy-to-remove liners, exposing high-tack adhesive for fast application. The envelope easily loads documents from the side for easy opening and can be easily applied by hand, providing fast and efficient processing. Our Non-Printed Packing List Envelope NP6 works well in situations where the shipping orders are generated in an office area and later applied to the proper package in the shipping area. The non-printed face provides a clear window for logos, instructions or other information and is barcode readable.
Meets Daily Delivery Challenges with Success
3M™ Non-Printed Packing List Envelope NP6 protects your documents throughout the supply chain. At 3M we build solutions meant to meet every-day challenges with success. Enjoy the benefits of our packing list envelopes and rest assure your essential documents will arrive upon delivery, safe and secure.
Envelopes Sizing Guide
Final Insert Size*
Recommended Envelope Size**
3M Part ID***
4" x 6"
4" x 5.5"
4.25" x 5.5"
4.5" x 6"
5.5" x 7"
7" x 6"
PLE-NP3, PLE-T3
PLE-NP9
2.75" x 4.25"
3" x 4.5"
3.5" x 4.25"
3" x 4"
4.5" x 5.5"
4.5" x 6"
PLE-T1, PLE-T1 INV, PLE-T1PL, PLE-F1, PLE-NP1
PLE-T2, PLE-NP2
5.5" x 8.5"
7" x 10"
6.75" x 10.75"
PLE-NP5
PLE-FED1
7.5" x 8.5"
9.5" x 12"
8.5" x 11.5"
PLE-NP6
PLE-NPZ-L****
7" x 4.25"
8.5" x 4.25"
8.5" x 2.8"
9" x 4"
5.5" x 10"
7" x 10"
6.75" x 10.75"
PLE-NP4, PLE-T4
PLE-NP5
PLE-FED1
8.5" x 11"
9.5" x 12"
10" x 12.5"
PLE-NP6
PLE-NPZ-XL****
5.7" x 11"
9.5" x 12"
8.5" x 11.5"
PLE-NP6
PLE-NPZ-L****
Attributes
| | |
| --- | --- |
| Adhesive Type‎ | ‎ Synthetic Rubber Resin |
| Applications‎ | ‎ Branding |
| Backing Material‎ | ‎ Polyethylene |
| Backing Thickness‎ | ‎ 2 mil |
| Backing Thickness (metric)‎ | ‎ 0.05 mm |
| Back-Side Adhesive Thickness (metric)‎ | ‎ 0.05 mm |
| Brand‎ | ‎ 3M |
| Color‎ | ‎ Clear |
| Consumer Label‎ | ‎ No |
| Industries‎ | ‎ Transportation,‎ Specialty Vehicle,‎ Metalworking,‎ Automotive,‎ Furniture,‎ Military & Government,‎ General Industrial,‎ MRO,‎ Electronics,‎ Woodworking |
| Length‎ | ‎ 12 Inch |
| Length (Metric)‎ | ‎ 0.3 m |
| Performance Level‎ | ‎ General Use |
| Product Form‎ | ‎ Envelope |
| Size‎ | ‎ 9 1/2 inch x 12 inch |
| Tape Thickness‎ | ‎ 5 Milli-inch (mil) |
| Thickness‎ | ‎ 5 mil |
| Thickness (Metric)‎ | ‎ 0.13 mm |
| Width‎ | ‎ 9.5 Inch |
| Width (Metric)‎ | ‎ 241.3 mm |