3M-Matic™ Adjustable Case Sealer a80f
3M ID

70006659356
UPC#

00051111079102
3M Product Number

a80f
3M-Matic™ Adjustable Case Sealer a80f is an adjustable and fully automatic case sealer built with 3M™AccuGlide™ 2+ Taping Heads for low-impact sealing to protect cases from damage. This side belt adjustable case sealer seals up to 30 cases per minute and is constructed to allow adjustment across a wide range of case sizes with top flap compression rollers for a tight seal.

3M™AccuGlide™ 2+ Taping Heads offer low-impact sealing that protects cases from damage
Seals up to 30 cases per minute for good production rate
Durable design offers consistent results across a wide range of case sizes
Top flap compression rollers close flaps for a tight seal
Positive box conveying side belt drives
Dual crossbars for taping head stability
Reliable motor drives for dependability with cases up to 65 pounds (29 kg)

 
Food and beverage
Medical devices
Pharmaceutical
Electronics
Retail
Manufacturing and distribution centers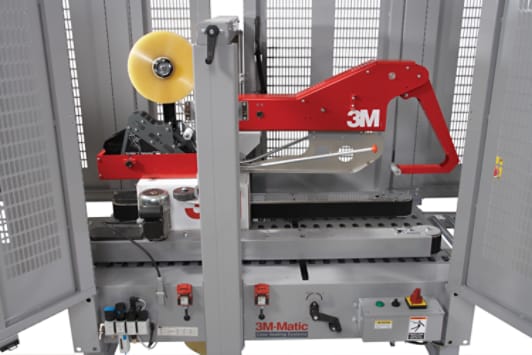 3M™ AccuGlide™ Taping Head 2+ for low impact sealing that protects cases
Reliable and Rugged Case Sealer
Built with the rugged construction of a 16-gauge steel frame and powder coat paint finish, 3M-Matic™ Adjustable Case Sealer a80f comes with dual crossbars for taping head stability and safety-interlocked hinged access doors with steel screen for viewing case flow. We designed this case sealer with reliable motor drives that can handle cases up to 65 pounds (29 kg). This side belt case sealer easily adjusts height and width for a wide range of regular slotted cartons (RSC) and has a centrally-located emergency stop on each side for quick and easy access.
Optional features include: Lockable casters for easy movement, powered infeed conveyor, guard access door on both sides, low tape indicator and tape application monitor.
Fast and Accurate Seal
Keep up with the pressing demands of the industry with
3M-Matic™ Adjustable Case Sealer a80f
(PDF, 695 Kb), a case sealer that seals reliably and accurately. Enjoy efficient productivity from a durable design that offers a secure seal and consistent results across fluctuating case sizes. Streamline your end-of-line packaging process and obtain optimal box sealing productivity.
Attributes
| | |
| --- | --- |
| Applications‎ | ‎ Automated Carton Sealing,‎ Packaging Station,‎ General and Primary Packaging,‎ Box Closure |
| Brand‎ | ‎ 3M-Matic |
| Color‎ | ‎ Gray |
| Consumer Label‎ | ‎ No |
| Drive System‎ | ‎ Side Belt |
| Industries‎ | ‎ Paper,‎ Food and Beverage,‎ General Industrial,‎ Consumer Goods,‎ Print |
| Machine Type‎ | ‎ Uniform Sized Boxes |
| Material‎ | ‎ Epoxy Powder Coated Steel |
| Maximum Box Height‎ | ‎ 21.5 Inch |
| Maximum Box Weight‎ | ‎ 85 lb. |
| Maximum Box Width‎ | ‎ 21.5 Inch |
| Minimum Box Height‎ | ‎ 4.75 Inch |
| Minimum Box Length‎ | ‎ 6 Inch |
| Minimum Box Width‎ | ‎ 4.75 Inch |
| Operation‎ | ‎ Machine folds flaps |
| Product Form‎ | ‎ Each |
| Tape Width‎ | ‎ 2 Inch |
| Tape Width (metric)‎ | ‎ 48 mm |